Career Fair Returns In Person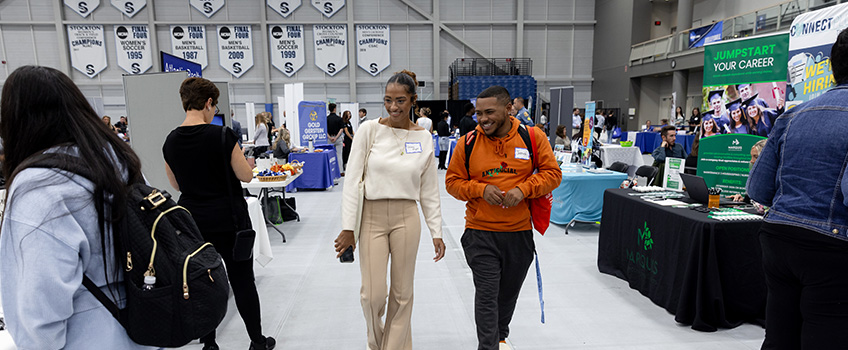 Galloway, N.J.- "I came here with five resumes, and now I'm going to have zero left."
Dharamavtar "D.A." Khullar of Galloway, N.J., like most of the students attending the Oct. 13 Career Fair, had a successful time meeting different employers and organizations looking to hire Stockton University students.
This year's fair was Khullar's first one; he usually has part-time and seasonal employment, but he's now looking for something more permanent that encompasses his interests in either medical malpractice law or developmental psychology. He says that he was unsure about what the fair was going to be like, but six business cards later, he is happy to share that it has been very beneficial.
"It went better than I expected," Khullar said while filling out an application. "Everybody was super nice, and it's been really good. I'm hoping everything pans out."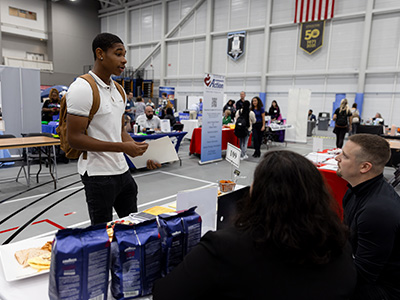 Ashlee Roberts, acting director of the Career Education and Development office, said the office implemented changes to the fair's structure to make it run smoother for both students and employers. This was the first in-person fair since February 2020.
The biggest change was shifting the dress code from suits required to business casual.
"It is important our students know the language of dress codes and what they entail, but we also must foster their ability to assess the expectations of their chosen career fields," Roberts said. "Everyone isn't expecting a suit. This change increased access to more students by removing a potential financial barrier and supported earlier exposure for first and second-year students."
Student Experience: Building Confidence and Networking
Students Rachel Rolle of Williamstown, Blessing Kayee of Woodbridge, and Bianca Hernandez of Egg Harbor Township, said meeting different employers on campus made looking for internships and future careers much easier for them in unique ways.
For example, Rolle, a senior Exercise Science major, recently changed her career path from physical therapy to research and data analysis. The fair helped her feel "relieved" about her internship search.
"It was hard at first, but now I see that there are different opportunities out there," Rolle said. "There's not just one narrow path, and there are so many places that I could go with my degree."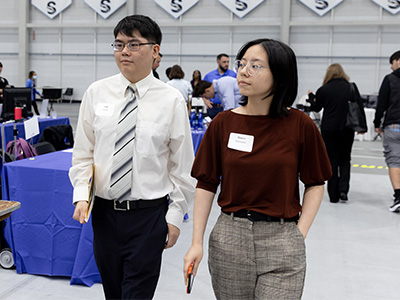 Kayee is a senior with a dual major: Health Science and Public Health. The COVID-19 pandemic showed her how not only significant public health is, but how broad it is as well. She knows she has a lot of options in careers, but the recruiters she met helped guide her in the right direction.
"The companies and organizations have been very open to talking to us and willing to give us experiences that will further our careers," Kayee said. "Even if it doesn't directly align with our majors, they want to offer us internships and experiences for our resumes."
Hernandez is currently working towards her second bachelor's degree in Computer Science, the first being in Psychology. She loved how "engaging" the recruiters were and their commitment to diversity.
"The companies here seem to be inclusive and diverse, and that's helpful for people like me who are women in STEM," Hernandez said.
Students weren't just looking for opportunities: Bailey Schilling, a Communication Studies student and co-president of the Public Relations Student Society of America, was on the other side of the table, offering low-cost headshots for students. This was also her first time at an in-person fair, so she had a different kind of learning experience.
"It was a little intimidating at first, but I think I'm getting some great practice of being a professional and talking to other professionals," Schilling said. "I'm learning how to network, getting confident with talking about myself and stuff like that."
Employer Experience: Full Circle Moments and New Opportunities
Around 50+ alumni came back to their alma mater to participate in the Career Fair, including Mark Harper, '17, and Emily Glass, '18.
Harper, who graduated with a bachelor's degree in Sociology & Anthropology, is supervisor of the Vineland YMCA's childcare department, "In the department that I work in, I get to see that I make a difference in not only the kids' lives but in their families' lives as well."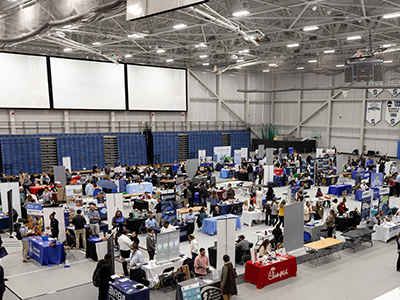 Glass, a food and beverage manager at Hershey Park, said that she started working there as a way to help pay off some of her student loans.
"Over half of our staff in a full-time role started in a part-time role and transitioned, so it was a great opportunity to take advantage of," Glass said. "I got to be the first store manager of the first Starbucks in Hershey Park, so it was quite the honor, and I just kept moving up from there. I've had some amazing opportunities and learned a lot."
Both Harper and Glass expressed how they attended Stockton career fairs in the past and how this experience was a full-circle one for them.
"I attended the Career Fair in 2017, right before graduating, and it's been really interesting to see how much the career fair has grown since then," Harper said. "I feel like when I attended, it was a bit smaller-scale. Just to see the turnout of different employers here, I think it's an amazing opportunity for Stockton students."
"It's pretty amazing to be able to be here on the other side of the table now," Glass said. "I tried to take advantage of it when I was a student. I tried to push myself out of the mold and network, and I think that all of that really paid off."
Among the alumni were various organizations eager to get to know Stockton through our students. Some of these organizations included Alpine, an ocean-surveying company; Spirit Halloween and Spencer's, who recently endowed a scholarship; WRAT and WJRZ, radio stations under Beasley Media; and Gold Gerstein Group, LLC, an accounting firm.
According to Roberts, the fair was sold out, with 132 employers registered and 53% of them being first-time participants.
Career Fair 2022 Stats
Provided by: Ashlee Roberts, CED
Of the 207 pre-registered* attendees, approximately 55% attended. They comprised the following:
32 1st year students
23 2nd year students
42 3rd year students
90 4th year students
13 graduate students
7 alumni
*Pre-registration through Handshake was encouraged, but not required.
"Anecdotally, employers expressed being impressed with the process, logistics, and most importantly, the quality of engagement with and preparedness of the students," Roberts said. "I really appreciated the mutuality and consideration from our employers."
Briana "Bri" Holloway, talent acquisition specialist from Sherwin-Williams, and Lennita Porter-Linen, executive director of Human Resources for the Bridgeton School District, both only had positive things to say about the candidates that they met during the fair.
"I love the fact that everybody here is so diverse in terms of ethnicity and background, as well as majors," Holloway said. "It leaves a lot open for what I'm looking and recruiting for."
"We've met very intelligent students that came our way, and we look forward to welcoming them on board with Bridgeton," Porter-Linen said.
As the fair started wrapping up, thoughts of next year's popped up among the attendants.
"I can't wait for the spring, honestly," Schilling said. "Now that I know how it works (in person), I'm really excited. I think that this is such a great event that (Stockton) does."
-Story by Loukaia Taylor
-Photos by Susan Allen