B.A. in Africana Studies
The Africana Studies program provides the opportunity for students to study, analyze and systematically evaluate the various disciplines, e.g., history, art and science, from an Africana perspective.
The program continues to attract students from all ethnic, racial, and cultural backgrounds as they recognize ways that Africana Studies provides them with a forum to examine the intellectual life, the historical experience, and the cultural understanding of one of this country's largest racial minority groups. Students electing to pursue courses in the program are entering into the current intellectual dialogue on multiculturalism in this society as they study with professors who have conducted notable research in African, Caribbean, Africana, and African-American Studies.
---
Program Organization
Students may major or minor in Africana Studies by completing the required core and cognate courses, meeting the grade-point-average criterion and submitting a portfolio with samples of their written course work. The Africana Studies program at Stockton University is affiliated with the National Council for Black Studies, Inc. (NCBS) and students are eligible to apply for membership in Ankh Maat Wedjau, the National Honor Society for majors and minors in Africana Studies.
A diverse selection of Africana Studies (AFRI) program courses and General Studies courses are available for completion of either the major or minor. Courses are divided into core and cognate categories. Core courses are further divided into the following concentrations: history/humanities, arts and entertainment, social and political perspectives, global perspectives, and literature. Both core and cognate courses are offered each academic year. Independent study projects with interested faculty members are also available. In addition, opportunities for study in selected African countries are possible, as are faculty-led study tours to West Africa, South Africa and historic sites across the U.S. Students interested in these travel opportunities should contact the coordinators of Africana Studies and Study Abroad for further details. The Africana Studies program is open to everyone regardless of race, gender, sexual orientation, religion, or ethnic background.
Curriculum Worksheets
View the Course Schedule by term.
See the Catalog of Courses for complete descriptions of course offerings.
For detailed curriculum information on the Africana Studies program, please refer to the Academic Bulletin.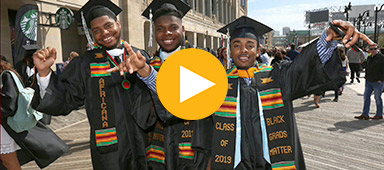 ---
Admission to the Program
The Africana Studies program is open to any student with an interest in the discipline. Students wishing to major or minor in Africana Studies need to contact the Advising Office to complete the appropriate paperwork. Students are encouraged to declare their intentions no later than the beginning of their junior year. Intended majors must consult with an Africana Studies faculty member, who will further explain the nature of the program and its specific requirements.
Special Opportunities
One of the most important components of Black Studies Programs, which first emerged at colleges and universities across the country in the late 1960s, is service to the community. Majors and minors in Africana Studies at Stockton University will also come to appreciate their responsibility to their communities through various projects, including, but not limited to: assisting in building and preserving exhibits at the African American Museum in Atlantic City; involvement in research and service projects that impact the homeless, youth and seniors in the surrounding communities; and programs assisting those in need who are abroad. Students will also gain opportunities to intern for various nonprofit and for-profit organizations and government agencies.
High School Dual Credit
The Africana Studies Program offers Topics in African-American History and Culture-GAH 1360 as a dual credit course. The Dual Credit Program at Stockton University provides a community service to college-bound high school students, giving them a jump-start on college by providing the opportunity to earn college credits and complete high school course requirements simultaneously. For additional information, click here.
Career Opportunities
What can a student do with a degree in Africana Studies…. Anything!
Professional opportunities range from medicine, to the sciences, to criminal justice, to politics, to education and entertainment. A professional can take their knowledge and understanding of people of African descent into any professional field to educate others and increase sensitivity.
Angela Bassett, Actress – BA in African American Studies, Yale University
Rhea Boyd, Pediatrician – BA in Africana Studies, University of Notre Dame
Ava DuVernay, Director – BA in English literature and African-American studies, UCLA
Jendayi Frazer, former U.S. Assistant Secretary of State for African Affairs – BA in Political Science and African-American Studies, Stanford University
Mae Jemison, Engineer, Astronaut – BA in African and Afro-American Studies, Stanford University
Aaron McGruder,

Cartoonist The Boondocks – BA in African American Studies, University of Maryland
Gloria Naylor, Novelist – MA in African American Studies, Yale University
Michelle Obama, Former FLOTUS – BA in Sociology and minor in African-American studies, Princeton University
Issa Rae, Actress & Writer – BA in African and African-American Studies, Stanford University
Richard W. Roberts, Judge – BA, Vassar College
Amanda Seales, Actress Comedian – MA in African American Studies, Columbia University
Claudia L. Thomas, first female African-American orthopedic surgeon in the US – BA in Black Studies, Vassar College
Jose Antonio Vargas, Journalist – BA in political science and Black Studies, San Francisco State University
Darrell Cleveland, Associate Professor of Education – BA in African American Studies, Temple University
Richlyn Goddard, adjunct for Stockton University Africana Studies Program – certificate in Africana Studies at Stockton University and MA in African American Studies from Temple University.
John Gray, Assistant Dean of Education – certificate in Africana Studies, Stockton University
Carra Hood, Associate Provost & Associate Professor of Writing – BA in Africana Studies/Puerto Rican/Latino Studies from Hunter College/CUNY and an MA in African Studies from Yale University.
Christina Jackson, Assistant Professor of Sociology – postdoctoral fellowship in Africana Studies, Gettysburg College
Jonathan L. Johnson, Ph.D.,

Director, Community Wellness & Health Education – Graduate certificate in Pan-African Studies at the University of Louisville

Ariane Newman, Assistant Dean School of Health Sciences – certificate in Africana Studies, Stockton University
Tiffany Rice, Complex Director Atlantic City Residential Hall – BA in Africana World Studies and Sociology, William Patterson University
Click here for a comprehensive list of Africana Studies majors and possible career paths.
---

Photo of Cape Town, South Africa.