EOF Summer Academy Celebrates Conclusion, Ready for the Fall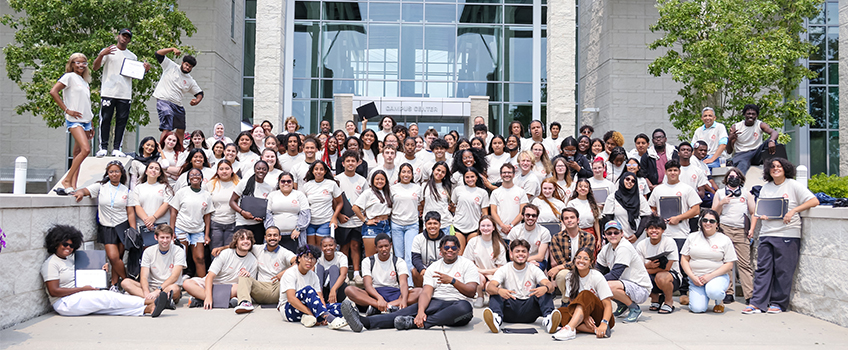 Galloway, N.J. – The Educational Opportunity Fund (EOF) program of both Galloway and Atlantic City celebrated the end of its five-week-long Summer Academy with two closing ceremonies on Thursday, Aug. 3, that recognized the accomplishments of their students.
The Summer Academy is an exclusive experience for EOF students— they live in the dorms, take placement tests and classes and learn about student life on campus, which gives them a head start amongst their peers and prepares them for university life. Students also learn about service-learning and engage in the community with community partners.
"Facilitating the service-learning experience was effortless with this cohort," Merydawilda Colón, executive director of the Stockton Center for Community Engagement and Service-Learning, said. "The SCCESL is honored to have collaborated with the EOF staff and students to facilitate partnerships between students and community partners."
Brett Pulliam, the executive director of EOF, emphasized how proud he was of everyone in the room.
"Sometimes, we go through life, and we're only recognized for what we don't do or for what we did wrong. Here, we recognize you for what you did right," Pulliam said. "Take stock of all that you've learned this summer. In class and through the events, you learned more about yourselves than you really ever thought that you would have."
In addition to being recognized for their participation and success in the Summer Academy through certificates and commemorative T-shirts, the students also got the chance to meet President Joe Bertolino and his Chief of Staff Terricita Sass. Bertolino — whose godson was a part of Stockton's EOF program — was delighted to see the room full of students who, like him, will be brand new to campus.
"When you see me around campus, stop, say hi, shake my hand and introduce yourself. Then, when you see me again, stop, shake my hand and introduce yourself again because there are about 10,000 of you, and there's only one of me," Bertolino said, earning laughs and cheers from the audience. "It's going to take me a while to get to know everyone's names, but please, don't be shy."
Just then, among the crowd suddenly was an outstretched arm and hand, waiting to be shaken by Bertolino. The owner of the hand: Kevin Almiron from Newark.
Almiron, who is anticipating joining the Psychology program in the fall, was admittedly overconfident about his transition from high school to college but has since grown tremendously, which he credits to the Summer Academy.
"It's kind of life-changing," Almiron said. "You meet a lot of people with varieties of backgrounds, and it made me think from very different perspectives. Like, my viewpoint of college isn't the same as when I got here.
"I know that I have to work hard and that, yes, it will be hard, but at the end of the day, I will end up with a degree in something that I'm really passionate about. And college is a way not only to get a degree but to find lifelong friends, connections and all the stuff like that. I'm blessed to not only be able to get the benefits but also the experience of coming to EOF."
Monroe Township resident Felicia Ranieri echoed Almiron's sentiments, adding that the academy was something that she was nervous about attending in the beginning.
"I'm actually so glad about how it went because I think that I have changed a lot," Ranieri said. "It took a lot of hard work being in it, but it definitely pays off with the friendships and the RA's and the experience that you get. When school starts, it's not going to be this way with the short time frame, but it makes you feel very prepared for the future. Yeah, it's been absolutely amazing being here."
The current students of the program weren't the only ones seeing the impact of the program firsthand: Haashim Smith-Johnson, an admissions and EOF recruiter, and Réona Carter, a residential coordinator for the EOF–Galloway program, are both alumni of the program who have stayed involved, whether through recruiting and retaining students or helping support the Summer Academy.
They both are excited for the students of this year's cohort.
"These students are great," said Smith, who was part of 2015's EOF class. "I've seen nothing but positive attitudes. I haven't really heard any of these students complaining about having to wake up for EOF early in the morning or complaining about the work. They're very attentive. I just see bright futures for a lot of them, and to see them actually on campus after emailing them a lot of times and calling them back-to-back-to-back. I'm happy with the smiles that I'm seeing in that room."
"I feel like this class is more focused on their academics, but they're still very social," Carter, from 2019's cohort, said. "They, on the first day, were all cliqued up and friends from day one. I like that they're all (socializing) together as one. I feel like they have a good support system here with EOF, so I know that they're going to do great."
Photos by Susan Allen
Pulliam encouraged the students to remember these five weeks of academic, social and professional growth while entering their first year at Stockton University.
"Just know that this was a very special time being here and that we are, again, so very proud of all of you," he said.
– Story by Loukaia Taylor
– Photos by Susan Allen & Lizzie Nealis