Students, Employers Connect at Career Fair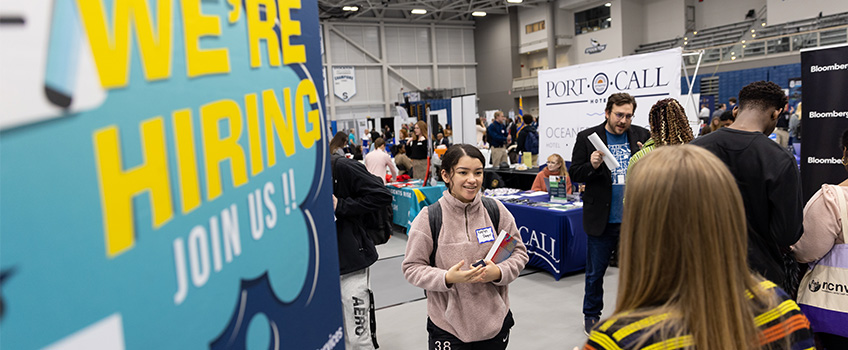 Galloway, N.J. – The spring Career and Internship Fair drew a record crowd, with more than 500 students stopping by to network and job hunt on March 7.
Over 130 employers from across the region spent the day matching their open positions with the skills of students who made the rounds in the Sports Center.
Georgia DeMas, senior Human Resources coordinator at Sesame Place Philadelphia, said she was looking for students interested in working in a fun environment. "We stand for hard workers and a fun and creative environment as well."
She said they were filling roles in multiple areas, including culinary, entertainment and maintenance, and they were looking for personable individuals who could be problem solvers.
Junior Paulina Perez attended the fair in search of potential internship opportunities. A Hospitality, Tourism and Event Studies major, Perez was looking for internships that entail working in a hotel or restaurant where she could use "customer service and organizational skills."
Madison Resorts of Cape May was one option. They were seeking seasonal employees and interns, said Lindsay Taylor, director of sales and marketing, and Kim Constantine, of their human resources department.
They wanted potential employees to have upbeat personalities to fit the fun work environment and an appreciation of Cape May who could fill including food service and front desk positions.
Vanessa Clermont, a junior majoring in Health Science, was looking for internships specifically involving the health care field. This was Clermont's first time attending the career fair and said her skills included being "reliable, a hard worker, and get along well with others."
The Career Fair was a homecoming for Emily Stadthaus, a Stockton alum who works for The Arc Ocean County Chapter. She was searching for potential candidates who are "caring, patient, willing to learn and have a passion to help people that need a little extra support."
Ashlee Roberts, who served as acting director for Career Education & Development and organized the event, was happy with how the event turned out.
"I am ecstatic about how well the fair did with attendance because it highlights the work of Career Education & Development to engage students in career exploration and exposing them to a variety of industries and opportunities," Roberts said. "The momentum we built this year returning to in-person fairs with support from faculty and staff leaves me hopeful for bigger fairs in the future and partnerships to best prepare attendees. I'd love to see the fairs attract more employers from Philadelphia and North Jersey to continue broadening our students' ambitions and possibilities."
–Story by Thalia Rivas
–Photos by Susan Allen