Seventeen Named 'Stories of Atlantic City' Fellows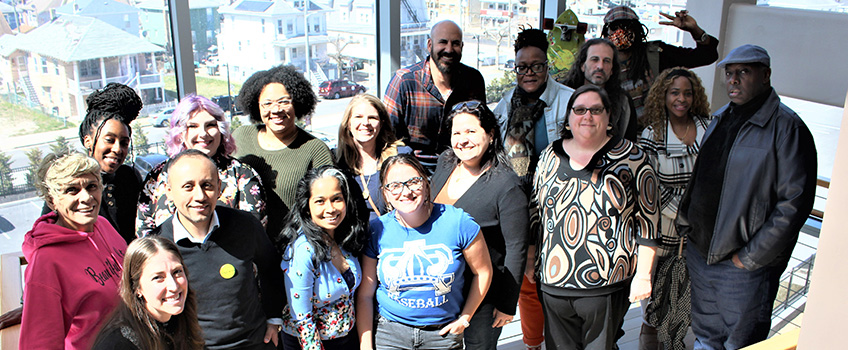 Atlantic City, N.J. _ Atlantic City has a rich history, an exciting atmosphere, and hundreds of interesting stories. Seventeen community members are poised to help tell those stories as part of the Community Reporter Fellowship hosted by the Stories of Atlantic City project at Stockton University.
The 17 volunteers took several months of training to learn about city government and community. The stories they write are shared on the Stories of Atlantic City website and with community media partners.
"We want to get people involved and to participate in their community and show the good things that are happening in Atlantic City," said Christina Noble, who led the training with the community fellows.
Project director Toby Rosenthal said the goal of the program is to tell the stories of people and communities that tap into their strengths and resiliency and promote positive change.
"People tend to think of Atlantic City as about casinos, or the Boardwalk, but there is so much more to the city, its residents and neighborhoods that rarely get the spotlight," Rosenthal said.
The 17 fellows have different interests. Lyndell Harris wants to work with the senior population.
"Seniors are dear to my heart and I want to share what they have contributed, and help them find resources to live good lives," Harris said. She has some experience in that area, having worked with a shared stories program at a long-term care facility.
"There is so much we can learn from them," Harris said.
Raymond Tyler, a media veteran, is hoping to expand the Black voice in the city.
"When I started 20 years ago I felt like the only Black voice. Now the table is expanding and there are voices from many different backgrounds. There are a lot of great stories here that don't get told."
Christina Walley is originally from Absecon but has lived in Atlantic City for several years, as did her parents and grandparents.
"I got interested in doing this just from being here and talking to people and hearing their stories," Walley said.
Christian Correa moved back to Atlantic City from California and has been involved with the Leadership Studio.
"I want to use my abilities to share stories of people who are inspiring," Correa said. "I want to show people why they should stay here. There are opportunities here and why is the narrative not sharing that?"
Marco Avila is a newcomer to the city, but wants to be involved with the Hispanic community and said he felt very welcomed in the city and people were very friendly to him.
"My goal is to help people get engaged and be a resource for them," he said. "I want to look at the immigrant communities, their impact, where they work. A lot of them don't feel connected to the community. They just work."
Fellows have already begun posting stories on the Stories of Atlantic City website. In May Michelle Tomko posted a LGBeat story on the Facebook page about the recent LGBTQ events in Atlantic City, including the "Come Out and Sea – Provide in Home Ownership Tour" she helped develop with the Chelsea Economic Development Corporation. Shalini Basu did a story on the Atlantic City Vietnamese Group and the services it provides.
The Community Reporting Fellowship was funded by a $35,000 grant from the New Jersey Civic Information Consortium. The Stories of Atlantic City project began in 2019 and has evolved with assistance from annual Dodge Foundation grants. The project received $75,000 for 2022.
The 17 fellows are: Marco Avila, Shalini Basu, LOreal Chrisp, Christian Correa, Michelle Hamlett, Lyndelll Harris, Zach Katzen, Caitlin Maffei, Alexandra Mazzo, Shawn Mills, Tina Notaro, Kelley Prevard, Michelle Tomko, Raymond Tyler, Christina Walley, Carol Yeomans, and Doris Zheku.
The project will hold a "Community Visioning" event from 11:30 a.m. to 1 p.m. Wednesday, June 29 at the Stockton Atlantic City Residential Complex, Albany Avenue and the Boardwalk. Lunch will be provided. Residents interested in learning more or sharing their stories may register to attend in person or via Zoom at https://tinyurl.com/soacvision22
More information on the fellows and the project is on the Stories of Atlantic City Facebook page, Insagram #storiesofac, and website, storiesofatlanticcity.com
- Story and photo by Diane D'Amico.