Four New Engelberg Scholars Named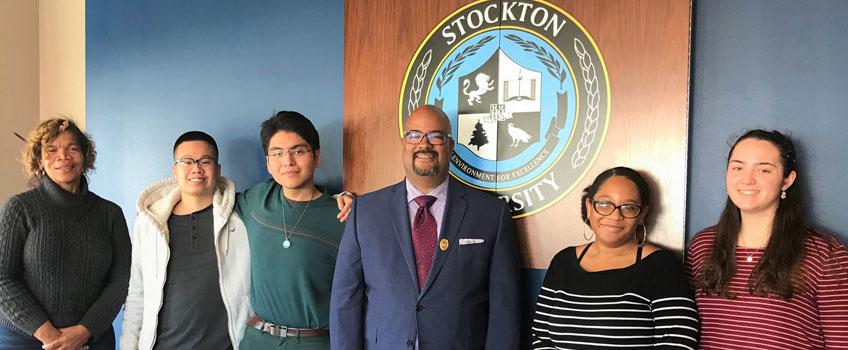 Galloway, N.J. - Four Stockton University students with strong ties to Atlantic City have been chosen as the second cohort of recipients for the Engelberg Leadership Scholarship Program.
Ivett Carrasco, Linh Tran and Yamirah Williams of Atlantic City and Amna Haider of Brigantine, all rising sophomores, were chosen for their performance as freshmen at Stockton and also for their commitment to their hometowns and desire to give back to Atlantic City.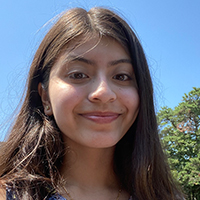 Each student recipient receives a full scholarship that funds all costs, including tuition, fees, room, board, books and any other expenses.
The core of the program is a unique leadership development series, which provides the scholars with opportunities to meet and learn from community leaders dedicated to the future of Atlantic City. Last year, the first cohort of Engelberg Scholars met with Atlantic County Prosecutor Damon Tyner; President of Atlantic Cape Community College Dr. Barbara Gaba; and Michael Epps, executive director of the office of Atlantic City Initiatives for the New Jersey Department of Community Affairs.
The program is funded by a $1 million commitment from Alfred and Gail Engelberg. A 1956 Atlantic City High School graduate, Engelberg was able to attend college because of an Avoda scholarship. He became a successful intellectual property lawyer and created the scholarship and leadership program to encourage current young people from the Atlantic City area to take leadership roles in revitalizing the city and provide them with high level opportunities they might not otherwise experience.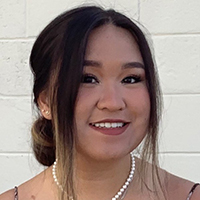 The program is open to Stockton freshmen who are from Atlantic City or the neighboring towns that send to Atlantic City High School.
"For me, being chosen really means more than just being a scholarship recipient," Haider said. "It's more so an opportunity given to us, that pushes us to be the best we can be, to not only benefit the community, but to help us grow ourselves."
Haider is majoring in math with a concentration in actuarial science. She has written and illustrated a children's book and is leading a project to bring a Dolly Parton Imagination Library to the Atlantic City area. Raised in Ventnor, Atlantic City and Brigantine, she is inspired by her family. Her father, a construction worker, helped build the Stockton Atlantic City campus.
"If I want to better my surroundings, I need to implement a change, and that's what I hope to do," she said.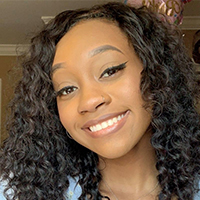 Tran, an economics major, said she has always wanted to give back to Atlantic City, and the scholarship is an opportunity to do that while completing her own education.
"I'm super excited to finish the rest of my college education with the scholarship's guidance through its internships, connections, and leadership opportunities." she said. "And most importantly, being the next leader in my dearest hometown, Atlantic City."
Williams overcame several personal obstacles to complete a very successful first year at Stockton.
"To be chosen as an Engelberg Scholar is not only a reflection of hard work and dedication to being a well-rounded student," she said. "It is also a reflection of my commitment to my community here in Atlantic City."
Carrasco, a business major, admits to feeling very nervous and unprepared for college, but developed confidence and self-sufficiency during her freshmen year at Stockton, an opportunity she wants to encourage for others in her community.
"I am so excited to gain the experience and knowledge this scholarship has in store, in hopes to one day pay it forward," she said.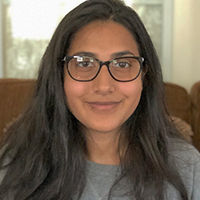 The new cohort will also have the opportunity to learn from the first cohort of Engelberg Scholars who are now entering their junior year. Those students said that the scholarship funds not only lifted financial stress, but allowed them to take advantage of more opportunities for leadership and community activities because they did not have to work.
"Without the financial challenges that college can create, I'm able to put more of my efforts and energy into my studies and extracurricular activities," said Loukaia Taylor, a communications major from Atlantic City who also serves as the social media and marketing coordinator for the campus group TogetHER.
"Without the scholarship, I would have not been able to meet so many wonderful people, each with their own unique stories, and be as successful as I am right now," said Bao Pham of Atlantic City.
Steven Rubio of Ventnor talked about how different his second year felt without the financial stress of taking on more student debt.
"This was the first time I could start using resources to develop myself rather than my bank account," Rubio said. "I seized the opportunity and began working on creating a message on campus. I became more involved with clubs and decided to get into sports. Over the next year, I would attend conferences in other universities, host workshops in conventions, and advocate for a better, compassionate world."
In 2020 Rubio received the Student Development Engagement Award for his involvement in the Stockton community.
"The scholarship is not just a grant, the scholarship is an opportunity for us to seize our potential and give back to the community," Rubio said. "I look forward to working with the scholarship and creating new projects that can help my community. I understand not everyone has the same opportunity that I have, but I want to use my opportunity to make an impact in the world to help others."
Students in the first cohort said they can't wait to begin a new year and work with the new cohort.
"As the months have passed, I have felt myself grow personally and professionally into an intelligent and confident young adult," Elena Gonzalez of Atlantic City said. "ELSP has meant a lot to me and my family. Because of the scholarship program, I have been able to alleviate a financial burden off my parents, live at the beautiful Atlantic City campus, meet community partners, and immerse myself into a true Stockton family. There is a lot that I have done and a lot that I cannot wait to do with our new cohort."
# # #
Contact:
Diane D'Amico
Director of News and Media Relations
Galloway, N.J. 08205
Diane.D'Amico@stockton.edu
609-652-4593
609-412-8069
stockton.edu/media