Eight Boats Named at Rowing Ceremonies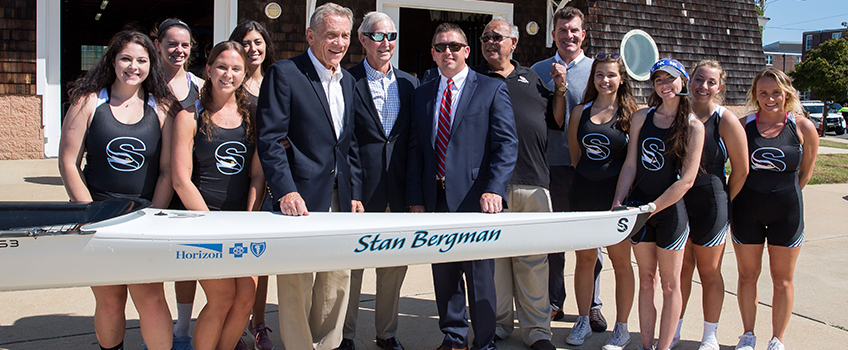 Atlantic City, N.J. _ Eight Stockton University varsity eight boats were doused with champagne during naming ceremonies at the Atlantic City Boathouse on Sept. 25 and 28.
Two varsity eight boats were named Sept. 25 for local rowing legend and coach Stan Bergman of Ventnor and supporter and former state senator William "Bill" Gormley of Margate. The Bergman boat was made possible through a generous donation by Horizon Blue Cross/Blue Shield of New Jersey, which is also listed on the Bergman boat.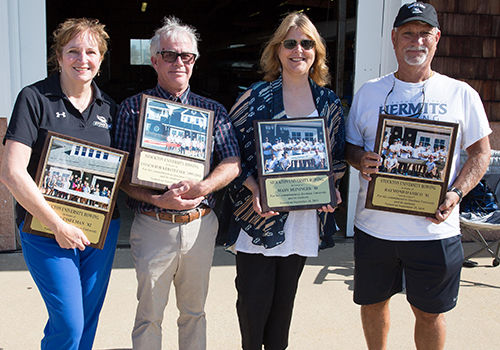 On Sept. 28, during the Atlantic City Stakes boat races in Atlantic City, ceremonies were held to name six more boats for coach Bob Kerstetter, Ray D'Amico '81, Stockton trustee Madeline Deininger '80, who rowed at Stockton, Stockton First Lady Lynne Kesselman '82 Stockton founding trustee Elizabeth B. Alton and her son, R. John Alton.
Horizon BCBS of NJ Director of Sales, Labor and Gaming Kevin Duffy said the company's goals include promoting women's health and wellness. He said the Stockton women's rowing team members are role models for the community.
"We are happy to help this program become national champions," Duffy said.
Bergman said good coaching is about bringing out the best in everyone.
"It's all about the athletes," he said. "I hope the boat goes fast and you have fun, grit and perseverance."
Bergman coached for 22 years at Holy Spirit High School and the University of Pennsylvania. A long-time chief of the Ventnor Beach Patrol, he also coached the Viking Rowing Club.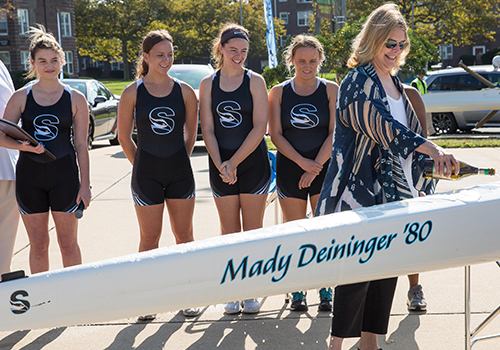 The Gormley boat was a surprise for the local attorney, whom President Harvey Kesselman said has been a tireless supporter of rowing in Atlantic County.
"He has spent the last 25 years behind the scenes," Kesselman said.
Gormley said support for the teams is about looking to the future of rowing in the area.
"This isn't about nostalgia, it's about tomorrow," he said.
Kesselman thanked the area community for its support of the rowing teams. He said he hopes the expanded program encourages local rowers to stay in the area and row at Stockton.
"Atlantic County has some of the best rowers in the United States," he said. "There is no reason why we shouldn't have the NCAA championship."
Stockton rowing coach John Bancheri said interest in rowing has quadrupled since he arrived last year. "We are headed in the right direction, he said.
The women's rowing team placed third this year in the Mid-Atlantic Rowing Conference Championships, their best finish ever, and also finished third in the DIII Varsity Eight at the Dad Vail Regatta. They were recently accepted to row in the Women's Collegiate Eights at the 2019 Head of the Charles Regatta in Boston on Oct. 19-20.
View a gallery of photos from the Horizon BCBC of NJ, Bergman and Gormley namings.
View a gallery of photos from the Atlantic City States races and boat namings.
# # #
Contact:
Diane D'Amico
Director of News and Media Relations
Stockton University
Galloway, N.J. 08205
Diane.DAmico@stockton.edu
609-652-4593
609-412-8069
stockton.edu/media