Annual Brunch Celebrates Diversity, Culture at Stockton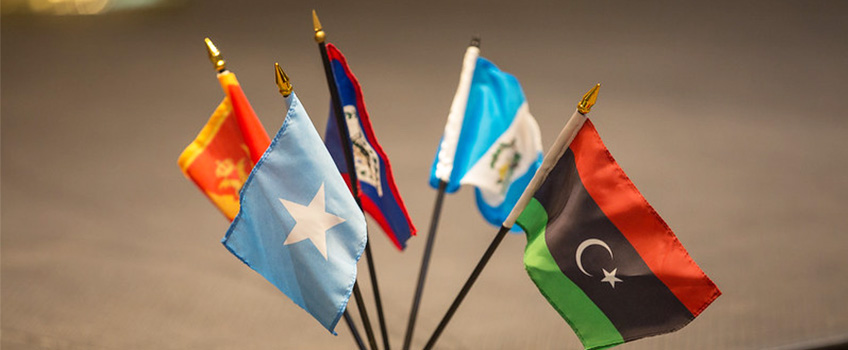 Galloway, N.J.- "We are not a melting pot; don't buy that idea. We are a cultural mosaic."
Distinguished professor of Criminal Justice Janice Joseph's words resonated with the audience as she addressed the crowd of students, staff and faculty in attendance for the kickoff brunch of Multicultural Month.
The Multicultural Brunch is a staple program at Stockton University that has occurred for around 20 years and, in Joseph's words, has grown stronger every year.
Solidarity is important, especially for those of us within marginalized communities, because we have each other to protect and support."
"Multiculturalism is about diversity, inclusion and acceptance," Joseph said. "As we celebrate this month, students and faculty are having all kinds of events. Please attend them so that you can learn a lot more about the different cultures here at Stockton."
Members of the Stockton community got a chance to listen to speeches, eat food from different cultures such as arancini (fried rice balls with cheese) and Caribbean jerk chicken, and mingle with each other.
Brianna Bracey, president of the Student Senate, introduced Ashlee Roberts, executive director of Student Affairs Planning and Operations, for a speech that encouraged students to "act with expectancy" and that the brunch demonstrates that principle.
"To act with expectancy is to act like you expected whatever you want to happen," Roberts said. "So, in this case, we, the university, see value in diversity and have said to all students 'I want you to be here, so I'm planning on you being here before you've even stepped foot here.'"
Roberts also shared updates about the Multicultural Center, which is slated to open by February 2023. The center will primarily be a small assembly space for initiatives that involve diversity, inclusion and social justice education.
Student organizations Queer/Trans People of Color Society (QTPOCS) and the Caribbean Student Association (CSA) gave remarks as well, emphasizing the importance of student participation in collaboration efforts like this one.
"Unfortunately, it's really on us to be the active role and to say 'You know what, I'm not going to put up with not having spaces for me on campus. I'll carve that path and make that way for myself and others like me,'" Mo Keane, a Criminal Justice major and public relations chair of QTPOCS said. "We wanted a space where people can come together and be ourselves without compromising parts of our identity."
"Coming from a household with two Haitian immigrant parents, I didn't feel the same comfort in my culture when I came here. But, with bringing CSA back and having initiatives like this, we can avoid that feeling and do so much more," Lynnsey Raphael, vice president of CSA, said. "My goal is to keep this club continuing and to stay active after I graduate."
"In this event and spaces like this, it's important for everyone to collaborate, recognize and be there for one another because we're all in it together," Dalia Moamed, a Psychology major recently featured in Stockton Voices and president of QTPOCS, said, "Solidarity is important, especially for those of us within marginalized communities, because we have each other to protect and support."
-Story by Loukaia Taylor