Continuing Studies Program Does AC Through Walking Tours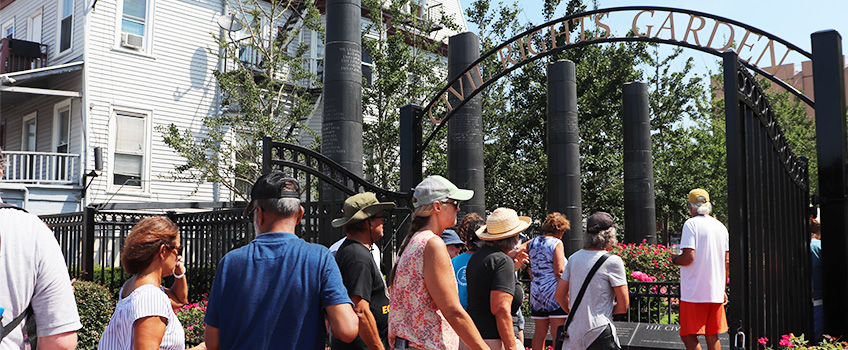 Galloway, N.J. — Around 30 people braved a heat wave to embark on a tour through Atlantic City's former "gayborhood," now known as the Orange Loop, on Friday, July 22. Thanks to the occasional ocean breeze and some shadowed areas along the route, participants of the program, sponsored by Stockton's Office of Continuing Studies, learned about Atlantic City's cultural history.
Diana Strelczyk, assistant director of the Office of Continuing Studies, developed the walking tours in the summer of 2018 after seeing an article about Levi Fox, adjunct professor of General Studies and Atlantic City historian, leading tours of former casinos. Strelczyk thought a similar tour, but encompassing all of Atlantic City's history, would be a lot of fun, and that led her to develop the program with Fox.
"For me personally, these tours offer so many valuable things," Strelczyk said. "I get to learn about local history in a fun and engaging way, I experience my city's life and culture street by street, embracing the small details I don't notice from my car. I love the exercise, sun and ocean breeze from the walk, and it reminds me of all the walking tours I have experienced in my world travels."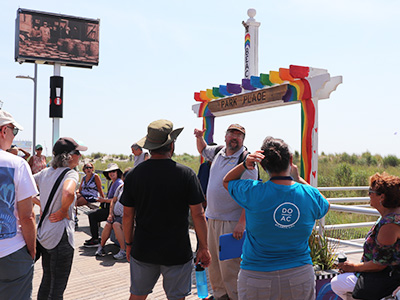 Led by Fox, the group visited notable sites such as Louisa Mack's (now demolished) Entertainer's Club along what used to be called "Snake Alley"; the Civil Rights Garden on Pacific Avenue and Dr. Martin Luther King Jr. Boulevard; and Park Place Beach, which was designated as "gay-friendly" by former Mayor Don Guardian.
Fox was enthusiastic to give tour participants an experience of Atlantic City grounded in the lived experiences of the local community, which will then lead to more interactions between locals and nonlocals.
"For the Ducktown tour, we go all throughout the neighborhood and get to experience history live and up close. For example, on the most recent tour, you could smell freshly baked bread on the last leg of the walk and a third of the group lined up to purchase fresh Italian rolls as the tour concluded," Fox said. "This reminded me of when I gave tours for two years at the James Candy Factory in 2012-13, and the smell of chocolate would inspire tourists to line up to purchase souvenir taffy."
Participants felt the same way. Brooke Riester, a new Atlantic City resident who considered the Civil Rights Garden "a hidden gem," said the tour's intimacy compared to similar ones in Washington, D.C., which was something she really enjoyed.
"The only other tour that I've done was a two-mile tour of all of the monuments, and it was cool because it was like having 600 of your new closest friends from all around the world," Riester said. "It was much better having only 30 (in Atlantic City). You couldn't really keep up with the tour guide on the D.C. tour because it was so large, so it was nice that I could stay close enough to the tour guide and get all of the information that he was relaying."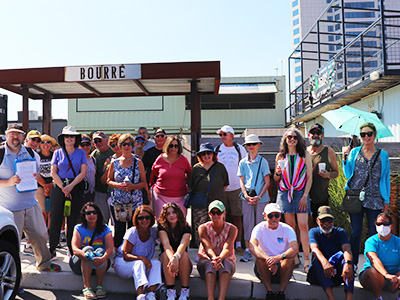 Riester, Strelczyck and Fox are all looking forward to the next tour, which will be in the Lower Chelsea neighborhood on July 29. That tour, which is already sold out, is a new collaboration with the Chelsea Economic Development Corporation. Fox is ecstatic about the tour because of the evolution of its theme.
"The theme started focusing on the Jewish heritage of Atlantic City, which includes my own family background," Fox said. "However, it now focuses on changing Chelsea, and waves of immigration into Atlantic City over the last century."
Since the walking tours only allow 30 people, spots tend to fill up quickly. Even after canceling tours due to the COVID-19 pandemic in 2020, the program has been sold out every time it has been offered. The Office of Continuing Studies hopes, with continued increases in popularity, to expand the tours into the fall and to include more routes.
"This year we have seen unprecedented community support for the tours, and we are planning more tours soon," Strelczyk said. "We hope to build our partnerships with community leaders in 'new' neighborhoods such as Bungalow Park, the North/South Inlets, Midtown, and more, to offer a more collaborative and inclusive picture of Atlantic City history."
Both Fox and Strelczyk believe the tours not only provide a fun and informative experience but also encourage trusting relationships among tourists and residents.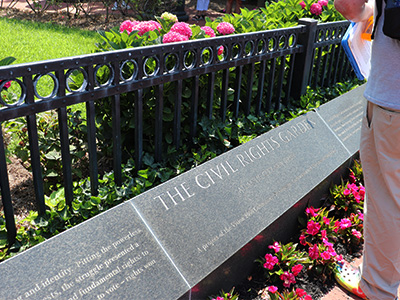 "You may have heard that you shouldn't leave the Boardwalk once you're in Atlantic City, but we really should," Fox said. "By walking around, not only do we get to know the area, but it will make others want to do the same and so forth. It all builds upon itself."
"These tours offer folks the ability to see the human side of Atlantic City, and maybe break some of the stereotypes and negative images we have about the city," Strelczyk said. "By visiting the local businesses, understanding the history of the residents and being in-tune with the city, I think people will become more comfortable with walking around."
Riester is already looking to build more relationships in Atlantic City and is even more interested after the tour.
"I've already posted on Nextdoor about this series and that was before I even came on the tour," Riester said. "I was trying to find out if anyone was in my particular neighborhood because I'm trying to network and meet new neighbors and to see if they would want to meet me in person on one of the tours. I took a lot of pictures today. I plan on following up that post on Nextdoor, and I hope that folks will join me next time."
-Story and photos by Loukaia Taylor