Woman's WORTH Encourages Racial Healing
By Yesenia Pacheco, '22
Unhealthy racial experiences in higher education have created many barriers for first-generation women of color and require new initiatives to help provide healing from these experiences.
With the recognition of the importance of safe spaces on campus, Maya Lewis, associate professor and chair of the Social Work program, and graduating senior Yesenia Pacheco collaborated on "2022 Woman's WORTH," a racial healing circle program dedicated to providing a safe space for students who identified as first-generation women of color.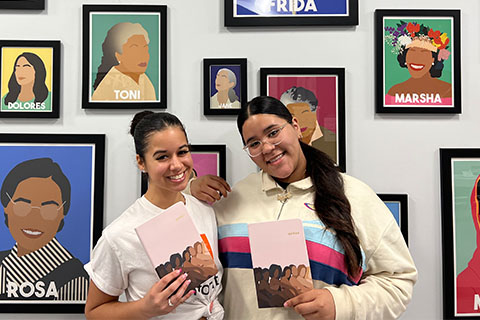 The program, an acronym that stands for "Working on Rebuilding Trust and Healing," invited a cohort of six first-generation women of color to participate. The six students were given a reflection journal and a read-along workbook that was used during the entirety of the five sessions. Participants voluntarily signed up to attend all sessions and completed the assigned articles biweekly relative to each session discussion.
Pacheco, who is also the Equity Intern in the Office of Student Transition Programs, laid the foundation, determined the topics, recruited the students and invited Lewis to support her in developing the content for Woman's WORTH.
Session discussions ranged from "Trauma or Drama '' to "Getting by at a PWI," and addressed topics such as microaggressions, societal beauty standards and mental health within communities of color.
All sessions were designed to help rebuild trust among the group members, share racial experiences and best practices for navigating home and college, and identify their own strengths and their role in promoting social justice within their communities.
Every circle allowed me to be so vulnerable yet feel so powerful and resilient by just being empowered.
Both Pacheco and Lewis have been passionate about providing more initiatives on campus to increase a sense of belonging for students. Using retention data and evidence found within institutional research, they noticed a need to support first-generation women of color in higher education. Both had reflected on the various mental, physical and emotional demands that impact a student's persistence and graduation rates among all women of color. Pacheco reflected on her experience with positivity.
"Every circle allowed me to be so vulnerable yet feel so powerful and resilient by just being empowered," Pacheco said.
This was also supported by the responses of the women within the circle, who included Aleyshka Barbosa (pictured), Tamara Farrow, Pacheco, Bianca Teixeira (pictured) and Rayna Tweedle.
All participants agreed in a post-event assessment that the sessions helped them engage with students, staff and faculty of culturally diverse backgrounds, to identify the strengths and values of culturally diverse communities and their role in promoting social justice.
Participants explained that reflecting not only within the circles, but also outside the circles allowed them to express themselves more, process the sessions afterwards and self-identify with the topics. All participants had emphasized the importance of the continuance of a Woman's WORTH Circle.
In response, one participant replied, "Yes! Woman's WORTH Circle exceeded my expectations entirely! The amount of closure, perspective and bonding was much more than I had anticipated and left me feeling very welcomed and understood."
Racial healing circles have been known to be transformational experiences for participants to unearth unconscious and conscious truths. It is also a confidential, safe space for participants to raise awareness, empathy and support each other.