Stockton Recognizes Student Leaders, Clubs for Their Contributions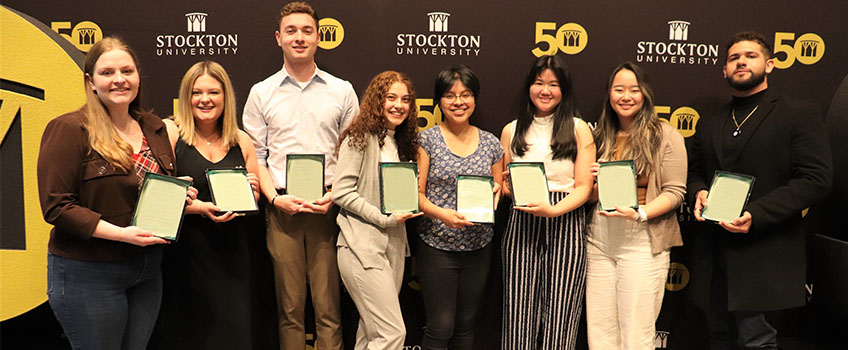 Galloway, N.J. - After two years of virtual ceremonies, the Student Involvement Awards celebrated and honored students, faculty and staff in the Campus Center Event Room on Friday, April 29.
The program began with a Year in Review by Jeff Wakemen, director of Student Development, who was amazed by the amount of work and programming that student organizations have done since being back in person.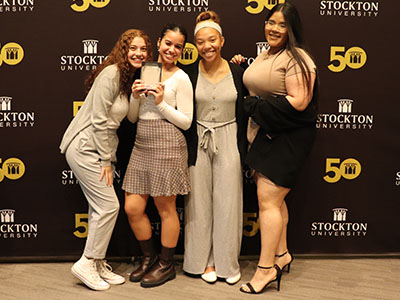 "As we slowly re-awakened student life from over a year of limited in-person events and the ever-changing levels of comfort with being in the same room as each other, one thing has been consistent: Stockton student leadership has been strong. But now we know it is not only strong but also flexible and caring," Wakemen said.
"Tonight, we celebrate some of your accomplishments, but really it is just scratching the surface of everything you have accomplished, so give yourselves a hand for everything, and every time, you helped build this community," Wakeman said.
Lauren Wilson, associate director of Student Development, presented a video featuring Stockton students, from the past and present, reflecting on Stockton's 50 years of involvement.
"While we're here tonight to celebrate the achievements of our student leaders throughout this past academic year, it only feels fitting to also use this time to acknowledge and celebrate the strong history of student involvement and student advocacy at Stockton over the last 50 years," Wilson said. "Stockton's first students began classes at the Mayflower Hotel in Atlantic City in September 1971, and since that moment, students have had an active voice and a hands-on role in shaping the growth of this institution."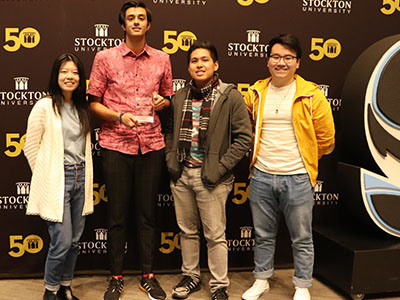 Dianne Stalling and Shedia Laguer, assistant directors of Student Development, presented several awards at the ceremony. One award that was especially memorable for them was the "Be the Change" Award, which was received by the student organization, TogetHER.
"As two of the founders for TogetHER, it has been humbling to watch TogetHER grow and evolve to meet the various needs of our womxn of color students. This initiative was developed by womxn of color for womxn of color," Laguer said. "Its creation is the full manifestation of sisterhood, mentorship and belonging as investments for student success. The students deserve the 'Be the Change' Award because that's exactly what togetHER is doing."
The complete list of awards and honorees includes:
Community Service Awards: Gianna Brunini, Los Latinos Unidos andCircle K International
Stockton Spirit Awards: Allison Reid, First Ospreys and Stockton Music Union
Graduate Community of Scholars Award: Master of Social Work Alliance and Calli N. Votta
Be The Change Awards: Irenonsen Eigbe, Tierra Houston and TogetHER
Unsung Hero Award: George Smith, Maria Gallo and the Chartwells Catering staff
L.E.A.D. Awards: Van Nhi Ho, Christopher Melillo, Kayla Brawley, Rakiatu Mansaray, Morgan Rhodes, Andrew Torres, Xin Rou Tan, Yesenia Pacheco, Casey Berchtold, Julie Tran, Diana Sandoval and Brooke Wachenheim
Outstanding Advisor of The Year: Darius Edwards
Outstanding Program of The Year: Phoenix Night Market, Cole the Deaf Dog and the National Museum of African American History and Culture D.C. Trip
Greek Man & Woman of The Year: Andrew Torres, Lambda Theta Phi Latin Fraternity, Inc., and Adonia DaCosta, Mu Sigma Upsilon Sorority, Inc.
Greek Chapter of The Year: Lambda Theta Phi Latin Fraternity, Inc.
Student Development Engagement Awards: Emily Gabriel, Rebecca O'Kane, Andy Prempeh, Christopher Lipari Pazienza and Matthew Nyce
Student Leader of The Year Awards: Alex Eckmeder, Fatima Khawaja, Jenal Rana and Alexsandra Panton
Student Organization of The Year Award: Muslim Student Association
Dean Of Students Service Award: Diana Sandoval and Mohammed Jaradat
The evening concluded with a buffet dinner and a 360-spinning photobooth.
View a gallery of photos from the event.
Story and photos by Loukaia Taylor