Strategic Enrollment Management

Stockton has begun the important work of evaluating its recruitment goals and strategies, updating its institutional aid programs and developing a formal and structured student retention process.
Stockton Hosts Overnight Bash for New Students
Last summer, Student Transition Programs brought the heat, firing on all cylinders to provide new students an orientation experience like none other. Finally, after a year and a half of social distancing, masks and plexiglass, the entire Stockton community celebrated the return to normal and welcomed new Ospreys with big smiles to the Galloway campus for overnight orientations, known as Nest Fest.
"We listened and responded to the needs of the incoming students who missed out on socializing with their peers due to the COVID-19 pandemic," explained Director of Student Transition Programs Ana Edmondson.
Typically, orientation would be a one-day event to register new students for fall classes. But this year, in addition to one-day and virtual orientations, Edmondson and Candace Mitchell, coordinator of Student Transition Programs, introduced five overnight options to help students acclimate to campus, experience the dorms and make new friends before the start of the fall semester.
---
Some 430 Attend Latinx Visitation Day
Some 430 area high school students got a taste of what it would be like to be an Osprey at the annual Latinx Visitation Day on Nov. 18, 2021.
Latinx Visitation Day has been held at Stockton since 1987 and is fundamental to showing Hispanic students all the University has to offer. About 17% of Stockton's students identify as Hispanic/Latino.
Director of Admissions Heather Medina, a Camden native and fellow Stockton graduate encouraged the crowd of Latinx students to "level up" and start standing for themselves and their goals - goals of being able to obtain a college degree or even to be the first in their family to attend college.
Medina said her high school counselor had told her she was not "college material," and despite the nay-sayers and adversity she had faced, she was able to obtain two college degrees from Stockton. She is the first Latina woman to become the director of admissions at Stockton. She explained to students how she took advantage of the resources Stockton had offered her, like the EOF program to fulfill her dream.
The day was full of information about admissions and was followed up with a tour given by Stockton's Admissions Ambassadors. The event also featured an information fair with a variety of multicultural clubs and organizations around campus such as Los Latinos Unidos, togetHER and multicultural fraternities and sororities. The day also featured lunch provided by the University, where students could talk to Latinx faculty and staff about their experiences here at Stockton.
The participating students came from the following high schools: Atlantic County Institute of Technology, Egg Harbor Township, Camden Academy Charter, DCF Regional High School, Upward Bound for ELL/Woodrow Wilson, Bridgeton, Pennsauken, Hammonton, Oakcrest, Absegami, Cedar Creek, CCTS Penn Tech-Pennsauken Campus and Camden County Technical School.
Hudson County College Joins Transfer Partnership
Stockton University signed a dual admission and transfer partnership agreement with Hudson County Community College that will help students make a smooth transition from the two-year college to Stockton's bachelor's degree program.
The five-year agreement strengthens the relationship between Stockton and HCCC by offering multiple opportunities for students to seamlessly pursue associate and bachelor's degrees at the two institutions of higher education.
The agreement gives students access to Stockton services while they attend HCCC and provide a smooth pathway to Stockton as juniors after they earn their associate degree.
---
Stockton Named to PTK Transfer Honor Roll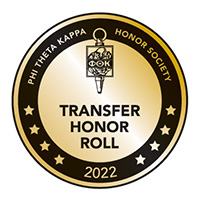 Stockton University is among 171 colleges and universities nationwide named to the 2022 Transfer Honor Roll by Phi Theta Kappa Honor Society, which recognizes the achievements of students at associate-degree and community colleges.
The Honor Roll recognizes four-year colleges and universities for the "dynamic pathways they have created to support transfer students." The list is "determined by 40 key metrics related to the support and success of transfer students, including college cost and financial aid, campus life for transfer, admission practices, and bachelor's degree completion." The Honor Roll is chosen from among the top 25% of highest-rated colleges based on their Transfer Friendliness Rating on Phi Theta Kappa's online search tool, PTK Connect.
---
Greater Egg Harbor Regional, Southern Regional High Schools Join Dual Path Partnerships
The Greater Egg Harbor Regional School District and Stockton University signed a Dual Path Partnership agreement that gives students at Absegami, Oakcrest and Cedar Creek high schools the opportunity to graduate from high school in three years and be automatically enrolled at Stockton with sophomore standing.
Additionally, the Southern Regional School District and Stockton also signed a Dual Path Partnership agreement that will give students at Southern Regional High School the same opportunity.
These agreements demonstrate the commitment to providing students with a high-quality education and seamless access to an affordable four-year college degree.
---
Stockton Marks Milestone in Atlantic City Expansion
Stockton University marked a milestone in the construction of the second phase of its Atlantic City campus and recognized one of the key project champions during a topping-off ceremony on July 19.
Stockton and community leaders who were instrumental in the development of the Phase II Residence Hall signed a steel beam that will be placed in the building, which is planned to open in Fall 2023.
Additionally, President Harvey Kesselman and Provost Leamor Kahanov bestowed an honorary Doctor of Public Service degree upon Jon F. Hanson, founder and chairman of The Hampshire Companies and chairman of the board of the Atlantic City Development Corporation (AC Devco), which developed the 2018 Gateway campus.
"I am deeply proud of the work that AC Devco has already accomplished to create opportunities for transformative real estate investment in one of New Jersey's most important cities," Hanson said. "I would like to thank Stockton University for this recognition, and I look forward to continuing to work closely with them and our partners to continue to execute our vision for Atlantic City."
Kesselman praised Hanson's support of the University and the city to create the public/private partnership. "He is an individual who has dedicated his life to making a positive impact in his profession and his community, he said. "We would not be here without the dedication of Jon Hanson and his effort to bring Stockton to Atlantic City and diversify its economy."