Greater Egg Harbor Regional Joins Dual Path Partnership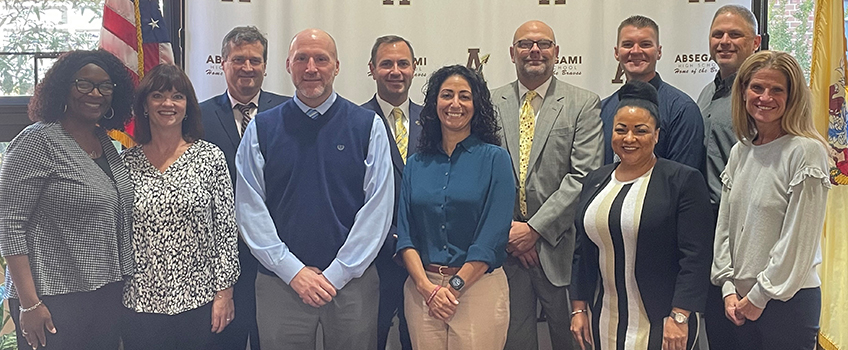 Galloway, N.J. - The Greater Egg Harbor Regional School District and Stockton University have signed a Dual Path Partnership agreement that will give students at Absegami, Oakcrest and Cedar Creek high schools the opportunity to graduate from high school in three years and be automatically enrolled at Stockton with sophomore standing.
The agreement demonstrates the commitment of both institutions to provide students with a high-quality education and seamless access to an affordable four-year college degree.
"This agreement recognizes that Greater Egg Harbor Regional's rigorous college preparatory curriculum more than adequately prepares students to make the transition to college," said Stockton University President Harvey Kesselman. "We have welcomed hundreds of our local Absegami, Oakcrest and Cedar Creek graduates to Stockton over the years and are confident this agreement will help even more students get access to an affordable college degree."
GEHR Board of Education President Carol Houck said the board's primary focus is meeting the needs of students.
"The Dual Path Partnership marries the great academics of Oakcrest, Absegami, and Cedar Creek with Stockton, while saving our families time and money, something everyone can benefit from," Houck said. "I know so many who have benefited from attending our schools and then attending Stockton. This will only help more students achieve the education they desire."
Currently all three high schools offer dual credit courses through Stockton that allow students to earn both high school and college credits. The classes offered include Latin, French, Spanish, Precalculus, Calculus, Environmental Studies, Holocaust studies, and Film and Video Production.
"The relationship between Stockton and Greater Egg has always been strong, but the Dual Path Partnership illustrates a renewed focus from both of us to look for solutions that serve our shared communities," said GEHR Superintendent James Reina. "It is a conscious and spoken part of our planning to always look for opportunities to work together. We share the goal of offering the benefits of a college degree to local youth and hoping those youth will stay in our area to raise their families and do great things."
Stockton Chief Enrollment Officer Robert Heinrich said the plan will save students both time and money.
"If students can earn a semester or more of credits in high school, they will not only save thousands of dollars in tuition, but also reduce the time it takes them to graduate college," Heinrich said.
The terms of the Dual Path Partnership agreement include:
Students who earn their high school diploma from a Greater Egg Harbor Regional High school with a minimum GPA of 3.0 or better are guaranteed enrollment at Stockton University.
Stockton agrees to waive the undergraduate admission application fee for eligible students.
Stockton will provide on-site personal advisement and college admissions and financial aid workshops in Greater Egg Harbor Regional schools for prospective students and parents.
Stockton will provide academic and merit scholarships to eligible students renewable for up to four years of undergraduate coursework to those who maintain a 3.0 or better GPA.
Greater Egg Harbor Regional High School will publicize the agreement and provide regular arrangements for Stockton admissions and financial aid counselors to visit Greater Egg Harbor Regional high schools.
Stockton will work with the administration at Greater Egg Harbor Regional High School to increase the number of dual credit offerings so that students can also complete as many as 32 college credits during their first three years of high school and transfer those credits to Stockton.
Students who complete 32 credits at a Greater Egg Harbor Regional high school may enter Stockton as sophomores.
Students who do not meet the minimum admissions requirements can be conditionally accepted to Stockton and encouraged to initially enroll at Atlantic Cape Community College under the existing Stockton Transfer Pathways partnership.
Stockton signed a similar agreement with Ocean City High School in June.
# # #
Contact:
Diane D'Amico
Director of News and Media Relations
Galloway, N.J. 08205
Diane.DAmico@stockton.edu
609-652-4593
609-412-8069
stockton.edu/media