Some 430 Attend Latinx Visitation Day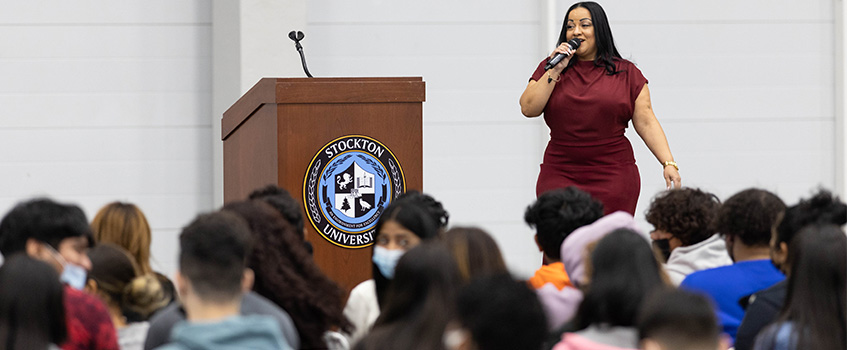 Galloway, N.J. – Some 430 area high school students got a taste of what it would be like to be an Osprey at the annual Latinx Visitation Day on Nov. 18.
Latinx Visitation Day has been held at Stockton since 1987 and is fundamental to showing Hispanic students all that the university has to offer. About 17 percent of Stockton's students identify as Hispanic/Latino.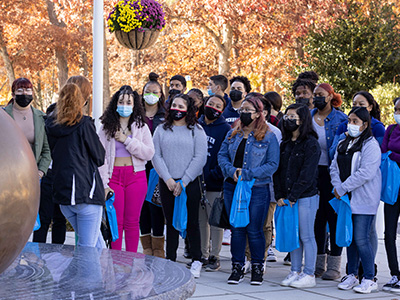 Director of Admissions, Heather Medina, a Camden native and fellow Stockton graduate, encouraged the crowd of Latinx students to "level up" and start standing for themselves and their goals - goals of being able to obtain a college degree or even to be the first in their family to attend college.
Medina said her high school counselor had told her she was not "college material," and despite the nay-sayers and adversity she had faced, she was able to obtain two college degrees from Stockton. She is the first Latina woman to become the director of admissions at Stockton. She explained to students how she took advantage of the resources Stockton had offered her, like the EOF program to fulfill her dream.
"Stockton University wants to be that resource that will help you get to your next level," Medina said. She encouraged students to seize the moment they were in by starting today to stand up for themselves and reach for the opportunities in front of them, like applying to Stockton.
The day was full of information about admissions and was followed up with a tour given by Stockton's Student Ambassadors. The event also featured an information fair with a variety of multicultural clubs and organizations around campus such as Los Latinos Unidos, togetHER, and multicultural fraternities and sororities... The day also featured lunch provided by the university, where students were able to talk to Latinx faculty and staff about their experiences here at Stockton.
The participating students came from the following high schools: Atlantic County Institute of Technology, Egg Harbor Township, Camden Academy Charter, DCF Regional High School, Upward Bound for ELL/Woodrow Wilson, Bridgeton, Pennsauken, Hammonton, Oakcrest, Absegami, Cedar Creek, CCTS Penn Tech-Pennsauken Campus and Camden County Technical School.
View a gallery of photos from the event.
Reported by Hannah Urbanowycz
Photos by Susan Allen