Inclusive Student Success

Stockton is committed to providing an affordable, high-quality, interdisciplinary education that is grounded in the liberal arts and prepares students for healthy, productive and meaningful lives.
Students 'Live, Work and Learn' at A.C. Campus
It's a perfect Atlantic City deal: Ten of the city's largest employers, including nine casinos, got 130 Stockton students as employees for the summer, filling much-needed positions.
The students got a summer job, free housing at the Stockton Atlantic City Residential Complex on the Boardwalk, and four college credits from a free career-readiness and leadership class.
Stockton began the Atlantic City Summer Experience – Live, Work, Learn program this year to help local businesses and provide students with learning opportunities in the city and connect them with the community.
"This has been an initiative of our president, Harvey Kesselman, to connect more with the community," said Stockton Atlantic City Chief Operating Officer Brian K. Jackson, who began reaching out to businesses this past February. A website was set up where students could get information on the jobs at each site and submit initial applications of interest.
More than 700 applications were submitted to participate. Those approved worked directly with employers to get their jobs.
The program started with just three businesses, but soon grew to 10 as more asked to participate. Bob Ellis, vice president of Human Resources at Hard Rock Hotel & Casino, said they typically rely on foreign labor for summer help, but this summer, having 25 students from Stockton has been "a huge help." An added benefit is they may want to stay on in the fall, or even make it a career.
Senior Natalie Giovinazzi now feels more prepared to become a nurse after her summer experience as a patient care associate with AtlantiCare.
"I know what to expect and what's expected of me. It just made me so much more comfortable going into my senior year."
Gregory Copeland appreciates the additional source of income this fall after Borgata Hotel Casino & Spa offered him a part-time job following his summer working as a food runner. The junior from Atlantic City works at the casino's pool and nightclub on the weekends. He said the program has helped him with time management to balance work, school and a social life.
"I got to experience the casino life, and that can be hectic at times, but it was good. I liked it," said the Sociology and Anthropology major who also competes on Stockton's track and field team. "I liked how (the program) put me in other people's shoes, to see what they see and do (with their jobs)."
And while the Live, Work, Learn program had a large number of participants like Copeland from Atlantic County (24), 82% of the students live in other New Jersey counties, including 15 from Camden County, 14 from Essex County and nine from Gloucester County.
students completed the program
students satisfied with the program
---
Campus Food Pantry Expands, Moves to Larger Site
In an effort to ensure that no student goes hungry, Stockton expanded the main campus food pantry last fall, now located at the Townsend Residential Life Center (TRLC).
The University received an $80,000 grant from the State of New Jersey as a part of the Hunger-Free Campus Grant program. The grant allows Stockton to keep the pantries in Galloway and Atlantic City fully stocked and pay student workers such as first-year student Yanet Reyes.
Reyes says that she saw the pantry position on the Stockton website, and it was something she really wanted to do.
"I love being able to see students have full access to this resource here on campus," Reyes said. She also appreciates being able to spread the word about the food pantry to students who may not know about it.
"This is more than just a job," said Reyes. "My hope is that talking about this option will create a domino effect so that every student will know that the food pantry is available to them."
The Food Assistance Program is open to all students. They can enroll online and will get access to both pantries. Enrolling also gives students access to advisors who can connect them to other resources and programs.
Highlights from Stockton's Veteran Community
Stockton Earns Military Spouse Friendly School Designation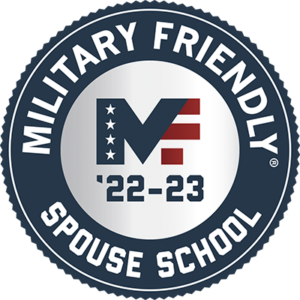 For the first time, the national Military Friendly organization has named Stockton University as a 2022-2023 Military Spouse Friendly School.
Institutions earning the Military Friendly School designation were evaluated using both public data sources and responses from a proprietary survey. More than 1,800 schools participated in the 2022-2023 survey, which is the longest-running and most comprehensive review of University investments in service members.
Stockton is one of 346 schools recognized for the achievement and comes after the school earned a 2022-2023 Silver Military Friendly designation in March.
"We are pleased to receive this recognition, especially after getting the Silver Military Friendly designation earlier this year," said Michael Barany, the director of Stockton's Military and Veterans Success Center. "We know that it's important to not just serve veterans, but support their spouses and families too, and that's an integral part of what we do here at Stockton University."
Stockton Earns N.J. 'We Value Our Veterans' Award
As Stockton celebrated its 50th anniversary of teaching, Barany, wondered how many student veterans had attended the University.
"To our best research, we found just over 7,300 military students served by Stockton since its creation," he said at the annual Veteran's Day program in the Campus Center on Nov. 9, 2021.
The program was held early so that representatives from the university could attend the Veterans Day Ceremony at the New Jersey Vietnam Veterans' Memorial in Holmdel on Nov. 11 to receive the "We Value Our Veterans" New Jersey Governor's Academia Award from Gov. Phil Murphy.
The award recognizes the efforts made by the University to serve student veterans. Those efforts include offering priority registration to veterans, having a designated office and lounge for veterans, and a Student Veteran Organization. Stockton also has a wall of honor and memorial and holds ceremonies to recognize Veterans Day.
---
Stockton Student Teacher Earns State Recognition
Stockton University's Jalynn Pagano of Bayville was one of 15 student teachers selected June 8 as a New Jersey Distinguished Clinical Intern of the Year.
Pagano, who earned her teaching certification in Secondary Mathematics, was recognized during an annual ceremony as part of a collaborative program between the New Jersey Association of Colleges for Teacher Education and the New Jersey Department of Education.
"We are extremely proud of Jalynn and all of our nominees," said Claudine Keenan, Stockton's dean of the School of Education. "This is a very competitive achievement as it also includes graduate education students. This continues to be a challenging time for educators, and we appreciate the dedication of our student teachers, their teaching mentors and our partner school districts in helping guide the next generation of educators."
The program is designed to publicly recognize the top graduates of the 25 colleges and universities in New Jersey that have educator preparation programs. Since 1985, each school has nominated its top three most outstanding prospective teachers, and 15 are selected by an independent panel of educators and named Distinguished Clinical Interns.
---
First Cohort of Engelberg Scholars Graduate
When the first cohort of Atlantic City area students were invited to apply to the Engelberg Leadership Scholarship Program (ELSP), they almost couldn't believe the program would pay all of their tuition, fees, room, board, books and other costs, and provide opportunities to meet and network with community and business leaders.
"It was something I couldn't even imagine," said Steven Blythe of Ventnor, a Computer Science major and one of the first four scholars chosen in 2019. "It was so new."
"It just sounded too good to be true," said Communications Studies major Loukaia Taylor of Atlantic City. "But then I was so happy and grateful."
The ELSP is funded through a gift from Al Engelberg, an Atlantic City native who credits a scholarship with setting him on the path to becoming a successful attorney. He and his wife, Gail, wanted to give back to his hometown by helping the next generation become leaders in the community. His initial gift of $1 million in 2019 has funded three annual cohorts of four students.
The first cohort of four Engelberg scholars, Taylor, Blythe, Elena Gonzalez and Bao T. Pham, both of Atlantic City, graduated this May. All said they are honored and grateful to have been part of the first cohort and hope they can serve as role models for the future.