Arts & Culture

Stockton is committed to supporting the creative works of students and artists in the region and beyond through a variety of educational and cultural programs.
Osprey Mural Welcomes New Students with Open Wings
When Loryn Stanton, a junior Visual Arts major, thought of an osprey, she envisioned a raptor plunging talons first, wings tucked into a fish's domain. From a full-speed dive to a complete halt in the water, it then pumped its wings with all its might to lift back up into the sky with the added weight of its catch.
"Somehow, they're strong enough to do that," Stanton said.
As she flicked blue and gold paint onto the glass windows outside D-Wing last summer, the splatters emulated the droplets of water dispersing from an osprey's feather during a mid-flight shake.
"Their feathers have a quality to shed water," she explained.
Stanton painted an osprey mural that welcomes anyone to stand in front of the open wings for a photo op.
She described her style as realism with a cartoon twist.
Student Transition Programs wanted to collaborate with the School of Arts and Humanities on a mural "to ignite Osprey spirit among students during New Student Orientation," explained its director, Ana Edmondson.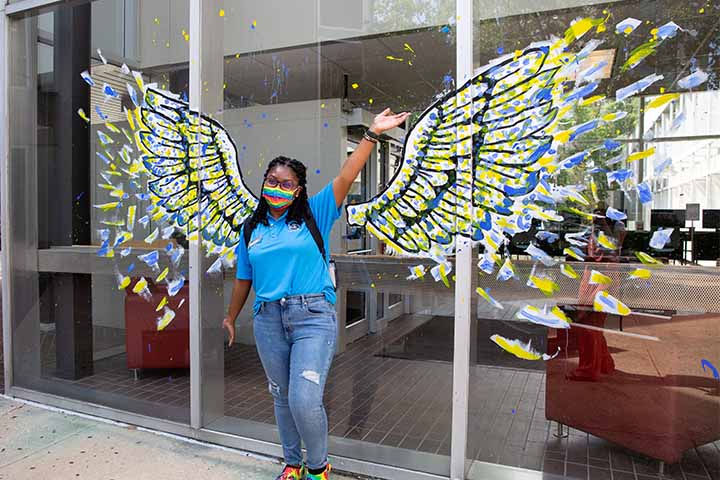 ---
Rebranded PAC Reopened in Fall 2021
The Stockton University Performing Arts Center (PAC) reopened in Fall 2021 with an expanded mission to both educate and entertain, offering more opportunities for students and reaching a broader audience in the South Jersey region.
The PAC had been closed since March 2020 due to COVID-19 restrictions. The closure provided an opportunity to review PAC programming and consider how best to serve the community as Stockton entered its 50th anniversary of teaching in Fall 2021. The PAC opened on the Galloway campus in October 1976.
"The PAC is part of Stockton," said Lisa Honaker, former dean of the School of Arts and Humanities, who led the rebranding initiative. "Our new programming will still be entertaining, but it will also be more inclusive and interdisciplinary, contributing to the educational mission of the University."
Students Collaborate with Artists to Create Atlantic City Murals
Alexandria Montalvo never thought artwork she helped create could have such an impact.
The senior Stockton University student put the finishing touches July 14 on a new wall mural in Atlantic City to honor four African American education trailblazers. The mural is one of two finished this week in time for the NAACP National Convention, which is taking place in the city for the first time since 1968.
"I've never done anything like this before," said the 27-year-old art history and studio art major from Mays Landing. "Typically when I do art, it's for myself and not for something as important as this. So, it's really cool that I can tell people, 'See that, I helped with that.'"
Montalvo is one of a few students who worked on the mural, a collaborative project between the Noyes Museum of Art of Stockton University, Create 48 and the Atlantic City Arts Foundation.
Noyes Museum Executive Director Michael Cagno said the organizations got together with Brian K. Jackson, chief operating officer of Stockton's Atlantic City campus, and Lisa Honaker, former dean of Stockton's School of Arts and Humanities, to create something "to celebrate history on a local and global level."
The first mural, created by Brigantine artists Charles Barbin and Randi Meekins, celebrates Stockton's 50th anniversary and features Juanita High, founding director of the N.J. Equal Opportunity Fund and a member of the Stockton University Foundation Board of Directors; Dorothie W. Dorrington, educator and former Atlantic City Board of Education president; Vera King Farris, former Stockton president, and Hannah Pierce Lowe, former principal of Indiana Avenue Vocational School (for colored girls) in Atlantic City.
The second mural, by New York artist BK Foxx, depicts three different civil rights leaders – Martin Luther King Jr., Muhammad Ali and Fannie Lou Hamer – from photographs taken of them in Atlantic City.
---
Stockton Productions Win 10 Telly Awards
Ten video projects created by Stockton University's Production Services department were recognized during the 43rd Annual Telly Awards. The department received nine gold awards and one silver award. Categories include educational content, social impact and fundraising. Mark Jackson, director of Production Services, was proud of his team and the collaborations that made the awards possible.
"We share the recognition with our many partners and clients that we have the pleasure of working with," Jackson said. "This is a wonderful honor to have."
The Telly Awards was founded in 1979 to honor excellence in local, regional and cable television commercials, with non-broadcast video and television programming added soon after. With the recent evolution and rise of digital video (web series, VR, 360 and beyond), the Telly Awards today also reflect and celebrate this exciting new era of the moving image on and offline.