Spotlight On: Daniel Moscovici Joins Statewide Conservation Leadership Team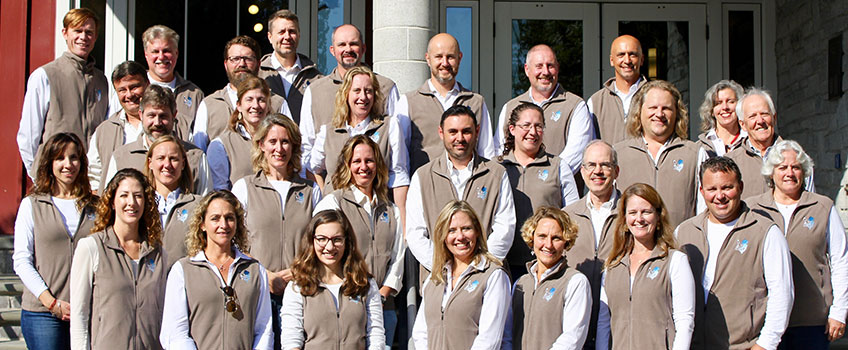 Conservation takes a team. In New Jersey, Daniel Moscovici has stepped onto the field.
New Jersey became the first state to develop a multiagency Conservation Leadership Program to train professionals who have the potential to balance expanding development in a shrinking natural world.
Moscovici, an associate professor of Environmental Studies and Sustainability, is in the first cohort that completed the program's fall residency at the National Conservation Training Center in Shepherdstown, West Virginia. He joined participants specializing in parks, forestry, wildlife, watersheds and natural resources from the Department of Environmental Protection, New Jersey Audubon, U.S. Fish and Wildlife Service and other state and federal agencies and nonprofits.
The immersive training points out there are no procedures to follow in solving conservation's complex challenges, and the scope of the problems requires collaboration and expertise from numerous fields. Adaptive leadership strategies are the focus of the course.
Moscovici, who is the only professor in the leadership group, is networking with fellow cohort members to find more internships for his students and getting involved in new research and training opportunities.
The last time Moscovici spoke with Alissa Collins (formerly Alissa Gregory), she was a student in his class. Now she is an environmental specialist in the NJDEP's Bureau of Coastal and Land Use Compliance and Enforcement and works for Assistant Commissioner for Compliance and Enforcement, Elizabeth Dragon, who is in the leadership program with Moscovici. NJDEP is pioneering an innovative internship program. Dragon reconnected Collins and Moscovici to make this new NJDEP internship available to Stockton students within Collins' Bureau. Internships are a requirement for Stockton Environmental Science/Studies majors.
The 72-mile Delaware and Raritan Canal State Park Trail offers biking, hiking, photography, birding and other outdoor recreation along a historic canal and railway. NJDEP's Division of Parks and Forestry wants to know how people are using the trails. Moscovici is collaborating with Josh Osowski, regional park superintendent with the New Jersey State Park Service, on a research project to collect data to answer that question.
Moscovici is also working with William Zipse, a supervising forester for the New Jersey Forest Service, to bring a Game of Logging chainsaw safety and technique course to New Jersey that would benefit students studying forestry and people involved in forest management statewide.
Regional planning is Moscovici's expertise. The white blazes of the Appalachian Trail have guided his outdoor explorations, and during his academic studies, the Trail's originator, Benton MacKaye, an author, regional planner and conservationist, became Moscovici's role model.
MacKaye conceived the idea for the Appalachian Trail, which he called a project in regional planning, at a meeting in the Hudson Farm's estate house in Andover, New Jersey, in 1921.
This month, Moscovici will complete the second of the New Jersey Conservation Leadership Program's two residencies at the Hudson Farm, almost a century after MacKaye came up with a monumental idea on that same farm.