Spotlight On: Patricia Reid-Merritt
Galloway, N.J. - "I guess I did okay. The response (emails, texts, telephone calls, requests) was a bit overwhelming. I started asking myself, 'What did I say?'" reflected Pat Reid-Merritt, distinguished professor of Africana Studies and Social Work, on her participation in the online seminar, "Race, Racism, and Anti-Racism: Redefining the Social Contract" on June 30.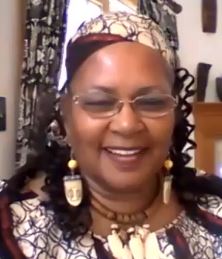 As Stockton faculty and staff tuned in to listen to her presentation, the outpouring of support just by email alone indicated she had far surpassed "okay."
The seminar, hosted by Temple University, featured a panel of some 20 national scholars and drew an impressive 1,200 registrants. When Molefi Asante, chair of the Graduate Department of Africology and African American Studies at Temple, asked Reid-Merritt (pictured left) to be one of those scholars, she said she was excited and needed to reflect on her selection.
Reid-Merritt has been teaching and lecturing on issues surrounding race and racism her entire academic career, 44 of which have been at Stockton. She is a social worker by profession and an active member of the National Association of Black Social Workers, whose fight against systemic racism has been at the forefront of their agenda for the past 50 years.
"I suspect that it was my last three publications and my presence and contributions to the National Council for Black Studies that led to my selection. In the last four years I've released three major publications on race/racism including "Race and Identity in Hispanic America: The White, the Black and the Brown (with Michael Rodriguez, 2020);" "A State-by-State History of Race and Racism in the United States (editor, 2 volume set, 2018);" and, "Race in America: How a Pseudoscientific Concept Shaped Human Interaction (editor, 2 volume set, 2017)," Reid-Merritt said. "I was already 'primed' for the discussion."
She was scheduled to present toward the end of the seminar, and as she listened to the other panelists, she questioned what she would say and wondered if she could add anything new to the dialogue.
"Two hours and 55 minutes into the program they finally called on me to unmute my mic and video and begin to talk...and that's what I did. My A-E-A-E plan for organizing movement activity came to me at the last moment," she said. "Acknowledge that a problem exists: Educate yourself on the issues; take progressive Actions to eliminate the inequities, discrepancies and social injustices; and remain fully Engaged for the duration of the struggle."
She challenged the younger generation to make its contribution to the movement, saying they need to do more than just march.
"I wanted to remind the listeners that this was indeed a special 'moment,' but only a moment in the long history in the struggle for freedom and liberation for members of the Black community."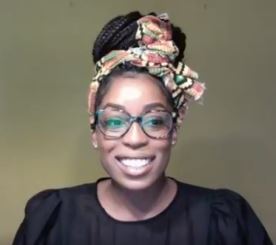 Toyo Adoberin '17, a freelance marketer enrolled in Temple University's Africology Doctoral program, also participated in the seminar, discussing different roles people identify with when it comes to activism. Aboderin (pictured right) received a bachelor's degree in Communication Studies and a minor in Africana Studies from Stockton.
If you missed Reid-Merritt's portion of the seminar, fast forward to hour 2:55 of the program to view it. Adoberin's presentation can be watched at hour 3:29.
Reported by Mandee McCullough