Holocaust Rescuers Exhibition Tells Ullman Family Story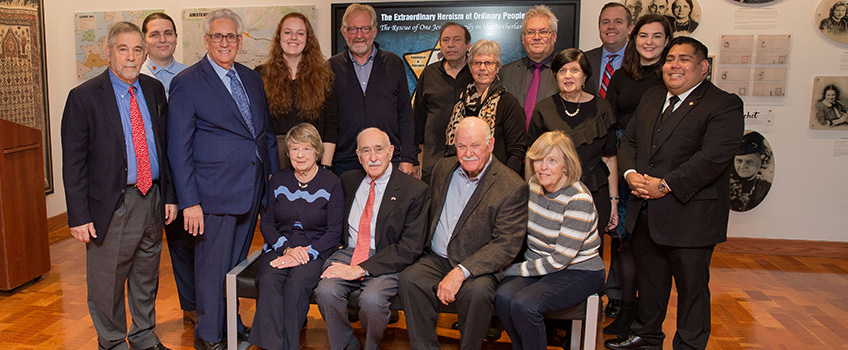 Galloway, N.J. - A new Holocaust Rescuers Exhibition, dedicated to non-Jewish families who risked their lives to protect Jews during the Holocaust in Amsterdam, has opened at the Sara and Sam Schoffer Holocaust Resource Center at Stockton University.
Titled "The Extraordinary Heroism of Ordinary People," the interactive exhibition tells the history of the Holocaust in the Netherlands through the story of Leo Ullman and his family, who were saved through the heroic acts of non-Jewish families who hid them and provided them with forged documents.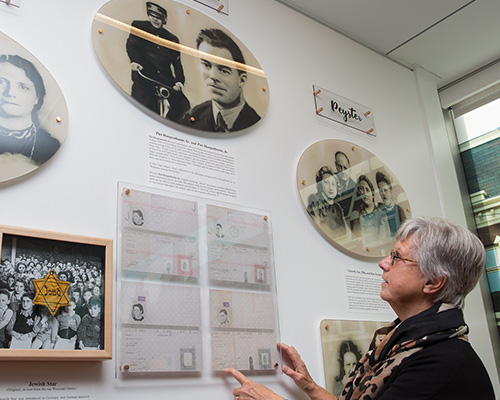 "This exhibition tells of those who took enormous risks to save lives," Stockton President Harvey Kesselman said at the dedication Oct. 28 attended by more than 400 people. "During those times, resistance and rescue meant a commitment to human life."
The exhibition was funded by a generous gift from Leo S. and Katherine M. Ullman. Leo was just three years old when his family went into hiding in an attic, turning the noisy, rambunctious youngster over to the Schimmel family, who would raise him as their own child for 796 days.
"There was no way my family could have stayed hidden with me," Ullman said during a preview of the room.
The exhibition was created in-house at Stockton. University graphic artists, IT professionals, and facilities personnel worked with Ullman, Associate Professor of History Michael Hayse, consultant and historian Michael Berenbaum, Holocaust Center director Gail Rosenthal, her staff and a group of 17 students interns who researched and helped develop the exhibition.
"This was such a collaborative effort," Hayse said, "The students learned about the Holocaust, and they also learned skills they can take with them when they graduate. It was a labor of love."
Hayse said the student perspective was crucial in developing an exhibition that would appeal to a younger generation that has little knowledge of the Holocaust but a lot of experience using technology to learn.
The main exhibition room has been dedicated as the Schimmel and Hoogenboom Righteous Remembrance Room in memory of the families that saved Leo and provided his family with forged documents.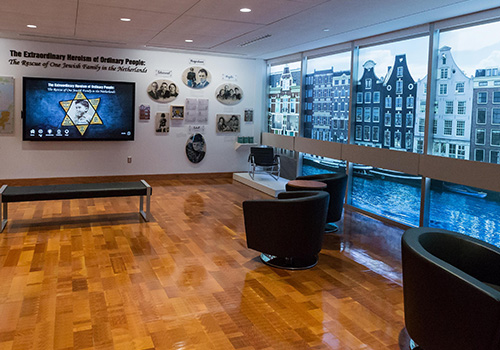 Berenbaum said the exhibit is important in that it highlights the role of "upstanders" during the Holocaust – people who did not just stand by, but stood up to help others, even at the risk of their own lives.
"We are trying to teach that human decency, goodness, is achievable by ordinary humans like you and me," Berenbaum said. "When we achieve it, the ordinary becomes extraordinary. Decency, goodness, is in the small, loving gestures."
Ullman noted that when the war ended, and he was able to come out of hiding, they realized that all of the neighbors on the street knew he was a hidden Jewish child, but no one had reported it to the Nazis, keeping them safe.
"The people who did not turn Leo in were also just ordinary, decent people," Berenbaum said. "They said they would not cooperate or benefit."
Leo said his family also would not have survived without the help of a local policeman Pieter Hoogenboom, Sr., and his family, who created forged documents that allowed them to get food. Both the real and forged documents were saved, and are on display in the exhibition.
Hoogenboom's granddaughter Marion van Wesemael-Hoogenboom, and his great-granddaughter Julia Hoogenboom attended the dedication. Van Wesemael said they knew just a little about the work her grandfather and father, a draftsman, had done during the war, and are learning more thanks to Ullman.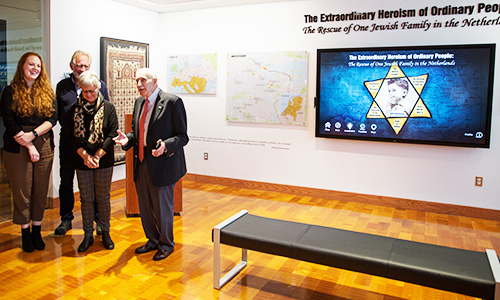 "My father had some stories, but he never talked about who he had helped or how dangerous it was," van Wesemael said. "Now I have thousands of questions no one can answer. We are here, too, to learn more about a grandfather and father we did not know. They were ordinary people, but they believed in helping others when they needed it. This is very special. We are very proud."
Julia said she has learned a lot about her family from Leo Ullman.
"They just knew what was happening wasn't right," she said. "I hope I would do the same thing."
The event also included the naming of the Holocaust Center's main room for Rosenthal, who has served as director for some 30 years. The center's classroom features photos of survivors, and Stockton Board of Trustees chairman Leo Schoffer, who helped develop the center named for his parents, said survivors appreciate the respect Rosenthal gives them.
"Her passion and dedication are legendary," Schoffer said. "My sisters and I are children of survivors and we have witnessed the respect Gail gave them. She put them on a pedestal and taught others their stories."
Leo Ullman said he was thrilled with the exhibition, noting that the families that helped him also helped countless others as well. He said he is proud his story will now be used to teach others.
The exhibition also features a film on Ullman's experience by Stockton instructor Toby Rosenthal titled "There Were Good People Doing Extraordinary Things"
Following the viewing, Ullman recalled having to stay indoors for almost two years with the Schimmels while the rest of his immediate family his in a one-room attic with no light or heat, "like rats, my mother said."
"This exhibition honors those who saved our lives," he said. "They were ordinary people convinced they were doing the right thing."
The Ullman's four children and grandchildren attended the event and Ullman asked them to stand, noting that "without the Schimmels and Hoogenbooms, none of them would be here."
The exhibition is open during Holocaust Center hours, 8:30 a.m. to 6 p.m. Monday through Friday, and weekends by appointment. For more information call the center at 609-652-4699.
View gallery of photos on flickr.
View a photo story of the creation of the exhibit.
# # #
Contact:
Diane D'Amico
Director of News and Media Relations
Stockton University
Galloway, N.J. 08205
Diane.DAmico@stockton.edu
609-652-4593
609-412-8069
stockton.edu/media