Hellenic Studies Welcomes Archbishop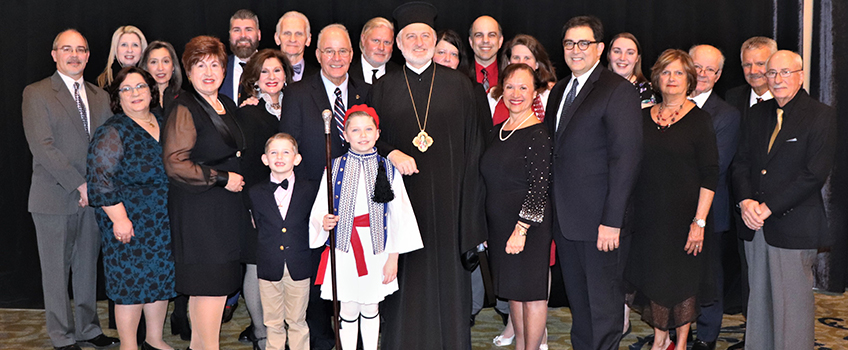 Galloway, N.J. – His Eminence Elpidophoros of America, Greek Orthodox Archdiocese of America, gave up his university teaching position when he accepted his new role in the church. But his love of learning and rapport with people was evident during a visit to Stockton University on March 5, where he met with students participating in Hellenic Studies programs and spoke to a crowd of more than 150 in an evening lecture at Seaview, a Dolce Hotel.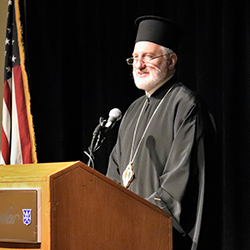 "I loved teaching," he told the students during a meeting in the Constantelos Hellenic Collection and Reading Room in the Bjork library. "I learned from my students, and now I have a role in the church that fills my heart. It is good to have new things in your life."
His Eminence is the third archbishop of the Greek Orthodox Diocese to visit Stockton. He was the keynote speaker for the 2020 Rev. Dr. Demetrios J. Constantelos Memorial Lecture, organized by the Dean C. & Zoë S. Pappas Interdisciplinary Center for Hellenic Studies at Stockton. The event is held in memory of one of Stockton's founding professors, whose legacy continues to inspire students, faculty, staff and supporters at Stockton.
The Pappas Center and the Friends of Hellenic Studies continue to support the university through academic events, and scholarships that support students who want to pursue Hellenic Studies in Greece.
Student Megan Coates of Atlantic City, an archeology major, talked about visiting Cyprus in 2017, her first time out of the country.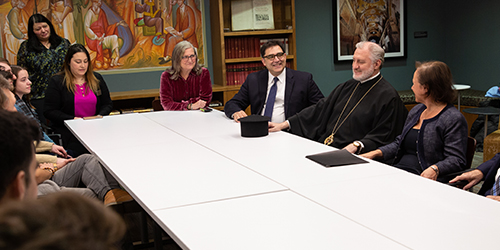 "I landed in Cyprus and my life changed," she said. "There was something about the light. I didn't want to leave. But the light stays with you when you return. I discovered Greece through Stockton."
Sgt. Caitlin Gillum was among a class of student veterans who can take a special class on Homer's Odyssey titled "From Troy to Ithaca, A Soldier's Journey Home."
A combat veteran, Gillum said she was struggling to return to civilian life when she took the course, which includes a spring break trip to Greece.
"Coming home is hard," she said. "You have to find your way back in mind, body and spirit. This program made the difference for me. To be in a safe environment, with fellow veterans meant everything to me."
The Archbishop said the culture of Greece is something everyone can enjoy.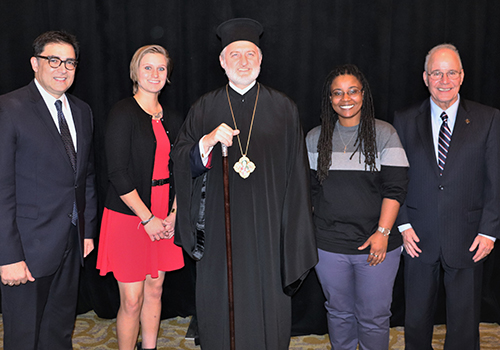 "It is something every person can embrace," he said. "You don't have to be Greek; it is a global civilization."
Dr. Tom Papademetriou, Director of the Pappas Center, said he invited the Archbishop to speak because he "exemplifies the high ideals that Professor Constantelos represents: an excellent teacher, a highly accomplished scholar, and a dedicated priest." His Eminence spoke on "The Orthodox Church in the 21st Century: Challenges and Opportunities."
Professor of Music Beverly Vaughn led the Stockton Chorale and Holy Trinity Greek Orthodox Church choir in the American and Greek National Anthems as well as one of Dr. Constantelos' favorite hymns. Vaughn said she recalled how warmly Constantelos supported her when she was a new, nervous faculty member.
Interim Provost Michelle McDonald recalled the Greek cookies Constantelos used to bring in to share with colleagues. She thanked the Pappas family and Friends of Hellenic Studies supporters for continuing his legacy through their efforts to support students.
Other major sponsors of the event were Mary and Georgette Boulegeris, the Constantelos family, James and Zoe Christakos, Aphrodite Kotrotsios and Hellenic News of America.
The Friends of Hellenic Studies, co-chaired by Cathy Karathanasis and Sarah Albertson, will host its next event, "Exploring Hellenism," at 2 p.m. on Sunday, May 3 at the Stockton Atlantic City John F. Scarpa Academic Center.
View a gallery of photos from the event.
# # #
Contact:
Diane D'Amico
Director of News and Media Relations
Galloway, N.J. 08205
Diane.D'Amico@stockton.edu
609-652-4593
609-412-8069
stockton.edu/media