Students Learn and Teach in Taiwan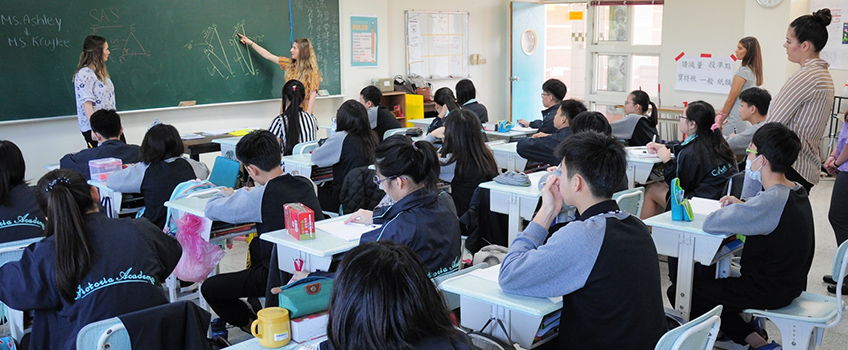 Galloway, N.J. _ The principles of mathematics may be universal, but how and when they are taught can be very different.
Twelve students and faculty from the School of Education and School of Natural Sciences and Mathematics got the opportunity to see both the similarities and differences in math education in Taiwan during a trip in December to the country through a partnership with National Chiayi University.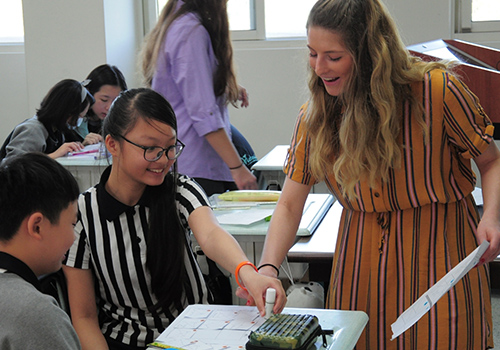 One immediate difference is that all students are required to learn a second language, and those in the classes students visited at the K-12 Victoria Academy spoke English and used it in multiple classes.
"These students were doing math, cooking, physical education, history, and science in English in both elementary and secondary schools," said Ashley DeMaio of Mullica Township.
Associate Professor of Education Norma Boakes, who coordinates Stockton's Teacher Education Program, said the Taiwan people put a lot of emphasis on the importance of education.
"They really value their culture and learning about other cultures," Boakes said.
Student Jalynn Pagano of Bayville said she was surprised at how many of the teachers were from other countries, and how many students expressed a desire to go to college in another country.
The eight students who participated included three planning to teach in elementary school and five working toward mathematics teaching certifications. Some had just completed their required student teaching semester, and others are preparing to do it in the spring semester. The students got to observe classes, teach a lesson, and present at an international conference at NCYU.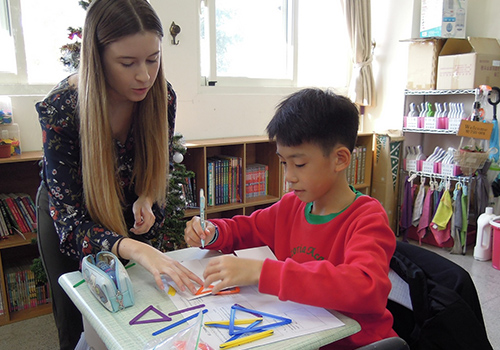 "The trip definitely influenced me to introduce new ways of teaching into my own classroom," said Courtney King from Howell. "I learned about different classroom management skills as well as the Taiwan culture."
Pagano, Shannon Asta of Jackson and Brooke Gilliano of Buena got to present their project on "SURFER in the Geometry Classroom" at the international conference, which Pagano said was an incredible experience. She said the trip made her a more culturally responsive teacher.
Overall, in reflections written about their experience, students noted that while there were differences, the students were still children, who sometimes needed a bit of a reminder to pay attention.
"They are definitely more well-behaved in general, but they still preferred (to work) with certain friends when we broke them into groups," said Asta, who is from Jackson..
Several of the students said the classrooms were more colorful and interactive than they expected.
"I assumed that the classroom was going to be rigid and teacher centered with direct instruction. (But) the students are the focus and the classroom was run as cooperative learning," said Alexandrea Byron of Wildwood Crest, noting that they would call out and the teacher had to remind them to raise their hands with a question.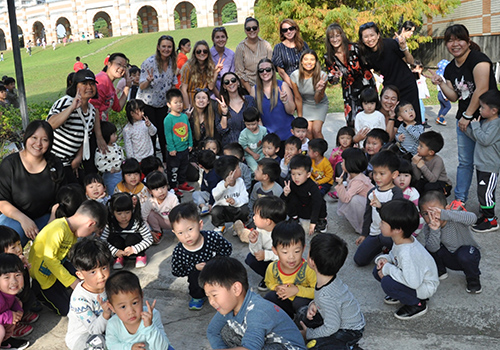 Kaylee Devine of Cape May said she expected the students to be well-behaved and they were, remaining engaged throughout a lesson taught by Ashley DeMaio.
"But, like all seventh-graders, they needed to be re-directed during transitions," Devine said. She said the teachers use direct instruction, but in a way that encourages student discourse and collaboration.
"I hope to implement a similar style of teaching to promote this level of student engagement," she said.
Jessica Dorta of Cape May was also surprised that the students would call out rather than raising their hands.
"I assumed that they would be completely quiet and only answer when they were called on by the teacher," Dorta said.
Dorta also noted that the students call all of their teachers "teacher" rather than using their names.
Gilliano said she found the middle school students to be very advanced in their math education, and she was also surprised at how much the teachers used American vocabulary.
Several students did note that while the instruction is interactive, the students do not seem to spend as much time working in small groups as students do in the United States.
A group of Stockton faculty and staff first went to Taiwan in December 2017, and a group of educators from Taiwan came to Stockton in October 2018. Boakes said the first trip introduced them to education in Taiwan, and this trip was more focused on hands-on interaction with teachers and students in the classroom.
"We really had more time to meet, observe and collaborate," Boakes said.
She said just the exposure to teaching in another culture was a valuable experience for the Stockton students and faculty.
Gilliano agreed, saying "the love these students have for education pushes me to become the best well-rounded educator possible. My goal is to spread the love and passion of learning throughout the U.S. as these students did to me."
Other faculty who attended were Professor of Mathematics Chia-Lin (Charlie) Wu, who coordinated the trip, Associate Professor of Mathematics Bradley Forrest, and Instructor of Education Stacey Culleny.
While in Taiwan, Stockton President Harvey Kesselman signed agreements with National Chiayi University and National Taichung University of Education that will promote exchange programs for students and faculty.
"The trip was amazing," said Peter Straub, Dean of Stockton's School of Natural Sciences and Mathematics. "Our students really had a wonderful inter-cultural experience in the Taiwanese K-12 school and at the international conference. The new agreements will encourage exchanges and degree opportunities with Taiwan universities and provide a broader range of possibilities for global education for our students."
Wu said a student from NCYU attended Stockton in the fall semester, and the new agreements will open more opportunities for exchanges.
Contact:
Diane D'Amico
Director of News and Media Relations
Galloway, N.J. 08205
Diane.D'Amico@stockton.edu
609-652-4593
609-412-8069
stockton.edu/media