Senior Anisah Dean Named Sixth Staller Writing Tutor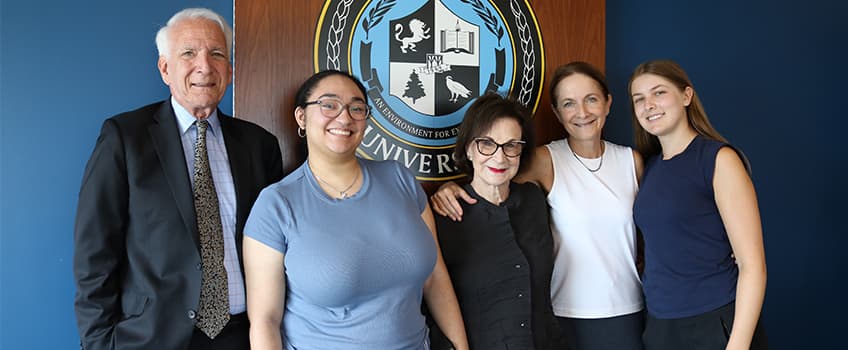 Atlantic City, N.J. — Anisah Dean, a resident of Mays Landing and a senior at Stockton University, has been honored with the Paul D. Staller '97 Writing Center Tutor Award in recognition of her passion for writing and her unwavering commitment to assisting her peers. Dean, who is majoring in Literature with a concentration in Creative Writing and an Africana Studies minor, is the sixth recipient of the annual award.
In a ceremony held on Aug. 7 at Stockton's John F. Scarpa Academic Center, attendees honored Dean and paid tribute to the memory of the award's namesake. Staller's family, including his parents Alan and Billie of Atlantic City, his sister Laurie, and niece Hannah, offered remembrances and expressed their congratulations. Other attendees included Pam Cross, former Writing Center coordinator, Edward Horan, coordinator of the Writing Center, and Dean's mother, Melinda.
"I was shocked when I was chosen for this award. I am eternally grateful and appreciative for the Writing Center and the amazing Staller family," Dean said.
Horan commended Dean for her patience and proactiveness, noting that she always strives to go the extra mile to assist fellow students.
Dean's quiet demeanor belies her sharp sense of humor, much like the late Paul Staller, a 1997 Communication Studies graduate, whose legacy continues to inspire the Writing Center.
Alan Staller expressed his gratitude for the program, noting that Paul's experience as head tutor helped him as he began his professional career in Los Angeles as a comedy writer. The Staller family's appreciation for the Writing Center's role in Paul's journey is evident in their sentiment about his enduring legacy.
"We're delighted you're getting (the award). And your name will be up on the plaque outside the center along with many others. We love the fact that Paul's name is going to be around longer than we will," Alan Staller said.
---
Galloway, N.J. — Writing didn't always come easy to Alicia Jenkins.
The Stockton University senior had to work hard on her writing when she attended Absegami High School. That's why being named the latest winner of the Paul D. Staller '97 Writing Center Tutor Award is so special for the Galloway native.
The monetary award comes from the Paul D. Staller '97 Writing Center Endowed Fund. Billie and Alan Staller, of Atlantic City, established the fund in memory of their son, Paul, a 1997 Stockton graduate with a degree in Communications Studies.