Buildings Dedicated to Donor John F. Scarpa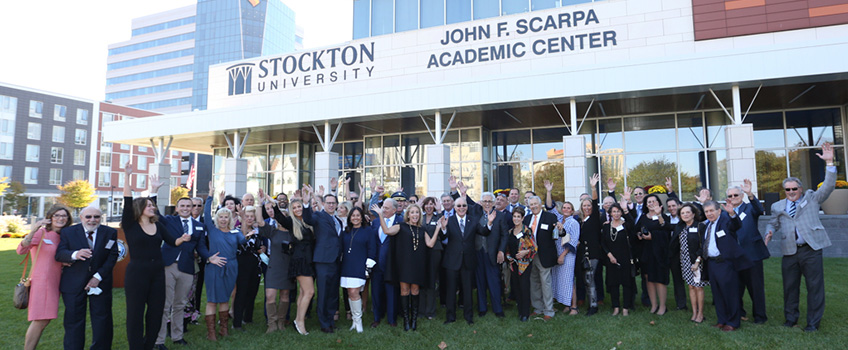 Atlantic City, N.J. - Fifty years ago, as Stockton was welcoming its first class of students, John F. Scarpa was also taking a chance on a new venture, introducing cable TV and later cellphone service to rural South Jersey, where he was born and raised.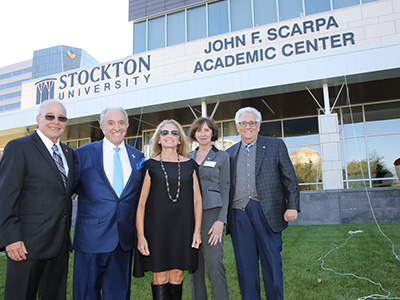 Both grew steadily and successfully. In 2019, Scarpa pledged $8 million from the John F. Scarpa Foundation to Stockton to assist students and programs at the Atlantic City campus, health sciences programs, and other initiatives.
On Thursday, Stockton formally dedicated both the Atlantic City Academic Center and Health Sciences building on the main campus in Galloway in Scarpa's name and presented him with an honorary doctor of public service degree in recognition of his accomplishments and generosity.
Scarpa and his wife, Jana, joined President Harvey Kesselman, Board of Trustees member Leo Schoffer and Stockton Foundation Board of Directors Chair Donna Buzby in formally unveiling the "John F. Scarpa Academic Center" sign on the Albany Avenue side of the building in Atlantic City.
A banner plane also flew by with a "thank you" message for Scarpa, who welcomed all of the almost 100 friends and family in attendance to join him for a large group photo in front of the building.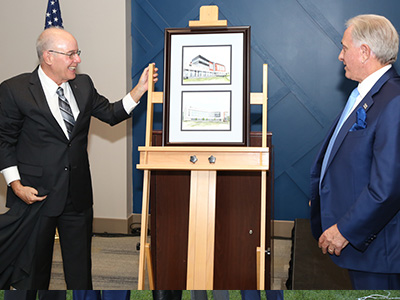 President Harvey Kesselman noted that Scarpa is the largest donor in Stockton history, and now a valued member of the Stockton family.
"One of our driving goals at Stockton is to educate the next generation of South Jersey leaders," Kesselman said. "For decades to come, they will have the John F. Scarpa Foundation to thank for providing support to help them along in their educational journeys."
Chief Development Officer Daniel Nugent said it is unique to be naming two buildings after one individual.
"I am confident the university's founders would be pleased not only to see how their university has grown, but to know that philanthropists and community supporters would believe so strongly in Stockton's mission, and role as an anchor institution here in Atlantic City, that they would choose to make a major investment in our university's exciting future," Nugent said.
Scarpa said his relationship with and understanding of Stockton and its enormous potential grew over the years through his association with Michael Azeez, who was a partner with him in forming AMCELL-American Cellular, and also a major donor to Stockton.
"His commitment and unwavering support encouraged me to identify ways in which I too could help this university to grow and have an even larger impact on our youth and this region," Scarpa said.
Scarpa said he expects a great return on his investment in Stockton.
"Let me be clear," he said. "My philanthropy is not about placing my name on walls or a building. It is about challenging Stockton and its students to take my vision and make it work by providing the next generation of students and scholars with the skill sets and innovative mindset that they need to take on the challenges of tomorrow's world."
A plaque with Scarpa's vision is installed in the lobby of the Academic Center. Kesselman also presented Scarpa with watercolors of the two buildings that bear his name. Guests at the event received tiles that matched the tiles in the Academic Center made by local Mud Girls Studio.

# # #
Contact:
Diane D'Amico
Director of News and Media Relations
Galloway, N.J. 08205
Diane.DAmico@stockton.edu
609-652-4593
609-412-8069
stockton.edu/media