Paul D. Staller '97 Writing Center Fund Names First Writing Tutor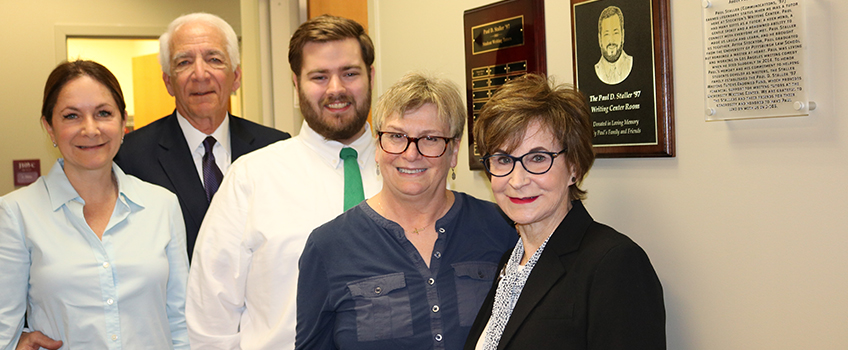 Galloway, N.J. - Thomas Kluxen never got the chance to meet the late Paul Staller, but Staller's mother, Billie, said she could feel her son's spirit in Kluxon. He even looks a little like him, she said.
"He reminds me of Paul," Billie Staller said at a ceremony to dedicate a plaque and recognize Kluxen as the first writing tutor to be honored by the Paul D. Staller '97 Writing Center Endowed Fund.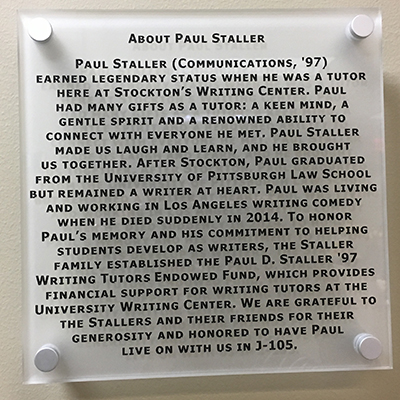 The fund was established by Billie and Alan Staller of Margate, in memory of their son, Paul, a 1997 graduate of Stockton with a degree in Communications Studies who worked as a tutor in the Writing Center. Paul, who also graduated from the University of Pittsburgh Law School, died in 2014 while working in Los Angeles writing comedy.
The room which houses the Writing Center, J106j, has been named the Paul D. Staller '97 Writing Room. A plaque plus a small biography of Paul hang outside the door.
"This is perfect," Billie said, reading the bio written by Pamela Cross, coordinator of the Skills Center Writing Lab.
Alan Staller recalled when they set up the fund at Stockton in 2016, they wanted to do something that would represent Paul. Cross said Paul was legendary in the writing lab.
"He was a favorite," she said. "He had a big personality."
He also had a big heart, and was the tutor most likely to help the student who had waited until the very last minute to come in for assistance.
"The idea is that every tutor honored as a Staller tutor will be someone who embodies his spirit and his commitment to helping students," Cross said.
Kluxen, of Galloway Township, was the head tutor in the Writing Center this year. He is a 2016 graduate of Stockton with a degree in political science, and will receive his master's degree in American Studies in May. He will be working with EOF students over the summer, then as an adjunct at Stockton in the fall.
He thanked the Stallers and Cross for the honor, which also includes an honorarium for his work.
Cross said the Writing Center gets about 2,000 student visits each semester, and about 15-20 students work as tutors. All are recommended by professors and undergo training.
Contributions to the Paul D. Staller '97 Writing Tutors Endowed Fund can be made by visiting stockton.edu/give.
# # #
Contact:
Diane D'Amico
Director of News and Media Relations
Galloway, N.J. 08205
Diane.D'Amico@stockton.edu
609-652-4593
stockton.edu/media