'Rain or Shine,' Black Lives Matter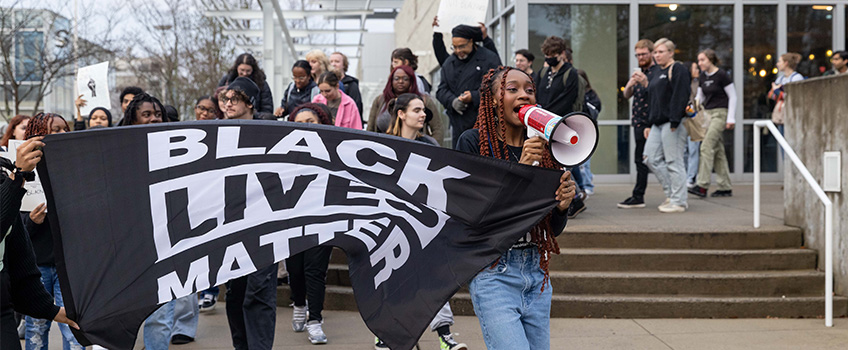 Galloway, N.J. – "Today, we honor all Black lives, including Black queer people, Black women, Black individuals with disabilities, and so on. We must not cherry-pick which Black lives to support, because feminism is not feminism unless it's intersectional," Yamirah Williams, president of the Coalition for Women's Rights, said.
A group of multicultural student organizations gathered in the Campus Center Coffeehouse for a Black Lives Matter March on Thurs., Feb. 16.
The march was organized by the Coalition for Women's Rights, also known as Women's Co, and co-sponsored by the African Student Organization, Caribbean Students Association, Los Latinos Unidos, TogetHER, First Ospreys Club, Queer & Trans People of Color Society and Stockton Socialists.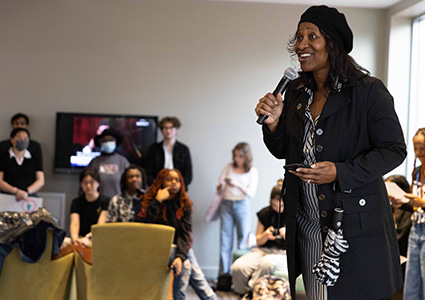 Prior to the march, Yamirah Williams, president of Women's Co, welcomed and thanked the crowd for showing up despite the rainy weather. Her speech electrified the room, encouraging students to keep inclusivity at the forefront of their minds when talking about and supporting Black lives.
"I stand before you all as a Black and queer woman, who often struggles to feel accepted due to my collection of diverse identities," Williams said. "This is why I feel it is my personal duty to cultivate a safe space for all disadvantaged communities and to educate my Stockton community today on the importance of Black Lives Matter."
Zupenda Davis, assistant vice president for Student Health and Wellness, began her remarks with a quote by thought leader and Black feminist Alice Walker: "The most common way people give up their power is by thinking that they don't have any." She motivated students to keep moving forward and not let oppression get in the way of their power.
"You have a voice, a seat at the table; you have your own table and have invited us all to have a seat to work together," Davis said. "Continue to fight with knowledge, peace and power. Continue to flex your muscle by fighting for what is right and respect for the humanity of Black folks."
Donnetrice Allison, chair of the Africana Studies program, commented on how the response to racial movements tended to be cyclical: statements are made, action is promised and we're suddenly back into the routine of complacency. She urged students to not "take their foot off of the gas."
"Keep demanding what you deserve," Allison said. "I'm proud of all of the student groups that organized this event because that's what it takes. So many changes have happened in our society because of student voices and pressure. People of underrepresented communities never get anything handed over to them easily. You have to fight for it. You have to struggle for it. You have to fight against the system."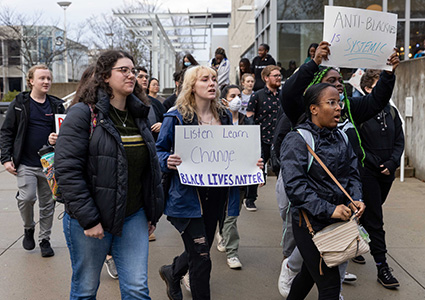 More students and staff spoke after the march, all of them espousing the importance of this movement and for students to keep it going. Dianne Stalling, assistant director of Student Development and organizer for Stockton's Black History Month programming, delivered a speech that commanded the room and mirrored Williams's by affirming all Black people.
"Our office and our student organizations have continued to be a collective of liberators who believe in an exclusive and spacious movement," Stalling said, emphatically. "We affirm the lives of queer and trans folks. Of disabled folks. Undocumented folks. Folks with records. Women and all Black lives among the gender spectrum. We are working for a world where Black lives are no longer systematically targeted. We affirm our humanity, our contributions to this society and our resilience from not only today but yesterday too!"
Vera Tagtaa, vice president of TogetHER and student member of the Committee on Campus Diversity and Inclusion Excellence, concluded the program by asserting that racism isn't a Black issue, but rather a humanity issue that requires community.
"And here, this turnout and support, is what we need to see across the country and across the world," Tagtaa said. "Change takes support, and it takes community. You have to commit to being a part of this change as this change has been long overdue in this world."
Other speakers included: Nimrah Jahan, vice president of Women's Co; Mo Keane, president of QTPOCS; Nautilus Walker, public relations chair of Stockton Socialists; Jovin Fernandez, inaugural director of the Multicultural Center; Anthony "AJ" Brooks, president of the Unified Black Student Society; Emma Rodriguez, president of the Sociology and Anthropology Club; Alexis Jenkins, director of the GOALS/GEAR UP program in Atlantic City; and Aleyshka Barbosa, Head TALON and president of First Ospreys.
– Story by Loukaia Taylor
– Photos by Susan Allen