From One Osprey to Another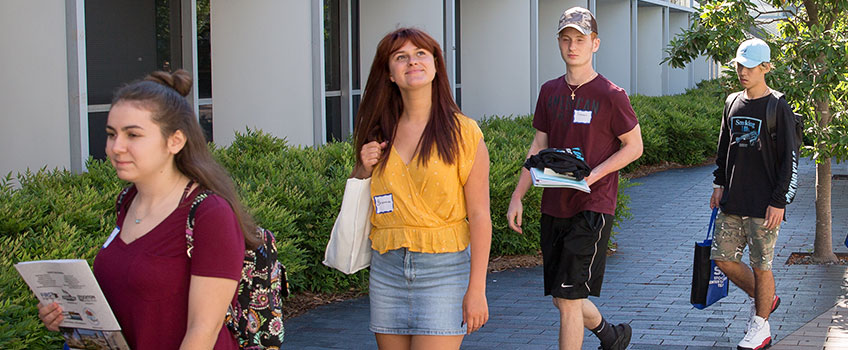 This month, Stockton warmly welcomed incoming freshmen and transfer students during Orientation/Registration and EOF Move-In Day. Maybe we've even taken your photo.
If you are a new freshman or transfer student – Hello! We are thrilled that you chose to spend the next few years with us, and are excited to have you join our community. We hope you have a fulfilling, educational and memorable experience.
To get you started, we used our social media channels to ask current and former students to share some advice. Here are their tips on how to make your Stockton journey a great one.
1.

"Don't be so scared. You're going to meet the best people of your life."
Stockton has more than 9,600 undergraduate and graduate students. Almost 2,000 of them each year are incoming freshman, and more than 1,000 are new transfer students. There are thousands of new faces every semester waiting to become your new best friends. You can start with the T.A.L.O.N.S., our student guides who are here to help you settle in to your first semester at Stockton.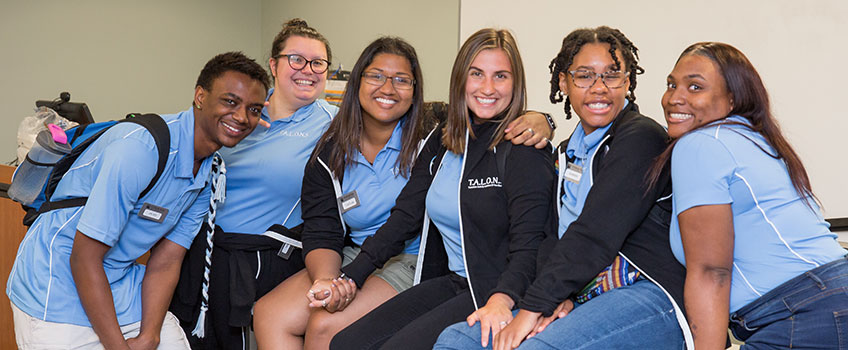 2.

"Believe in yourself! You're talented, and you can handle anything life throws at you."
Self-doubt and insecurity can affect anyone. But remember – you've made it this far. You should be very proud, but you should also keep your eye on the prize. As Stockton President Harvey Kesselman told last year's graduating class: "You have a choice. You can either throw in the towel or use it to wipe the sweat off your brow and keep moving." Get moving! You can do this!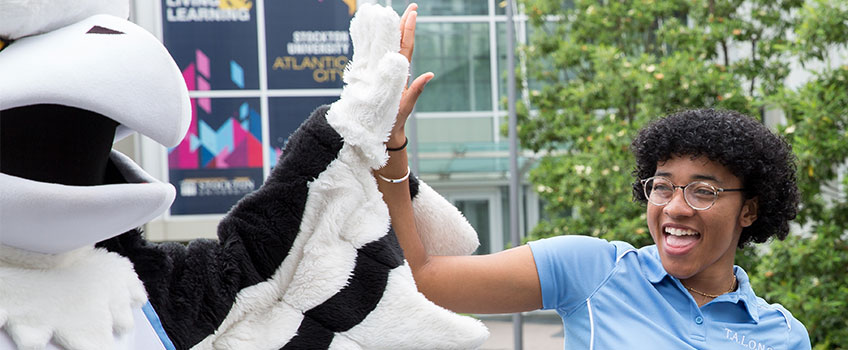 3. "Go to class."
We know it's not always easy (or appealing) to make it to that 8:30 a.m. class, or even that afternoon lecture. But it is imperative that you show up every day and pay attention if you want to do well. The office of Academic Advising can help you choose the best classes to meet your goals.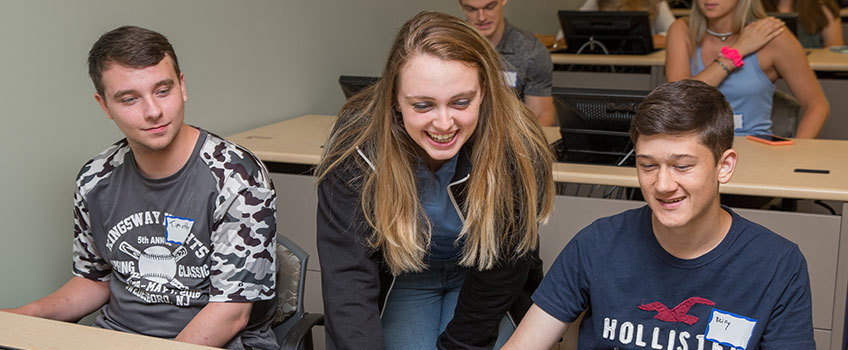 4. "Utilize professor office hours."
There are over 300 professors teaching at Stockton University, and they all want to see their students succeed. If you are having some difficulty in class, do not hesitate to set up a meeting with your professor during their designated office hours. Find your professor's contact information on the faculty and staff webpage.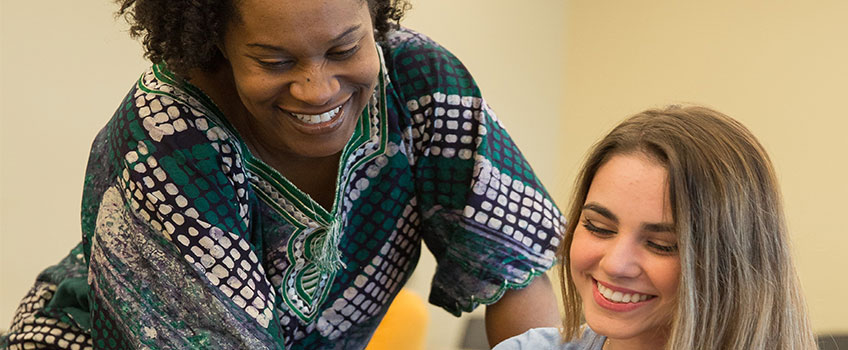 5. "Don't be afraid to reach out if you're struggling with anything."
Never forget that it is okay to ask for help. The Stockton Wellness Center provides counseling, health services/education, disability services, peer education, alcohol and drug education, and many other services for those in need. There is also a Women's, Gender, & Sexuality Center for students who identify as women/LGBTQIA+, victims of power-based personal violence, and community allies. Student Success Scholars Program and the Tutoring Center can help with academic challenges to keep you on track.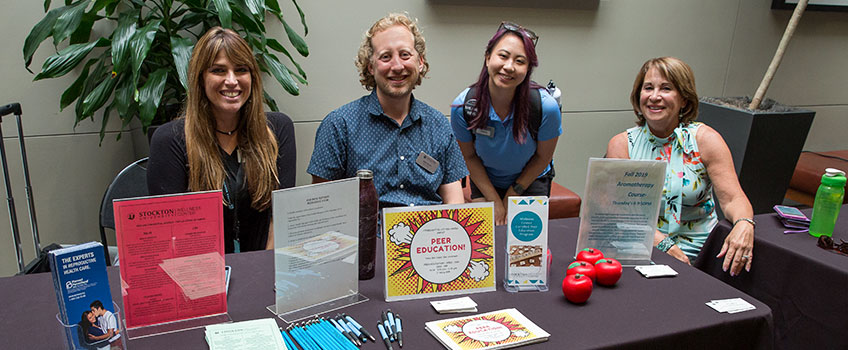 6. "Don't worry about what everyone else is doing, and don't follow the crowd."
As Oscar Wilde once said, "Be yourself, everyone else is taken!" At Stockton, we embrace individuality, and we aren't afraid to have a little fun with it, as you can probably tell from the photo below. Read about students who chose to stand out at Stockton University.

7. "Get involved as much as you can!"
There are hundreds of ways to get involved at Stockton, including clubs that cater to most interests and hobbies. There are clubs for gamers,photographers and even Greco-Roman enthusiasts. Learn about clubs, Greek life, and athletic opportunities at the semesterly Get Involved Fair, or explore OspreyHub to find your perfect fit.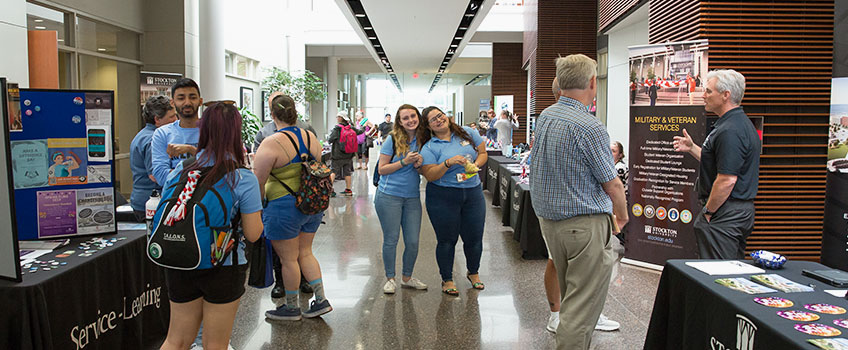 8. "Don't go home every weekend."
There is typically something happening every weekend at Stockton! Consult the Stockton event calendar or OspreyHub for dates and times of upcoming events. We know you miss your friends and family back home, but don't miss out on all the opportunities to make new friends and memories on campus. Your family can also get involved through the Family Experience.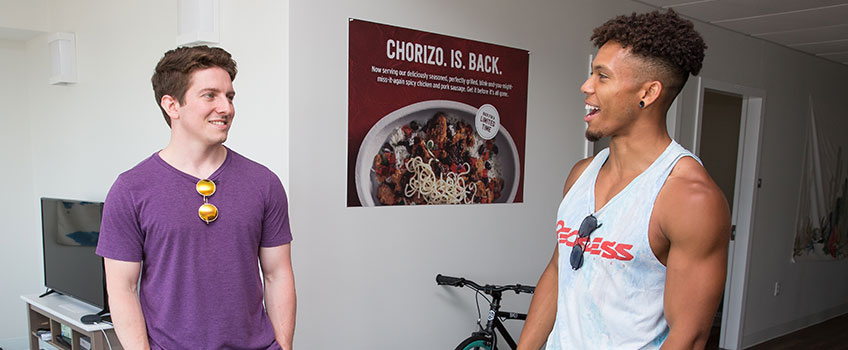 9. "It's okay to feel homesick, lost and overwhelmed in the beginning. Stockton will become your second home after you get past the adjustment process. You will look back on all of your memories from Stockton and smile."
Going to college is a major life change. It's okay to feel a little unsure or confused, just know that Stockton is here for you. If you need a little extra help with the transition process, please reach out. We are excited to help you learn and grow. We encourage you to take advantage of all Stockton has to offer to help you achieve your dreams.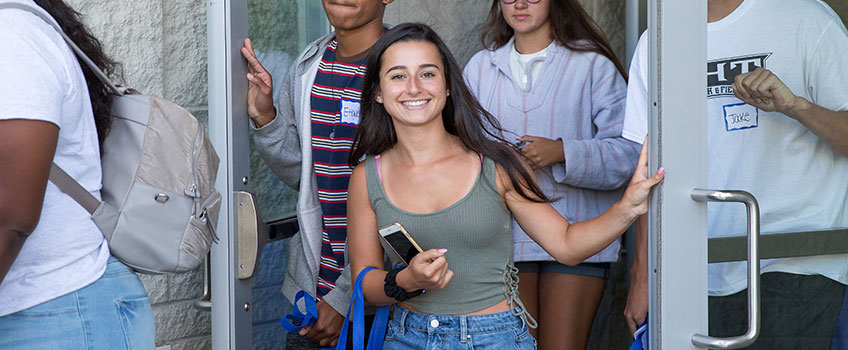 Have a great summer. See you at Welcome Week.
Not an Osprey yet? Learn more or apply to Stockton on the Admissions webpage.
Reported by Kat H. Wentzell.

# # #
Contact:
Diane D'Amico
Director of News and Media Relations
Stockton University
Galloway, N.J. 08205
Diane.DAmico@stockton.edu
609-652-4593
609-412-8069
stockton.edu/media