Club Connect: Meet the … Order of Greco-Roman Enthusiasts
Galloway, N.J. – Interested in classical history? The Order of Greco-Roman Enthusiasts is the place to be. This club focuses on sharing a passion with one another on historical appreciation.
"This club is made up of a community of people who are interested in this time period," said Justin Cruz.
Cruz is O.G.R.E.'s current Vice President and a Historical Studies major here at Stockton. He also has a minor in Latin.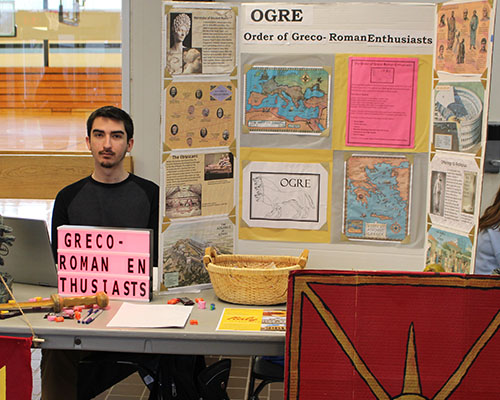 The club meets whenever everyone can get together, and in their meetings they talk about classical history and plan events for their organization to enjoy. Some of those events include field trips to museums where they can learn even more about this time period.
"We are also promoting a faculty led program to Italy in the Spring of 2020," said Cruz. The travel dates are March 13-21 and will include multiple accommodations.
O.G.R.E. also participates in marathon readings, where members can appreciate literature both taken place in the Greco-Roman era and about the era as well.
While this club is made up of a lot of history and literature majors, anyone who is interested is welcome to join.
For more information about the Order of Greco-Roman Enthusiasts or the 150+ other organizations at Stockton, visit stockton.edu/ospreyhub.
Reported by Julia Sus
# # #
Contact:
Diane D'Amico
Director of News and Media Relations
Galloway, N.J. 08205
Diane.DAmico@stockton.edu
609-652-4593
609-412-8069-cell
stockton.edu/media