T.A.L.O.N.S.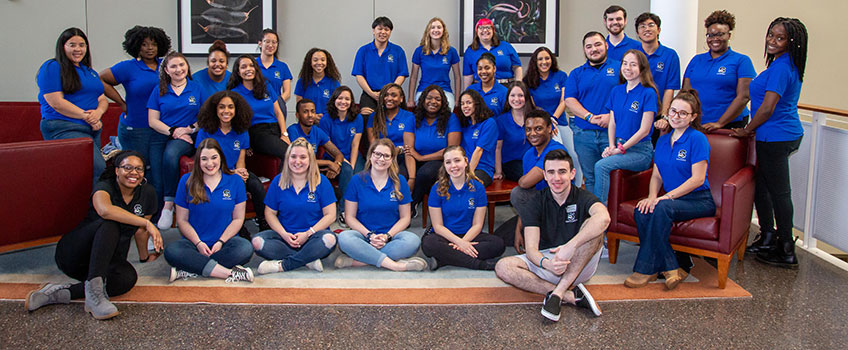 Transition Activity Leaders Of New Students
T.A.L.O.N.S. are responsible for helping new students register for classes while also giving them a realistic view of academic, social, and emotional changes that may occur in their transition to Stockton by attending Orientation and Welcome Week events. Overall, T.A.L.O.N.S. promote a positive and enthusiastic attitude toward helping new students successfully assimilate in the first semester of school by remaining in contact with students through their first-year seminar course.
Responsibilities:
Assist with Orientation and Registration for the following groups: Freshmen, Transfers, Military & Veterans, EOF, and Student Success Services
Serve as guides for Welcome Week along with Resident Assistants
Engage in a semester long training and subsequently serve as a peer mentor throughout the Fall Semester via Freshman Seminar Courses
Requirements:
Attend intensive Spring training
Attend Summer overview of Orientation and Welcome Week
Work New Student Orientations (Summer and Winter), Welcome Week, and Fall Peer Mentor Program
Have a GPA of 2.75 or higher
Be in good standing with the University
Cannot work as a Resident Assistant or Event Services & Campus Center Operations staff member due to scheduling conflicts
Must be enrolled as a full-time undergraduate student for the Fall semester in Galloway or at the Stockton Instructional sites (for example, participants cannot be studying abroad or participating in the DC or Disney internship program for the Fall semester).
Essential Learning Outcomes for TALONS:
Knowledge Acquisition & Application: Acquire practical knowledge & communication skills that are transferrable beyond college.
Cognitive Complexity: Obtain critical thinking skills and use creativity to formulate innovative solutions.
Intrapersonal Development:

Adapt to change and adapt a growth mindset.
Learn about personal strengths and abilities to develop a stronger sense of identity.

Interpersonal Development: Establish valuable relationships with students, staff, and faculty through teamwork and collaboration.
Humanitarianism and Civic Engagement:

Understand the value of cultural and global awareness.
Learn the importance of advocating for inclusion and equity.

Practical Competence: Acquire knowledge about navigating college to relay information to new students.
Current full-time students who are interested in applying for this paid position and are in good academic and disciplinary standing can apply in the beginning of the Fall Semester. Click link for the TALONS APPLICATION.
For more information please contact the Office of Student Transition Programs at studenttransitions@stockton.edu