Welcome Week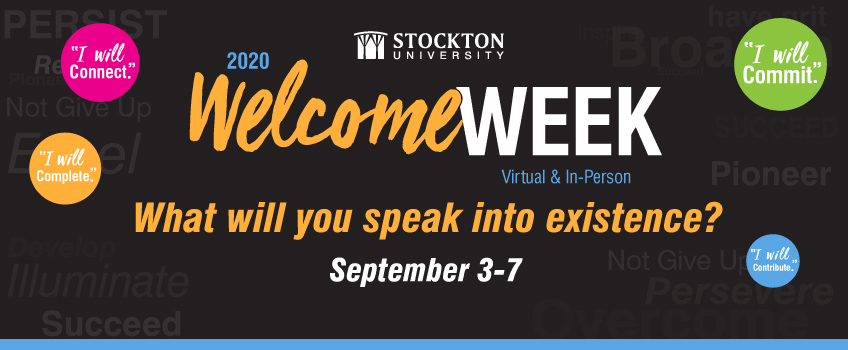 Welcome Program: #StocktonUandIwill
This year, the Office of Student Transition Programs launched the "I WILL..." campaign to bring greater awareness of setting goals, taking action steps, and increasing a sense of meaning and purpose for pursuing a degree at Stockton University. During Welcome Week, Stockton students are encouraged to declare their future actions/goals on campus and beyond, and will meet people who will support them along the way. Now that new students have decided to commit to Stockton, the "I Will..." campaign is intended to unify the incoming class as they take their next steps together in committing to the following actions/goals: 1) connect to other students, staff, and faculty during programs provided during Welcome Week and the academic year 2) contribute to a more safe, inclusive, and welcoming community, and 3) complete your degree at Stockton.
Learning Outcomes:
Identify practices and resources that promote safety, health and belonging at Stockton University.
Identify practices and resources that will help students successfully engage and navigate new or unfamiliar circumstances.

Identify practices and resources that will help students develop an understanding and appreciation of cultural and human differences and their role in promoting social justice in society.
Grit Noun
Welcome Week Word of the Day
1: perseverance and passion for long term goals
"I will display true grit by working really hard to graduate from Stockton University"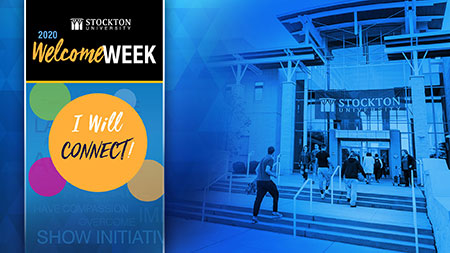 Show your Stockton Pride Online
1. Download and use the Welcome Week Zoom virtual background
2. Use the hashtag #StocktonUandIwill on all social media platforms during welcome week.
3. Search #StocktonU in the Instagram sticker library to find the Stockton sticker for Welcome Week.
---
I Will Participate in Welcome Programs
Attend ALL activities/programs that were designed to successfully transition you into the university. Choose from each date to view the schedule of activities/programs, and click on the blue links for the respective locations.
New to Zoom? Check out our quick tutorial!
New Aspects to Welcome Week

Most programs will be virtual; Two In-Person programs will be held outdoors with physical distancing protocols.

Everyone must wear a mask, sanitize hands regularly, and maintain social distancing of 6 feet between people in both indoor and outdoor spaces.

Assessment will track attendance which replaces ID swiping

TALONS will build community with students in the classroom with modified capacity to follow state protocols

No Catering
Limited Shuttle Service will be running every 75 minutes between AC and Galloway until 9/8
I Will Participate in Academic Year Programs!
Follow this page for upcoming events that will help you succeed at Stockton and beyond! Please note that although the respective programs are open to all class years, each program will have a specific focus.
F= Freshmen | So= Sophomores | J= Junior | Sr= Senior
Academic Excellence
Manage my Time (F|So)
Utilize the Tutoring Center (F|So)
Develop a Growth Mindset (F|So)
Express my Goals through Spoken Word (F|So)
Explore Different Majors/Careers (F|So)
Experience Service-Learning (F|So)
Explore Study Abroad/Away Programs (So|J)
Explore Internships (So|J)
Research (So|J)
Health and Wellness
Discuss my feelings about transitioning into the next academic year (F|S)
Financial Wellness
Submit my FAFSA (F|So|J)
Apply for Scholarships (F|So|J)
Start a Business (J|Sr)
Become a Homeowner (J|Sr)
Build my Credit (J|Sr)
Belonging, Engagement, and Development
Connect with my Freshmen Seminar Mentor (F)
Explore Work on Campus (F|So)
Network with Students, Staff and Faculty of Color (F|So)
Bridge the Gap between Students, Staff, Faculty, and Families (F|So)
Celebrate the Successes of First Generation College Students (F|So)
Participate in Sports (F|So)
Go Greek (So|J)
Join a Student Club (F|So|J)
Apply to the TALONS position (F|So|J)
Post-Graduate Success
Filter my Social Media Presence (F|So|J|Sr)
Investigate Graduate School Opportunities (J)
Build Social Capital (J|Sr)
Get a Masters (J|Sr)
Become a Doctor of Medicine, Law, Phsyical Therapy, Dentistry, Education (J|Sr)
I Will Follow the Health and Safety Protocols during and after Welcome Week to Reduce the Spread of COVID-19
Follow the signs that assist with guiding social distancing requirements.
Everyone is required to wear a cloth face covering and follow social distancing guidelines even during downtime.
Bring your own water bottles, event specific equipment and PPE to activities.
Self-evaluate your health prior to any event. If you have COVID-19 symptoms, you cannot participate in activities.
Students will be divided into smaller groups indoors and outdoors across different days during in person programs to reduce the potential exposure.
Do not bring non-essential visitors. Minors are not allowed on campus unless absolutely necessary.
Follow signage in highly visible locations with reminders of social distancing protocols, face coverings requirements and hygiene practices.
Use hand sanitizer available at entrances, exits, benches, restrooms, locker rooms and any other area prone to gathering or high traffic.
Use cleaning supplies available in every classroom to do self-cleaning if you feel the need to. Classrooms will be cleaned and sanitized at the end of each usage and in between uses.
Frequently Asked Questions
---
Freshman Students can ease their transition to college and get to know their classmates by participating in welcome programming, which takes place a few days before classes begin. A combination of mandatory and optional educational and social programs are offered. Mandatory programs are for both Residential and Commuting students. All programs and activities are designed to instill a sense of belonging and pride in becoming a Stockton student.
Transfer Students are required to attend a special Welcome Day. In addition, transfer students are encouraged to attend all other Welcome Programs.
Welcome Week 2019
---
View photos on Flickr
Osprey Fest 2019 Photo Gallery
---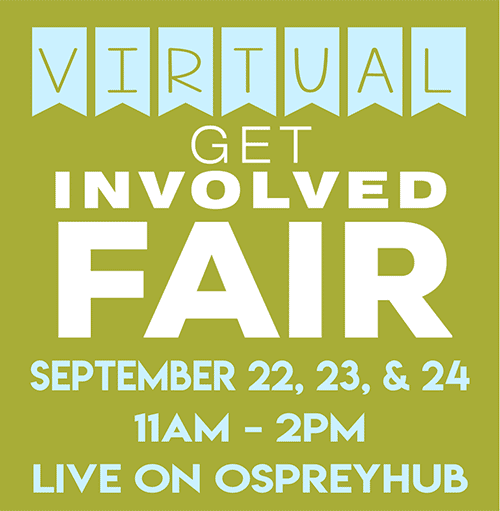 Virtual Get Involved Fair
September 22, 23, and 24 from 11am-2pm
The Fall 2020 Get Involved Fair will be held virtually through OspreyHub on September 22, 23, and 24 from 11am - 2pm each day. While many things may look different on campus this fall, our student organizations, fraternities, sororities, and other involvement opportunities will still be active and available! Discover the many ways to GET INVOLVED and connected here at Stockton.
Organizations participating in the fair will be available for a live video chat through the virtual involvement fair feature. Our Student Development Staff will also be available at the Virtual Help Desk during the entire fair to assist you in finding an organization that fits your interests and meets your needs.
Questions may be sent to studenttransitions@stockton.edu or by calling the Office of Student Transition Programs at 609-626-3836.
For questions about accessibility or to request an accommodation, please contact the Office of Event Services and Campus Center Operations at 609.652.4878 or event.services@stockton.edu at least 5 business days in advance of your participation or visit.