Welcome Week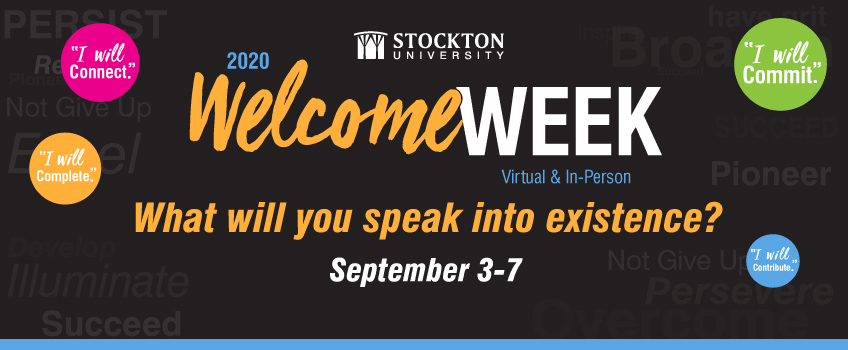 Welcome Program 2020: #StocktonUandIwill
This year, the Office of Student Transition Programs launched the "I WILL..." campaign to bring greater awareness of setting goals, taking action steps, and increasing a sense of meaning and purpose for pursuing a degree at Stockton University. During Welcome Week, Stockton students are encouraged to declare their future actions/goals on campus and beyond, and will meet people who will support them along the way. Now that new students have decided to commit to Stockton, the "I Will..." campaign is intended to unify the incoming class as they take their next steps together in committing to the following actions/goals: 1) connect to other students, staff, and faculty during programs provided during Welcome Week and the academic year 2) contribute to a more safe, inclusive, and welcoming community, and 3) complete your degree at Stockton.
Learning Outcomes:
Identify practices and resources that promote safety, health and belonging at Stockton University.
Identify practices and resources that will help students successfully engage and navigate new or unfamiliar circumstances.

Identify practices and resources that will help students develop an understanding and appreciation of cultural and human differences and their role in promoting social justice in society.
Grit Noun
Welcome Week Word of the Day
1: perseverance and passion for long term goals
"I will display true grit by working really hard to graduate from Stockton University"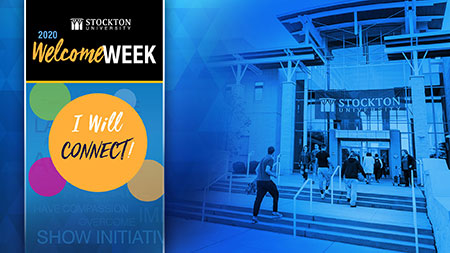 Show your Stockton Pride Online
1. Download and use the Welcome Week Zoom virtual background
2. Use the hashtag #StocktonUandIwill on all social media platforms during welcome week.
3. Search #StocktonU in the Instagram sticker library to find the Stockton sticker for Welcome Week.
---
I Will Participate in Welcome Programs (2020)
Attend ALL activities/programs that were designed to successfully transition you into the university. Choose from each date to view the schedule of activities/programs, and click on the blue links for the respective locations.
New to Zoom? Check out our quick tutorial!
Frequently Asked Questions (2020)
---
---
View photos on Flickr
Osprey Fest 2019 Photo Gallery
---
Questions may be sent to studenttransitions@stockton.edu or by calling the Office of Student Transition Programs at 609-626-3836.
For questions about accessibility or to request an accommodation, please contact the Office of Event Services and Campus Center Operations at 609.652.4878 or event.services@stockton.edu at least 5 business days in advance of your participation or visit.