Holistic Health Minor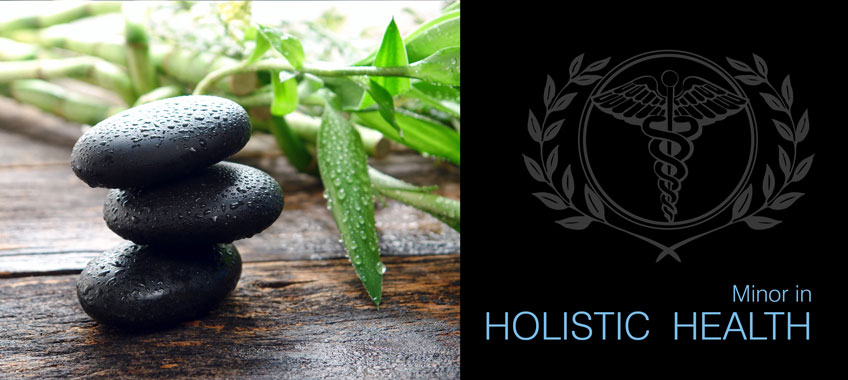 The Holistic Health program is an interdisciplinary minor housed in the School of Health Sciences. Its goal through interprofessional education (IPE) is to advance the understanding of complementary and alternative health care through education, critical thinking and research with an array of healthcare professionals.
It is not a training program that will allow students to practice in any given field but will provide a foundation to explore various holistic therapies and integrative medicine. Further professional training and licensing appropriate to a particular field would be required. The program is designed to provide students the knowledge and background necessary to understand relevant issues in holistic health.
---
About the Minor
The two main goals of the program are:
Interprofessional Education:To provide courses taught by a qualified and interdisciplinary faculty that identifies and defines the available holistic therapies and their relevance in modern health care. Students learn the philosophical rationales and aesthetic foundations for such therapy. Further, they learn to think critically about holistic health evaluating therapies on the basis of empirical, peer-reviewed research, and to apply this perspective to decision-making processes with various disciplines in healthcare.
Information Literacy/Research: To encourage faculty and students to collaborate in undertaking quality research. These efforts would help address the need to evaluate critically and fairly the theoretical bases, efficacy and safety of holistic treatments and their role in the health care system.
Admission to the Program
The program is open to students in all majors. Students should contact the coordinator of the Holistic Health program to indicate their interest in pursuing the minor. It also is helpful for students to inform their preceptor of their intention to pursue the minor as the requirements for Holistic Health can simultaneously fulfill other graduation requirements. With early planning, the requirements for the Holistic Health minor can be fulfilled within the framework of completing any undergraduate degree at the University.
Graduation Requirements
Completing a minor in Holistic Health involves completion of a total of 20 undergraduate credits. An e-portfolio is required, which compiles the learning from all 5 courses and fosters an overarching personal holistic health philosophy at the completion of requirements. The newly established Holistic Health Club invites your participation on campus to improve overall well- being in your journey to the completion of your degree.
General Holistic Health Minor Required Core Courses
Students are required to complete a total of 5 courses (20 total credits) to receive the Holistic Health Minor. One course (4 credits) must be in Research Methodology, and the other 4 courses (16 credits) include approved courses with the Holistic Health attribute. These courses provide students with a broad introduction to holistic health, as well as background in research methodology. For example: while POLS 2150 is a political science course, it covers the relevant research background and techniques, and students can arrange with the instructor for the research projects to cover holistic health-related topics. Other course options can include Study Abroad opportunities, or Independent Study with an instructor within the Holistic Health Minor, as approved by the Holistic Health Minor Coordinator.
Research Methodology Courses
Your choice selection in this category will provide you with exposure to research, statistics, and other necessary quantitative skills to allow you to critically examine and explore the field of holistic health.
GEN 3411 Interdisciplinary Research Methods
HLTH 3200 Research Methods
NURS 3335 Nursing Research Methods
POLS 2150 Introduction to Political Methodology
PSYC 2241 Statistical Methods
PSYC 3242 Experimental Psychology
PUBH 2330 Research Method & Statistics
PUBH 4610 Public Health Research Methods
SOWK 3102 Research Methods in Social Work (SOWK majors only)
SOCY 3642 Social Research Methods
Other statistics courses already completed may be considered
Holistic Health Courses-Choose Four of the Following
The following courses have been organized under general subject matter categories. You may choose whichever four courses you prefer, depending on what kind of introduction to the fields of holistic and integrative health you wish to have. This organization is purely done to aid you in understanding the various categories of courses offered. As other courses are added in the future, they also may be considered to serve as electives provided that their content is appropriate for the minor. If you feel there is a course that may fit as an elective in this minor that is not listed below, please check with the minor coordinator for approval. In addition, students may elect to complete an independent study that would serve as an elective. An independent study allows the student to pursue a particular area of holistic health in greater depth when the topic is not already covered comprehensively by an existing course.
Modern Topics in Holistic Health
ANTH 2136 World Perspectives on Health
GAH 2162 Medicine, Ethics and the Arts
GAH 2163 Wellness in America
GEN 2158 The Body in Motion
GIS 3207 Contemporary Issues in Bioethics
GNM 1026 Alternative Health Care
GNM 2117 Microbes and Man
GNM 2144 Alternative Health Care
GNM 2201 Health and Healing
GNM 2267 Folk & Traditional Medicine
GNM 2336 Modern Health Issues
GSS 3604 Honors Economic Well-Being
HTMS 3128 Spa Management in Hospitality Operations
PUBH 2432 Contemporary Health Issues
Eastern Approaches to Health & Wellness
FRST 1002 Yoga On and Off the Mat
GAH 2206 Introduction to South Indian Classical Dance
GIS 4636 Yoga: East Meets West
HLTH 3412 Eastern Approach to Nutrition & Movement
Herbs, Plant-Medicine, and Supplements
GNM 2206 Herbal Medicine
GSS 2351 Herbal Psychopharmacology
HLTH 2100 Aromatherapy
GAH 2347 History of Tea
Religion, Spirituality, and Philosophy
GAH 2305 Basic Judaism
GAH 2327 How Judaism Approaches Life
GIS 4644 Mindfulness, Self and Reality
PHIL 2100 Buddhist Philosophy
PHIL 2111 Daoism
PHIL 3112 Philosophy East and West
SOWK 3220 Aging and Spirituality
PHIL 2123 Philosophy of Yoga
Nutrition & Wellness
GNM 2325 Nutrition and Health
HLTH 3412 Eastern Approach to Nutrition & Movement
HLTH 3413 Basic & Therapeutic Nutrition
Psychology & Wellness
GEN 1016 Mind Body Conditioning
GEN 2319 Meditation: Theory & Practice
GEN 2516 Mind Body Conditioning
GEN 3617 Physical and Mental Wellness
GIS 3633 States of Consciousness
GIS 4660 Grief & Loss
GIS 4676 Perspectives on Happiness
GSS 2159 Psychology of Well Being
GSS 3160 Stress and Anxiety
GSS 3624 Pursuit of Happiness
PSYC 2212 Health Psychology
PSYC 3635 Positive Psychology
Holistic Health Minor-Biobotanicals Focus
The Holistic Health minor has two curriculum pathways: 1) General Holistic Health minor and 2) Holistic Health minor with focus on Biobotanicals.
The current description of the Holistic Health minor applies to the General Holistic Health pathway. Students interested pursuing the Holistic Health minor with focus on Biobotanicals will pursue the following curriculum pathway.
Holistic Health Minor-Biobotanicals Track Required Core Courses
Research

GEN 2240, Introduction to Research, in addition to the research courses listed for the General Holistic Health pathway.

Foundation in Biobotanicals

GIS 4483, Medical Marijuana in New Jersey

Basics of Drug Actions/Interactions on Biological Systems

GSS 2351, Herbal Psychopharmacology
Holistic Health Minor-Biobotanicals Track Elective Courses

Medical/Alternative Healthcare
GEN 1406 Health and Wellness
GNM 1026 Alternative Health Care
GNM 1138 Science for Citizen Leaders
GNM 2138 Scientific Inquiry
GNM 2201 Health and Healing
GNM 3105 Psychopharmacology
GSS 2256 Exploring the Dying Process
GIS 3319 Addictions
Business
GEN 1014 Business and Life
GEN 2168 Business Basics
GSS 3124 Entrepreneurial Thinking and Behavior
Political/Social/Legal Impact
GSS 2119 Law for Life
GSS 2722 The Law and Social Change
GSS 3169 The Veteran Experience
POLS 2215 Law School Basics
The Holistic Health minor curriculum pathway in Biobotanicals offers students a foundation for understanding the medical/alternative healthcare, pharmacy, business, political/social/legal issues surrounding medical biobotanical legislation, policy, care giving, and consumption. This background will benefit students interested in all areas of healthcare and care giving, social work, psychological counseling, and among other careers and professions, politics and government, law and advocacy, insurance, journalism, higher education as well as medical biobotanical-related entrepreneurship.
Faculty
James Mac Avery, Ph.D. University of Kentucky, Associate Professor of Political Science: American public opinion, political behavior, representation, race and ethnicity.
Elizabeth G. Calamidas (1986),Professor of Public Health; Ph.D., Temple University; M.S., B.S., The Pennsylvania State University: community and public health, health education, health behavior, human sexuality, women and health, aging and health.
Ronald Caplan (1994), Associate Professor of Public Health; Ph.D., M.A., B.A., University of Massachusetts; health economics, health policy.
Lisa E. Cox (1999), Professor of Social Work and Gerontology, Research Chair, The Stockton Center on Successful Aging; Ph.D., M.S.W. Virginia Commonwealth University; B.A. Bridgewater College; clinical/health social work practice, HIV/AIDS clinical trial research, gerontology and spirituality.

Tara Crowell (2000), Associate Professor of Public Health; Ph.D., University of Oklahoma; M.A., B.A., West Virginia University; health communication, social marketing, quantitative research methods.

Emari DiGiorgio (2007), Professor of Writing, GENS Faculty Advisor of the Writing Living Learning Community, FRST Writing Coordinator; MFA, New York University; B.A., The Richard Stockton College of New Jersey; yoga and mindfulness practices.
Anthony Dissen (2014), Instructor of Nutrition; M.A., Georgian Court University; plant based nutrition and culinary medicine, motivation to behavior changes in nutrition and eating habits, compassion and self-improvement promoting healthy behaviors and lifestyle habits.

Deborah M. Figart (1995), Distinguished Professor of Education and Economics, Ph.D., The American University; economic and financial literacy, budgeting, labor-management relations, economics of gender and race/ethnicity, political economy and public policy, living standards.
Jessie K. Finch (2015), Assistant Professor of Sociology; Ph.D., M.A., University of Arizona; B.A., University of Tulsa: immigration, race and ethnicity, social psychology, identity, emotions, deviance, law, medical sociology, culture, media, teaching and learning.

Mary Lou Galantino (1991), Distinguished Professor of Physical Therapy; Ph.D., Temple University; M.S.C.E., University of Pennsylvania; M.S., Texas Women's University; B.S., University of Pittsburgh; neuromuscular physical therapy, chronic pain, HIV, cancer research, systemic diseases, wellness coaching, integrative therapies, complementary medicine, yoga and hypertension, osteoarthritis and acupuncture, meditation for healthcare professionals.

Laurie Greene (1989), Associate Professor of Anthropology; Ph.D., M.A., Tulane University; B.A., University of Pennsylvania; language and culture, anthropology of men and women, Latin America and Caribbean cultures, cultures in education, social activism yoga training and research.

Patrick Hossay (1999), Associate Professor of Sustainability; Ph.D., The New School for Social Research; M.A., San Francisco State University; B.S., San Jose State University; comparative politics, international relations, political science methodology, racism and nationalism.

Maritza Jauregui (2006), Associate Professor of Public Health; Ph.D., University of California, Irvine; B.A., Columbia College, Columbia University; environmental health, environmental justice, occupational health.

Dee McNeely-Greene (2004), former Associate Vice President for Student Affairs; Ph.D., M.A., M.S., M.C., B.S., RN, University of Delaware; Applied human development, health and aging, geriatrics, nursing, counseling.

Thomas Nolan (1988), Assistant Professor of Physical Therapy; DPT, Temple University; M.S., Temple University; B.S., New York University; B.A., Glassboro State College; orthopedic and sports physical therapy, spinal kinesiology, electrotherapy.

Mary Padden-Denmead (2011), Assistant Professor of Nursing, BSN Coordinator; Ph.D., Widener University; APN-C, FN-CSA, M.S., University of Delaware; BSN, The Richard Stockton College of New Jersey: pediatrics, maternal and child health, research.

Joan Perks (2009), Associate Professor of Nursing; MSN, Widener University; BSN, Thomas Jefferson University; Nutrition, Adult Health Emergency Nursing, Critical Care, Infusion Therapy, Leadership, Service Learning and Cultural Competency.

Lisa Roser (1987), Distinguished Professor of History; Ph.D., Johns Hopkins University; AB, Princeton University; history of medicine and public health.

Marcello Spinella (1999), Professor of Psychology; Ph.D., City University of New York; M.A., Queens College, City University of New York; B.A., Fairleigh Dickinson University; neuropsychology, psychopharmacology, herbal medicines, executive functions, addiction, positive psychology.
Peter F. Straub (1994), Professor of Biology; Ph.D., M.S., University of Delaware; B.S., The Richard Stockton College of New Jersey; plant physiology, plant gene regulation, gene regulation, beach and salt marsh plants.

Richard Miller (2008), Afessor of Jewish Stussistant Prodies; Ed.D., Ed.S., Seton Hall University; M.A., B.S., Hebrew Union College.

Ann B. Walker (2008), Assistant Professor of Nursing; MSN, LaSalle University; B.S., Gwynedd-Mercy College; Community Health, Leadership, Nutrition and parent education.
Jongbok Yi (2013), Assistant Professor of Asian Philosophy; Ph.D., University of Virginia; Buddhist philosophy, Indian religions, and Chinese philosophies- Confucianism, Daoism, and Shumanism.
Associated Faculty
Luanne Anton (2001), Health Educator; adjunct instructor (Peer Education); A.A.S., Camden County College; B.S., Thomas Edison University; M.S., Walden University; health education; aromatherapy; peer education; meditation instructor; Reiki Master; certified clinical aromatherapist; certified yoga instructor.

Patricia Donahue (2006), Coordinator of Career Services/Student Affairs; adjunct instructor, (Meditation: Theory & Practice); leader, weekly campus meditation sessions.
Gerald Martin (2009) Assistant Dean of Students; Ed.D.,University of North Carolina, Greensboro: weight management: fitness impacts mental and physical health; ACE Certified health coach; Dongli Zhi holistic martial arts fitness instructor.
Robert Ross ( 2006 ), Assistant Director of Counseling & Health Sciences, Coordinator of Services for Students with Disabilities; , MSW, LSW, Rutgers, The State University of New Jersey; adjunct instructor; (The Psychology of Well-Being)..
Professors Emeriti
Elaine Bukowski (1987), Professor of Physical Therapy; D.P.T., Drexel University; M.S., University of Nebraska; B.S., St. Louis University; geriatric physical therapy, orthopedic physical therapy, extremity kinesiology, gross anatomy, complementary medicine.
Rosalind L. Herlands (1974), Professor Emerita of Biology; Ph.D., M.S., University of California at Irvine; B.A., Stanford University; developmental biology, cell biology, embryology, immunology, histology, turtle biology, bioethics, women's studies.

William M. Miley (1972), Professor Emeritus of Psychology; Ph.D., M.A., Temple University; B.A., State University of New York at Buffalo; health psychology, mind/body interactions, abnormal psychology.
Career Opportunities
A large proportion of Americans consult complementary and alternative treatments for health problems, particularly chronic conditions such as chronic pain, back problems, anxiety, depression, and headaches. For example, more than half of Americans experiencing anxiety or depression report using alternative therapies to treat these conditions. Recent estimates indicate that over $20 billion per year are spent on holistic health treatments for illness. A sizable proportion of Americans do not inform healthcare providers about their use of such therapies. At present, a majority of American medical schools report that they now offer some course work on holistic health, including biobotanicals, although many healthcare workers feel inadequately informed about integrative therapies and the benefits of biobotanical treatments.
The General Holistic Health minor provides useful background for those interested in pursuing careers in government, journalism, insurance, and any of the various forms of healthcare (e.g., medicine, nursing, social work, physical occupational and speech therapy).