Simulation Suites
The Stockton University Simulation Center uses health care simulation as an instructional methodology to promote learning in a clinically safe environment. Formative and summative assessment occurs under the mentorship of faculty.
The 3,500 square foot simulation center incorporates computerized human mannequins and live patient actors to promote a lifelike clinical experience. The center includes a:
medical / surgical patient suite

labor and delivery suite

intensive care suite

exam rooms

pre- and post-conference rooms

and a 40-seat simulation Anatomage Classroom
Anatomage is a 3D medical interactive table allowing for human anatomy examination, education, patient diagnosis, and dynamic presentations.
---
---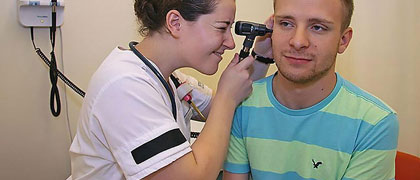 Simulation Initiative (SUSI)
Mission
The mission of the Stockton University Simulation Center is to:
Advance the study of health sciences using simulation improve student learning and ultimately to promote patient safety and improve patient outcomes. The simulation center will support education programs that promote and enhance clinical skills, measure clinical competence, facilitate teamwork, and support interprofessional education.
Provide a safe, state-of-the-art, and professional learning environment to allow for translation of communication, interview techniques, and clinical skills from healthcare education into clinical practice.
The Stockton University Simulation Center conducts innovative research into simulation theory, practice, and technology.