News & Events
The Latest News and Events in the School of Health Sciences
Dr. Phillip Hernández Approved as Board Certified Specialist in Child Language

In May 2023, the American Board of Child Language and Language Disorders (ABCLLD) approved Dr. Hernández as a Board-Certified Specialist in Child Language. Dr. Hernández's BCS-CL areas of emphasis include Bilingual Speakers, English as a Second Language, and Cultural & Linguistic Diversity. Clinical Specialty Certification enables a speech-language pathologist who demonstrates advanced knowledge, skills, and experience in a specified area of practice to be formally identified as a Board-Certified Specialist (BCS) in that area of practice. Dr. Hernández is an Associate Professor in the Master of Science in Communication Disorders program at Stockton University.
Integrative Health Minor Graduation Ceremony 2023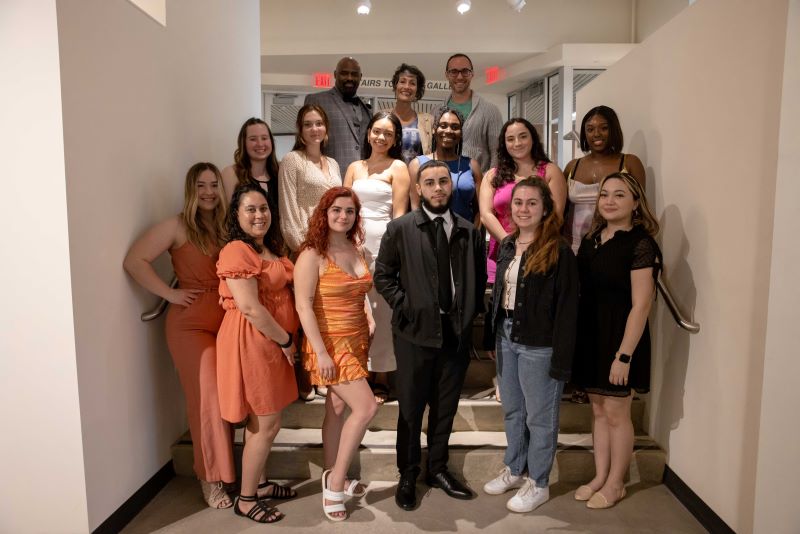 The Integrative Health Minor (IHM) graduates of 2023 gathered in the Art Gallery on April 6th to celebrate accomplishments and plans following graduation. The ceremony was led by program coordinator, Dr. Mary Lou Galantino, and joined by IHM faculty and Assessment Coordinator, Dr. Anthony Dissen. Dr. Dissen shared his contributions to the program. Our new Assistant Dean, Dr. Lee Bryant, provided perspectives on the urgent need for interprofessional engagement to serve our society at large in the health professions with special emphasis on diverse communities. Student presentations were highlighted by Jennifer Dorval, vice-president of the Holistic Health Club (HHC), who shared her experiences in the IHM journey. Madison Colombo, the president of the HHC, welcomed future classes to continue momentum of the club and live holistic practices as graduates of Stockton University. A special thank you to Nora Kennedy from the School of Health Sciences who planned a beautiful reception for student graduates, family and friends. Congratulations to all the students.
Nursing Program Holds First White Coat Ceremony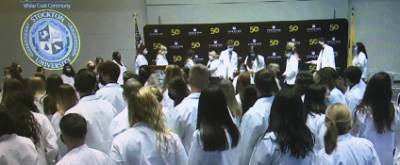 Galloway, N.J. - The Stockton University nursing program held its first ever White Coat Ceremony on Sept. 25 in the Campus Center Event Room. The program received a grant from the Arnold P. Gold Foundation and the American Association of Colleges of Nursing to host the ceremony.
"The oath that you are going to take today is really identifying the confluence of the science of medicine and the humanity and compassion of being a nurse," said Provost and Vice President for Academic Affairs Leamor Kahanov. She urged students to take their oath very seriously and consider it in the way they are going to interact with their patients.
"You are going to see people potentially at their very worst and you're going to make a difference for them," Kahanov said.
Brent Arnold, the new dean of the School of Health Sciences, said the white coat ceremony is a universal experience that bonds students in the medical field together for a greater purpose.
Stockton's Chief Nurse Administrator and Associate Dean Sheila Quinn said the ceremony is "designed to instill a commitment to providing compassionate care among future health care professionals." She reminded students that the most important part of the event is the oath they take which "acknowledges your primary role as caregivers."
Guest speaker Judith Schmidt, chief executive officer of the New Jersey State Nurses Association, encouraged students to go back and study the theorists of the past who pioneered the profession of nursing, such as Florence Nightingale and Dorothea Orem, and others. She congratulated students on taking on this enormous challenge of working in health care, especially during the pandemic.
Schmidt shared the nontraditional path she took to become a successful nurse and nursing advocate. She said her mission in life is to "make sure that somebody is out there (for you) as they were for me … I want to make sure that there is someone out there advocating and caring for the nursing profession and the individual nurses."
The students walked across the stage to receive their pins from BSN Program Chair Rose Scaffidi and Associate Chair of the Accelerated BSN Program Jacqueline Arnone. They then recited the Nursing Commitment to Compassionate Care oath.
The white coat ceremony was first held at Columbia University in 1993 when a professor, Dr. Arnold Gold, felt that the Hippocratic Oath taken by medical students during graduation ceremonies was four years too late. In 2014, recognizing the vital role nurses play in the health care team, the Gold Foundation partnered with the American Association of Colleges of Nursing to adopt a White Coat Ceremony for Nursing.
The first Stockton University nursing White Coat Ceremony was opened to all sophomore, junior and senior four-year BSN students and both Accelerated BSN cohorts. About 150 attended this first ceremony. Going forward, undergraduate BSN students will take the oath at the beginning of their sophomore year as they begin clinical experiences, and the Accelerated BSN cohort will take it at the beginning of their program.
More information on the Bachelor of Science in Nursing program and the Accelerated BSN program are on the Stockton website.
- Reported by Hannah Urbanowycz
Larider Ruffin Named Fellow of the American Academy of Nursing
Galloway, N.J. – Stockton University Assistant Professor of Nursing Larider Ruffin has been selected for induction as a Fellow of the American Academy of Nursing. He is one of 225 distinguished nurse leaders in the world to be recognized this year for their contributions to health and health care.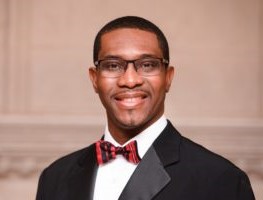 "This is an elite group, and it is a well-deserved and impressive honor," said Stockton Associate Dean for Nursing and Chief Nurse Administrator Sheila A. Quinn.
Ruffin earned a Bachelor of Science in Nursing from Rutgers University, Master of Science in Nursing and Tobacco Treatment Specialization from the University of Medicine & Dentistry of New Jersey (now Rutgers), and Doctor of Nursing Practice (DNP) from Wilmington University.
He is the chair of the MSN and Post-Master's Certificate programs at Stockton and Chairman & CEO at Ruffin Associates Healthy Housecalls where he maintains clinical practice as an Adult-Gerontology Primary Care Nurse Practitioner and Certified Tobacco Treatment Specialist.
A native of Haiti, he lives in Egg Harbor Township.
Why did you want to become a nurse practitioner?
Becoming a nurse practitioner is one of the best decisions I have ever made in life. Investing in the care and treatment of those in need in the most critical times of their lives is beyond a job, it's a calling.
I found nursing to be of particular interest to me at the age of 10, when my mother was sick in a hospital and a male nurse took the time to explain everything to her. That was when I learned a boy could become a nurse. That gentleman was the subject of so many conversations in our home as my mother recovered. He was so important to my family, so I wanted to become important into other people's lives.
I chose to become a nurse and later a nurse practitioner because this advanced practice role allowed me the freedom to work independently and yet collaboratively to provide individualized holistic patient-centered care to the most vulnerable populations. I take pride in my philosophy to empower patients to be the driver of their care.
Why did you become a nurse educator?
The nursing profession faces the greatest shortage, which has been exacerbated by the COVID-19 pandemic. The nursing population is aging, and many of the baby boomers are retiring.
The great news that our population is living longer leads to more people living longer with chronic conditions leading to a greater need of health services. Therefore, the older generation of nurses is depending more on the healthcare system rather than being a part of it. Additionally, the average age of doctorally-prepared nursing faculty is 57, which leads to a decade timeline to leave the workforce.
The nursing shortage is severely driven by the shortage of nursing faculty, and this is expected to worsen. There are millions of qualified students interested in becoming nurses that could easily replace the aging nursing workforce, but their applications are being rejected every day because of the faculty shortage.
In following the utilitarianism principle, I asked myself, how can I make an impact? How can I do the greatest good for the greatest number of people in my community? After pondering on this thought for a few months, it became evident that a contribution to reduce the nursing shortage by becoming a nursing faculty would impact the greatest number of people. Hence, my reason for becoming a nurse educator.
What does being named a Fellow of the American Academy of Nursing mean to you?
Being named a Fellow of the American Academy of Nursing (FAAN) is certainly one of the highest honors in nursing internationally. The FAAN program is by invitation-only, and candidates are nominated by fellows for which nominees must detail their achievements and show a substantial amount of work that has significantly impacted and enriched the profession.
The invitation to become a fellow is more than recognition of one's accomplishments within the nursing profession. Academy Fellows also have a responsibility to contribute their time and energies to the Academy, and to engage with other health leaders outside the Academy in transforming America's health system by enhancing the quality of health and nursing; promoting healthy aging and human development across the life continuum; reducing health disparities and inequalities; shaping healthy behaviors and environments; integrating mental and physical health; and strengthening the nursing and health delivery system, nationally, and internationally.
Among the national stars who have been recognized as honorary fellows in 2020 is Dr. Anthony Fauci.
What issues in nursing are most important to you?
As a nurse practitioner and Certified Tobacco Treatment Specialist caring for patients with chronic diseases related to smoking and vaping, my work has been disseminated through 12 publications, one book chapter, and 31 national and international presentations with a readership and attendance of over 100,000.
My creation of a Smoking & Vaping Cessation program has been implemented across multiple group practices in New Jersey. Due to the predatory nature of big tobacco and its devastating impact on Black Americans, I held a series of "train the trainer" workshops for over 200 teachers and nurses in five major school districts in New Jersey. The goal of the workshops was to educate participants on the different types of vaping products such as fruity flavors and devices that are directed to high-risk children. To date, over 10,000 students have been educated on the health hazards of smoking and vaping.
During my tenure as chair of the National Black Nurses Association (NBNA) Substance Use Disorders Committee, I spearheaded the annual "NBNA No Tobacco Day" to advocate for increased awareness of the negative impacts of smoking and vaping. The committee developed an evidence-based toolkit to mobilize nurses to educate the public regarding smoking and vaping. The toolkit and Smoking & Vaping Cessation Program are currently implemented in 95 NBNA chapters across 35 states, impacting the lives of millions of people who suffer and die from smoking and vaping related illnesses.
In January 2020, NBNA urged members of Congress to recognize smoking and vaping as a leading public health addiction and to support legislation that reduces smoking and vaping rates to ultimately eliminate health disparities. As a result, the U.S. House of Representatives passed H.R. 293, a comprehensive bill to address the youth tobacco epidemic.
My commitment to improving smoking and vaping education in healthcare delivery led to major health policy initiatives which impacted the lives of millions of people not only in the United States, but around the world. As a fellow at the American Academy of Nursing, I am committed to making greater impacts and promoting smoke-free and vape-free environments.
How do you view the role of Black nurses and specifically Black male nurses in health care today?
Traditional gender roles in the workplace have shifted. The time where only men could be truck drivers, or females could be nurses is no more. As the American society becomes increasingly diverse, so as has the field of healthcare, leading men and minorities to shift to the nursing workforce. Be it for economical and societal reasons, more and more men are looking to nursing to focus their professional energy. As the population diversifies there is a greater need for patients to be cared for by those who look like them. The demand for male nurses has significantly increased over the years and this trend is expected to continue.
It was a great honor for me to serve as the first male president of the Northern New Jersey Black Nurses Association. We have touched the lives of many nursing students through mentorship and scholarship. I was able to energize the organization to meeting its strategic goals and vision to improving the health of minorities in our communities. This work led the organization to receive three National Awards in 2017.
I had the pleasure of being nominated for fellowship into the AAN by two former Presidents of the NBNA. These are great national mentors who have been coaching me for many years. NBNA serves as the voice for Black nurses in diverse populations ensuring equal access to professional development by promoting educational opportunities and improving health. Black nurses offer voluntary services by providing health education and screenings to community residents in collaboration with community-based partners, including faith-based organizations, civic, fraternal, hospitals, and schools of nursing.
# # #
Contact:
Diane D'Amico
Director of News and Media Relations
Galloway, N.J. 08205
Diane.D'Amico@stockton.edu
609-652-4593
609-412-8069
stockton.edu/media
Nursing Students Assist at COVID Vaccine Megasite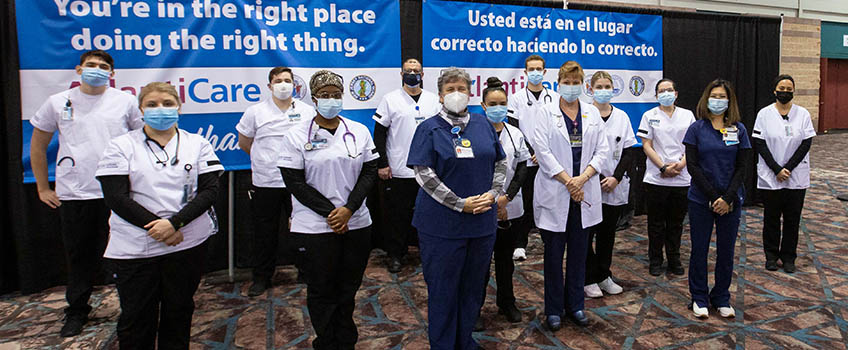 Atlantic City, N.J. – It's not often that Stockton University nursing students can say they helped make history.
But 105 nursing students are participating in a piece of pandemic history as participants in the Atlantic County COVID-19 Vaccination Megasite the State of New Jersey, Atlantic County, AtlantiCare and the New Jersey National Guard are operating at the Atlantic City Convention Center.
"It's a blessing," said student Alexis Land of Clementon, as she and nine classmates prepared for a rotation through all of the different sections of the megasite, including actually giving vaccinations.
Denise Petro, an adjunct nursing clinical faculty member in the Accelerated Bachelor of Science in Nursing program, said this is the first hands-on clinical experience her students have been able to do because of pandemic restrictions.
"When I heard about this I was ecstatic," Petro said. "These students are going to be able to say that they helped during an historic event, and they get to see what it takes to put on an event like this."
The students are participating in groups of 10 with a faculty member. They include junior and senior Bachelor of Science in Nursing students and college graduates who are earning a nursing degree in the Accelerated BSN program based at Stockton's site in Manahawkin.
Prior to this semester, students completed a nursing foundation course in which they learned multiple nursing skills, attended labs on campus where they practiced with simulations, and were tested on psychomotor skills including medication administration via injections.
Before their clinical rotation at the Convention Center the students complete a Centers for Disease Control and Prevention program on vaccination administration, post vaccination monitoring and proper techniques. They also completed an AtlantiCare educational module and quiz on COVID vaccination.
On their assigned day at the Convention Center the students have a morning pre-conference to discuss in detail the plans for the day, and review the technique for giving the vaccination injection. They also participate in the morning group meeting at the site with all megasite staff. Throughout the day they rotate through different areas of the megasite so they can experience the entire process. A Stockton nursing faculty member follows them through the day to observe and answer questions.
Those interviewed said they appreciate that they are getting a unique experience at the Convention Center.
"This is highlighting public health, and what it is," said student Amber Minick of Toms River.
"It really is cool to be a nursing student now," said Michaella Butrico of Seaside Heights. "We are getting a different experience."
"This is such a rare experience to be able to come here," said Nick Dunham of Montgomery, N.J.
Some of the students have already worked in public health-related jobs and are excited to get their BSN.
Land said she worked hard to get accepted into the Accelerated BSN program, and she was not going to let COVID-19 stop her from getting the degree.
Nancy Powell, RN, director of professional development and a nurse scientist with AtlantiCare said they have reduced in-person clinical opportunities for nursing students during the pandemic to meet social distancing and public health guidelines.
"We know these students have not had the same experiences as previous groups, so we reached out to the college to do this," Powell said. "It is an amazing asset for us to have them here (at the megasite) and the students are learning so much about how to talk and interact with people in a medical setting, and work with other teams. In a lot of clinicals, students spend a lot time watching. Here, there is actual doing."
Powell said the students can also take what they learned at the site out to the public to help educate about the vaccination process.
"It's really monumental, what they are doing," said Sherrie Bragg, RN, AtlantiCare, clinical manager of the megasite.
# # #
Contact:
Diane D'Amico
Director of News and Media Relations
Galloway, N.J. 08205
Diane.D'Amico@stockton.edu
609-652-4593
609-412-8069
stockton.edu/media
---