Stockton Receives its Fourth Higher Education Excellence in Diversity Award
By Valerie Hayes
Chief Officer for Diversity and Inclusion
Yes, Stockton did it again, but this time in a much bigger way than before. Stockton received the 2021 Higher Education Excellence in Diversity (HEED) Award, a national diversity award offered by INSIGHT Into Diversity magazine in Washington, D.C.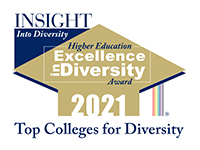 Stockton previously received the HEED Award from 2016 through 2018 but we spent the last few years reflecting on our diversity and inclusion efforts and making improvements or enhancements before submitting another application. We have you to thank as a member of the Stockton community and for your contributions to diversity, inclusion and social justice for this year's successful submission.
Why do we apply for the HEED Award?
Stockton uses the HEED Award application as a diversity benchmarking tool, along with comparing our diversity and inclusion efforts against our New Jersey peer institutions and other colleges and universities across the country. Colleges and universities learn from each other in this regard.
HEED Award application questions require evidence-based detail, covering such items as standard data questions about the diversity of our faculty, staff and student populations, to new questions focused on how Stockton considers the impact of national DEI events on members of our campus.
Disability, Accommodation and Accessibility
We are proud to acknowledge the work of the ADA-504 Steering Committee, comprised of faculty and staff who are involved in campus accessibility, services to students with disabilities, employee accommodation and much more.
So, what did we do to enhance diversity, equity and inclusion (DEI) between 2018 and 2021 to receive the 2021 HEED Award? Here are some highlights:
We collectively deliberated and developed the Strategic Plan 2021: Choosing Our Path, with six key focus areas, one of which focused on Diversity and Inclusion.

Stockton's diverse Board of Trustees passed its Resolution on Diversity, Equity, Inclusion and Social Justice with certain expectations and outcomes.

Across campus, there are many faculty, staff and students engaged in DEI efforts that support the University's mission, vision and values, as well as its Statement on Diversity, Equity and Inclusion.

Stockton's academic schools and programs, as well as its offices and divisions, are engaged in addressing racial justice concerns.

With open minds, the President's Cabinet experienced three facilitated conversations on race and privilege.

A review of the curriculum resulted in a two-course General Education Race and Racism Education (RARE) graduation requirement for all students to ensure critical questions are embedded within all Stockton degrees granted.

Data and evidence are used to inform our discussions and approaches to closing equity gaps in student achievement and retention, as well as our strategies to increase faculty and staff diversity, to name a few.

The Office of Diversity and Inclusion developed an inquiry-based and evidence-based approach to connect their goals/priorities, as appropriate, and enact the aspirational statements in the University's Statement on Diversity, Equity and Inclusion. For example, the President's Cabinet thoughtfully connect their priorities and goals to the Statement on Diversity, Equity and Inclusion.

President Kesselman established a Task Force on Stockton University Campus Safety, and the Campus Police participated in Bias and Microaggression Awareness and Prevention education facilitated by a Stockton faculty member.

We continue to place our focus on closing equity gaps, resulting in the creation of an Office of Academic Achievement Programs in the Division of Student Affairs to improve retention of Black and Latinx students by bridging equity gaps in student engagement with high impact practices (HIPs).

Stockton's pipeline programs for future faculty focus on introducing young people to STEM fields and engaging undergraduate students in research with their faculty. Stockton recognizes its role in creating a diverse pipeline to the professoriate, encouraging undergraduate students to engage in research and introducing them to pursuits of a doctoral education and research as one of many options after college. Stockton's pipeline program begins with the STEM Collaborative, a university-community collaboration that increases the exposure of K-12 students to STEM disciplines. We continue emphasis on STEM fields with a STEM career community. The Office of Diversity and Inclusion collaborates with the Educational Opportunity Fund Program and faculty on Promoting Diversity in Undergraduate and Graduate Research Education.

Stockton expanded its advertising networks to directly target lists and online bulletin boards designed to recruit diverse candidates, along with changes in our campus interview processes to create more equitable opportunities and inclusion processes for a broader pool of candidates.

Stockton became an associate member institution of the Hispanic Association of Colleges and Universities as a first step toward (1) becoming a Hispanic-Serving Institution (at least 25% Hispanic), (2) further increasing the number of Latinx students, and (3) further enhancing our efforts to increase faculty diversity.

Stockton has made initial contact with Howard University's Graduate School, the largest on-campus producer of diverse doctoral degree recipients, for the purpose of collaboration and building relationships for faculty and staff diversity at Stockton.

Our Search Advocate Program continues to grow, spreading the responsibility of ensuring equitable searches among search committees, a diverse group of search advocates, the Office of Human Resources and the Office of Diversity and Inclusion.

The phrase "Support Stockton University's diversity commitment and strong student-centered vision and mission" is contained in all job announcements.

The Committee on Campus Diversity and Inclusive Excellence (CCDIE) conducts employee and student campus climate surveys, study the findings, make recommendations, inform the community of the findings and recommendations, and act upon those recommendations before we distribute subsequent campus climate surveys.

A second diversity committee emerged, the Diversity and Inclusion (D&I) Strategic Plan Team, co-convened by the Chief Officer for Diversity and Inclusion and a CHEM faculty member. After accomplishing their goal of establishing three D&I implementation goals, this team continues its work by researching best practices in D&I to create a list of D&I best practices, suggestions and ideas to be linked to the Compass Fund, an internal funding source for strategic plan initiatives.

Employee resource networks such as UNIDOS and the Council of Black Faculty and Staff engage faculty, staff and students in scholarships galas to support student retention and success. A new International Faculty and Staff Network should be fully operational by the end of the Fall 2021 semester.

The Office of Global Engagement provides a series of events and activities on internationalization, international students and scholars, education abroad and global learning.

University Relations and Marketing campaigns to recruit first-year and transfer students, application cultivation, summer, Stockton Promise, etc., include diverse students and, depending on the platform, run in both English and Spanish. In addition to cable and digital advertising, Stockton uses Spanish language publications and websites, such as Univision, Telemundo, La Mega Radio: WSKQ-FM, as well as The Philadelphia Tribune, the oldest continuously published African American newspaper in the United States, to reach their readership.

Student Admissions Ambassadors host takeovers on the University Instagram to spotlight the diverse student body and activities they organize for prospective students, such as Straight Talk: The Real Diversi-tea and LGBTeaQ+.

The Student Senate established a Standing Senate Diversity and Inclusion Committee that centers on supporting diverse student groups on campus through the active engagement of members on different committees and ensuring underrepresented students are properly included in every discussion on campus and that all students are given the security they need. This Standing Senate committee interfaces with the Committee on Campus Diversity and Inclusive Excellence because student senators are appointed to this University committee each year.

A new Multicultural Center will open in Spring 2022.

We have a Bias Prevention Education and Review Team that has revamped its web presence, clearly defining bias, intimidation and hate crime, while educating our campus community on First Amendment Free Speech.

In addition to a renewed focus on underrepresented and underserved students, Development and Alumni Relations established the Alumni Conference on Diversity, Equity and Inclusion in collaboration with alumni and others on campus to host virtual conversations on important topics facing Stockton and higher education. These include Shared Governance, Institutional Structures and Anti-Racism, Diversity, Inclusion and Freedom of Speech, and Diversity and Inclusion in Higher Education.

The Stockton University Foundation intentionally seeks to raise funds for various initiatives on campus that highlight the contributions of and seek to address the needs of various underrepresented and underserved student populations.
If you are interested in getting involved in Stockton's diversity and inclusion efforts, please begin by contacting Dr. Valerie Hayes, Chief Officer for Diversity and Inclusion, at Valerie.Hayes@stockton.edu.