Students Lead Project to Refurbish Observatory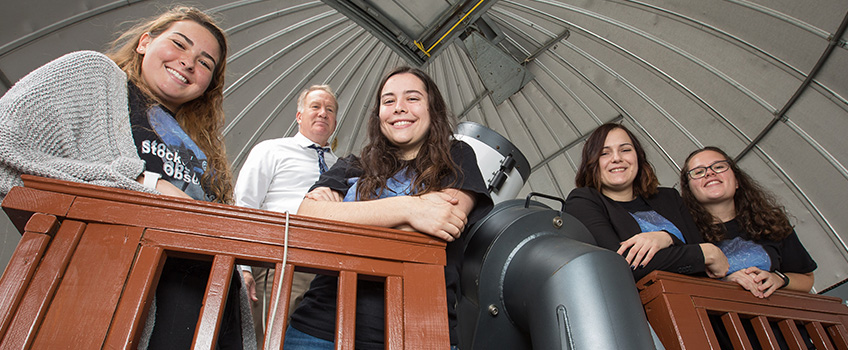 Galloway, N.J. – The first thing Stockton students saw when they opened the doors to the Harold E. Taylor Observatory were pieces from the telescope on the floor and spiders.
"There were soooo many spiders," said sophomore Courtney Weber of Jefferson Township, one of a group of seven physics majors who spent the last year repairing and restoring the observatory, which has been closed for more than 15 years.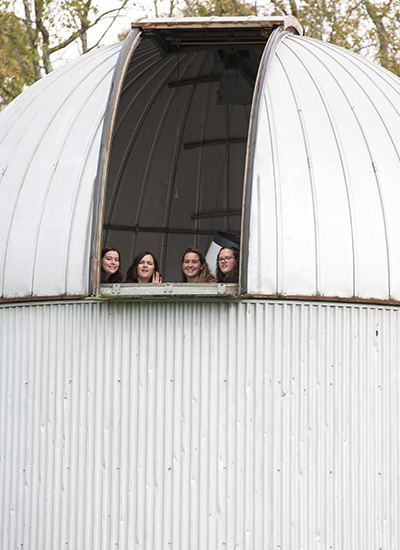 The project began with one student, Mariam Saad, asking Associate Professor of Physics Joseph Trout why the observatory was closed, and what might be done to reopen it.
Saad began the work with Trout, and when she graduated in 2018, Briena Feltner, Courtney Weber, Colleen Lindenau, Tara Jacobsen and Gracie Buondonno continued, using funds donated by the Stout family in memory of their son, Timothy, an amateur astronomer, and three Stockton Research Experience for Undergrads grants.
The students worked with Trout to replace the Hall effect transducer and the telescope's circuit board, as well as performing the more mundane tasks of cleaning and painting to prepare of the reopening.
Trout said the project gave the students a real-world problem to solve as well as potential research topics. Students are using the telescope to do an independent research study on interstellar light curves.
Jacobsen of Egg Harbor Township, a dual major in physics and education is developing a curriculum for using the observatory to teach.
Feltner of Jackson said having an operating observatory is an attraction for Stockton.
"Stockton is a relatively small university," Feltner said. "But we can be role models here. This is an opportunity to show people what we have."
"It's also a way to get the public interested in science," Jacobsen said.
An opening reception was held for the observatory on Nov. 6.
Members of Taylor's family attended the ceremony, and were thrilled with the results. Taylor's brother Joe, a Physics professor at Princeton University and Nobel Prize winner, said Hal would be "delighted" to see the observatory being used once again.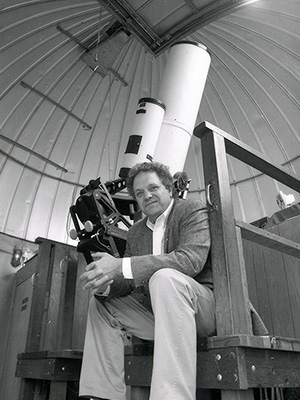 "Hal loved science and astronomy," he said. "Growing up, we used to build telescopes together. We used to look at the moon, stars and the cute girls in the neighborhood ... Hal would be so happy to see this."
"Hal literally built this thing with his bare hands," said School of Natural Sciences and Mathematics Dean Peter Straub. "He would be proud of it now, and I am proud of the work by [Trout] and the students. As we all know, at Stockton, the best way to learn is to do things, including building an entire observatory."
The first schedule public viewings at the observatory will be from 6-8 p.m. on Thursday Nov. 14 and Wednesday, Dec. 4, weather permitting. Participation is free, but attendees are asked to register for a specific time at stockton.edu/observatory.
"We want to provide a facility open to all that teaches the value of science, and offers STEM education and training," said Straub.
Trout said their next project is raising funds for a new telescope, which will cost about $11,000, and to replace the structure of the 45-year-old observatory. Donations can be made through the observatory's web page at stockton.edu/observatory.
# # #
Contact:
Diane D'Amico
Director of News and Media Relations
Stockton University
Galloway, N.J. 08205
Diane.DAmico@stockton.edu
609-652-4593
609-412-8069
stockton.edu/media