Students See the Future of Wind Energy in N.J.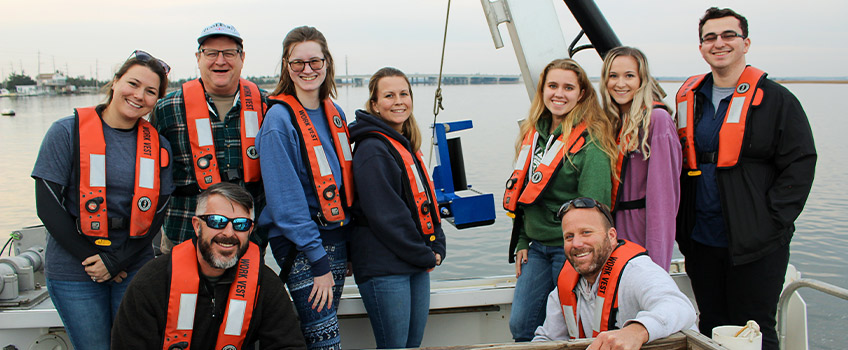 Galloway, N.J. – Stockton marine science students are using sonar equipment to look underwater and into the future.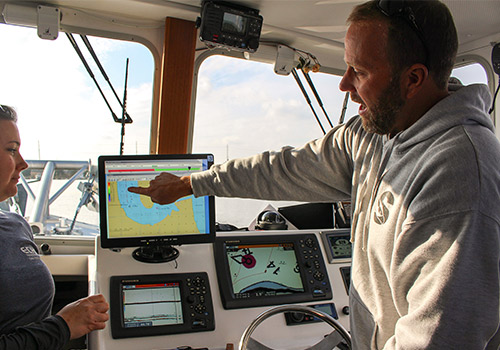 About a dozen students boarded the Stockton research boat Petrel on Nov. 19 to learn hydrography – the science of surveying bodies of water. The trip was sponsored through a partnership with Ørsted U.S. Offshore Wind, which won state approval to build a wind farm off the Atlantic City coast and is now collaborating with Stockton to support research, academic programs and events at the university.
Students spent more than three hours learning how to use the sonar equipment, which uses sound frequencies to track activity under the sea. The students also got to operate a CastAway, a tool hydrographers use to measure sound velocity, which is required for the sonar to map the sea floor. Both tools can be used to track habitats, follow schools of fish and more.
The equipment used was provided by Echo81, a Georgia hydrographic consulting company. While Marine Field Station Manager Steve Evert operated the boat along the Mullica River, Echo81 specialists Damon Wolfe and Lisa Brisson showed students in real-time the data the tools were collecting.
"This is all art in science," said Wolfe, "and the capability of this equipment is only limited by the user's imagination."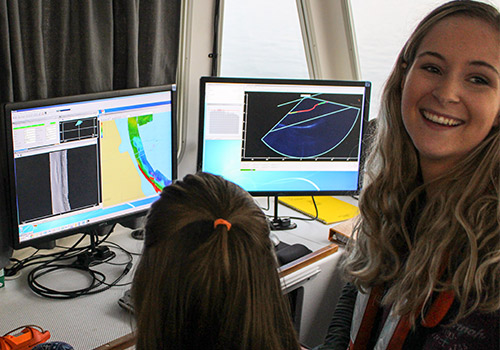 Using the sonar and CastAway, students were able to measure the river's depth, track terrain changes and even find a Revolutionary War shipwreck.
"This was my first time out on the water here, and it was awesome," said sophomore Matt Leason. "This was also a field within my major I had never thought of before today that I now have interest in."
On Nov. 18, New Jersey Governor Phil Murphy announced a new state goal to produce 7,500 megawatts of power through offshore wind by 2035, an increase from an earlier promise of 3,500 megawatts by 2030.
Ørsted is slated to build Ocean Wind, a 1,100-megawatt offshore energy project, starting in 2020.
"Hydrography will most likely be a large industry within renewable energy," said School of Natural Sciences and Mathematics (NAMS) Dean Peter Straub, who accompanied the students on the trip.
Senior Samantha Hughes might have a future in wind energy.
"I loved this," she said of the trip. "I always used to focus on the biology side of marine science, but I'm now considering looking more into the technological side. Maybe one day I'll work on a wind farm."
View more photos from the day on Flickr.
Reported by Kat H. Wentzell.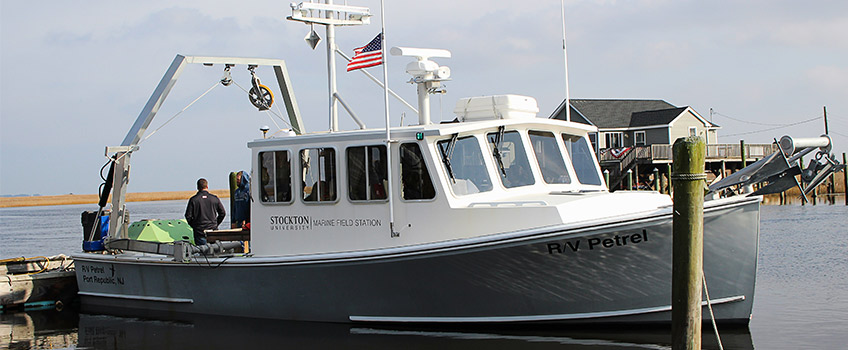 # # #
Contact:
Diane D'Amico
Director of News and Media Relations
Stockton University
Galloway, N.J. 08205
Diane.DAmico@stockton.edu
609-652-4593
609-412-8069
stockton.edu/media