Orientation
Welcome to Stockton!
We are committed to supporting your transition to Stockton University by referring you to resources and opportunities, connecting you to members of the Stockton community, and educating you on the expectations of students at the university. We are thrilled you are joining our Osprey Family!
Please be aware that the University has prepared a deliberate and thoughtful approach to examine our options to provide a safe educational and operational experience for everyone. Our goal is to welcome new students to campus each semester, following federal and state COVID-19 guidelines to ensure the health and safety of our students, faculty and staff.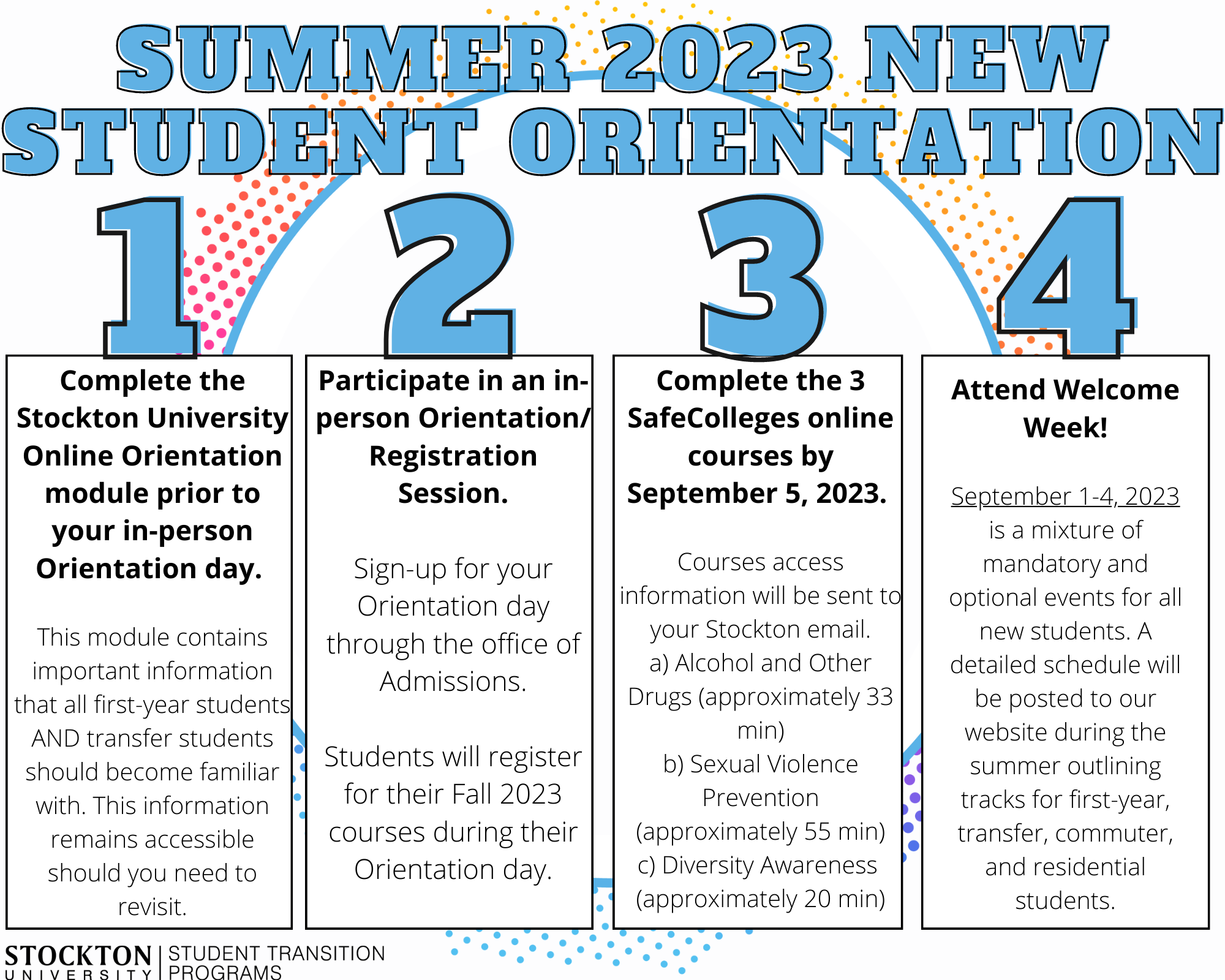 Complete the Stockton University Online Orientation Module

We have developed a self-guided online orientation platform that will provide you with important information related to your academic and social transition to Stockton during your first year. This information remains accessible should you need to revisit it.Complete the self-guided online orientation module and quiz prior to attending your Orientation Day. For most students, the self-guided online orientation module will take approximately 1 hour and 20 minutes to complete. We encourage you to navigate the online module at your own pace. Click here to access the online module! (you'll need to login to your Stockton GoPortal account)

Participate in one of the following Orientation/Registration formats being offered!


First-Year Students: The Nest Fest Overnight Orientation & Registration. Stay overnight in your new "nest" and celebrate with your fellow Ospreys! You will be provided with on-campus housing for the night and all meals, free of cost. Various activities and important information sessions will be offered on day 1, followed by orientation & registration for your classes with advising support on day 2. This is a great opportunity to interact with your new classmates, professors, and other administrators! Please ensure you make accommodations to participate in the entire Orientation experience.


Transfer Students: One-day In-Person Orientation & Registration. This is a one-day program, during which you will learn all about being a new Stockton student and register for your classes with an advising support. Please ensure make accommodations to participate in the entire Orientation experience.

All new students will receive communication from the office of Admissions with instructions on how to RSVP to participate in the Summer or Winter New Student Orientation experience.



Complete the three (3) SafeColleges online courses before the start of the semester.


All new students are required to complete the 3 online courses before classes begin. These courses are available after your New Student Orientation day and access information will be sent to your Stockton email or you can visit https://stocktonstudents-nj.safecolleges.com/login

Alcohol and Other Drugs (approximately 33 min)
Sexual Violence Prevention (approximately 55 min)
Diversity Awareness (approximately 20 min)

Questions regarding the SafeColleges courses? Email terence.williams@stockton.edu

Attend Welcome Week Programs.
Welcome Programs are a mixture of mandatory and optional events for all new students. A detailed schedule will be posted on our website during the summer outlining tracks for first-year, transfer, commuter, and residential students.
For questions about Orientation & Registration, please call 609-626-3643 or email studenttransitions@stockton.edu
New Student Orientation FAQ
Learning Outcomes:
Identify practices and resources that

promote safety, health and belonging

at Stockton University.
Identify practices and resources that will help students successfully engage and

navigate new or unfamiliar circumstances.

Identify practices and resources that will help students develop an understanding and

appreciation of cultural and human differences

and their role in

promoting social justice in society.