Nutritionist

The Nutritionist can help with

Healthier food choices on campus
Meal planning strategies
Recipe ideas
Decreasing added sugar
Eating on the run tips
Sports nutrition
Eating disorders
Food related medical concerns such as diabetes or food allergies
What to Expect

The first appointment is approximately 45-60 minutes. The nutritionist will complete an assessment to evaluate current food intake and your personal nutrition goals. Relevant nutrition information will be reviewed and a plan of action will be discussed. Follow-up appointments can be scheduled as needed.
How to Schedule
Call Health Services at (609) 652-4701.
About the Nutritionist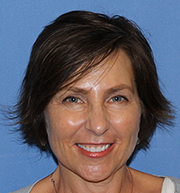 Kim Raring, M.S, R.D., is a registered dietitian/nutritionist with over 25 years of experience. She completed her undergraduate degree at University of Delaware and Master's degree at Teachers College of Columbia University. Kim has a certificate in whole plant-based nutrition from Cornell University and in plant-based cooking from Roubex Cooking School. She is an adjunct faculty member and teaches a class on "Real Food". Kim enjoys working with students and has a both a positive and simple approach when it comes to creating a healthier nutrition lifestyle.