Spencer's, Spirit Halloween Endow Scholarship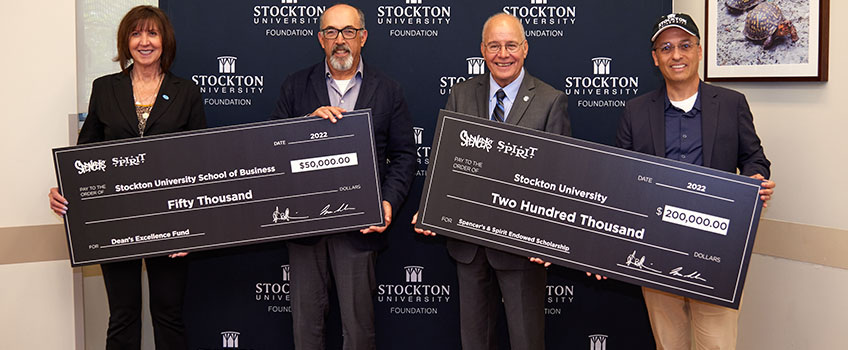 Galloway, N.J. – The Stockton University Foundation received a $250,000 gift Thursday from Spencer's and Spirit Halloween to support student scholarships and School of Business initiatives.
Spencer's and Spirit have a long history of employing Stockton students and graduates. The new agreement solidifies an expanding relationship with the university, including:
$200,000 for an endowed scholarship for Computer Science and Marketing students
$50,000 to support School of Business initiatives
Rifat Mahmud knows first-hand how a scholarship can change lives.
"Stockton University Foundation scholarships allowed me to continue my education in the Master of Business Administration program after earning a bachelor's in Business Studies in May," said Mahmud, of Bellmawr.
Countless more Stockton University students will now be able to say the same thanks to the new endowment from Spencer's and Spirit.
"When our students get the opportunity to intern and get jobs at a company like Spencer's or Spirit Halloween, you have changed their lives, their families' lives and their futures," Stockton President Harvey Kesselman said.
"We are proud to support Stockton University's School of Business through a $250,000 commitment that will support high-quality, affordable education for students in our community," said Steven Silverstein, CEO of Spencer's and Spirit Halloween. "Our Egg Harbor Township office is home to nearly 100 Stockton graduates and dozens of university interns, and this inauguration cements our bond, making us stronger, together."
As part of their investment in Stockton students and programs, the gift will support several School of Business initiatives that were identified by the Presidential Task Force on Reinventing the School of Business in 2021, including:
The Summer Entrepreneurship and Business Academy for area high school students
The Dean's Distinguished Lecture Series
The Dean's Excellence Fund
The Annual School of Business Awards
MBA student Michael Cogossi of Atlantic City said the partnership with Spencer's and Spirit provides a dual advantage.
"This is a financial win for students who need the extra help funding their education, and they provide so many employment opportunities for students and graduates," he said.
Warren Kleinsmith, interim dean of the School of Business, said Spencer's and Spirit Halloween have provided invaluable opportunities for students.
"Internships are a pivotal piece of learning for students, where they put into practice what they learn in the classroom," he said. "It is a real benefit for our students to see what it is like to work for a major company like Spencer's."
The Stockton University Foundation awards more than $1 million annually to over 700 students.
– Story by Stacey Clapp