Feather Friendly Window Treatment Prevents Bird Strikes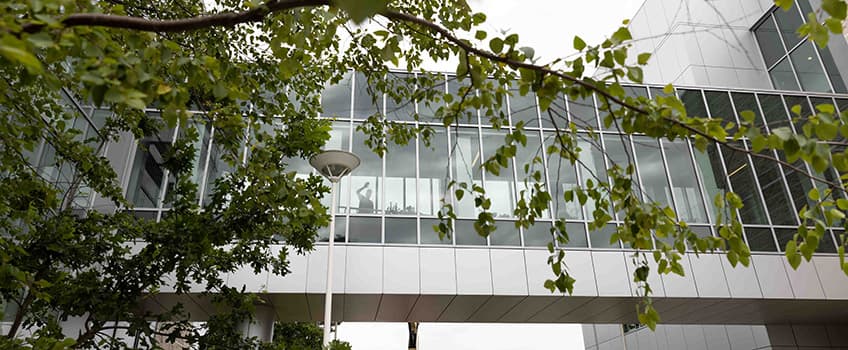 Galloway, N.J. - When it comes to bird conservation, Stockton University, located in the Pinelands National Reserve, is crossing its t's and dotting its i's. This month, thousands of white spots were added to the exterior glass on the bridge that connects the Unified Science Center 1 and 2 to prevent bird strikes.
This new window treatment helps birds in flight spot the glass obstruction that would otherwise reflect sky and open space fooling birds into striking the windows, especially migrants passing through during the spring and fall.
Stockton's campus is located within the Atlantic Flyway, a north-south corridor that migratory birds travel on their way to and from breeding and wintering grounds.
Feather Friendly
John Rokita and Lester Block, who have been advocating for the birds on Stockton's campus since they were students in the late 1970s, watch the dot installation.
In 2019, an educational mural, designed by in-house graphic designers and printed on perforated film, was installed at the K wing breezeway as a pilot project to study the effectiveness of using film to block reflections.
The first mural project started when a group of environmentally conscious employees approached the university's Biodiversity Committee to use art to save birds, said Cynthia Gove, director of Facilities Management and Plant Operations.
Art Should be Striking, Not Birds
Building collisions are one of the top anthropogenic threats to birds, causing up to 1 billion bird deaths annually in the U.S. according to scientific estimates. Artwork and an educational message now covers the K wing breezeway to prevent strikes.
A 2020 grant funded the pilot mural, which proved to be effective, and then the Division of Facilities and Operations funded the purchase of Feather Friendly dotted film to continue the conservation effort.
Spot the Dots
A subtle pattern of closely-spaced dots help birds spot obstructions.
Alice Sikora, of Institutional Research, walks past the original mural daily heading to and from her office. Following installation, she found three bird casualties that signaled the need for a modification. Feathered smudges on the window marked where birds struck the glass underneath the mural illustrating their ability to see the artwork and avoid it.
Bird-shaped window clings were later added to the space underneath the mural that was originally left empty as a safety measure to preserve sightlines for pedestrians. With the added decals, there have been no strikes recorded.


Window Clings
Susan Allen, who wrote the 2020 proposal that funded the original mural, donated window clings from Sticker Mule to make the space below the mural more effective.
"K wing came out fabulous and sent a conservation message to our community. We wanted to continue that work. We're in the pines and want to stay true to nature," Gove said.
During installation at the Unified Science Center, the glass was cleaned and covered with the dotted film. Then the clear film was peeled away leaving just the dots.
John Rokita '78, assistant supervisor of Academic Lab Services, has been documenting bird strikes on campus since he was a student and never stopped. He has a notebook filled with entries on bird casualties categorized by species, date, location, cause of death and collector.
When birds survive the impact, he rehabilitates them for release back into the wild in the vivarium, a space in Unified Science Center 2, with Melissa Laurino, a two-time Stockton graduate and animal care specialist, and student workers.
Taxidermy Helps Birds Live On
A portion of Stockton's taxidermy bird collection is made up of bird strikes from campus that John Rokita preserved. They are now used as study skins in classes giving students the chance to see the intricate details of a variety of local species.
Bree Hawkins, a sophomore Environmental Studies and Language and Culture Studies double major, was walking from class with Justin Andell when they found a veery, a cinnamon-colored thrush, laying lifeless on the ground beneath the expanse of windows at the entrance to the Campus Center.
They collected the specimen and walked it to the vivarium, where they met Rokita and Lester Block, a professional services specialist in the School of Natural Sciences and Mathematics. Their visit turned into a tour of the lab and Hawkins found a staff advisor for the Stockton Birding Club she was working to create.
"Lester volunteered to be the advisor, and I couldn't have asked for a better person. He's so open, kind and knowledgeable," she said.
Rokita and Block have become mentors to Hawkins. "They're always willing and able to help. I can have a blurry photo, and they'll take one look and identify it right away. It's great to be around people like that. I hope to one day be at their level," she said.
Hawkins was diagnosed with Fibromyalgia in 2021, and during intensive outpatient therapy, she was encouraged to go back to doing what she loved as a kid. She went to the woods.
That spring she became a birder. "I knew nature and the environment would be therapeutic. When you find a new bird, it's exhilarating. You can feel the dopamine hit," she said.
Now, she doesn't go anywhere without a pair of binoculars and a camera in the car.
"Who would have thought that carrying a dead bird around campus would have introduced me to so many friends," she said, looking back on the day she found the veery.
The Stockton Birding Club started with that bird strike.
Bird Strike Leads to New Club
Bree Hawkins formed the Birding Club to "be a driving force for good" with the goal of making the campus a better place for birds. Members use GroupMe to collect bird strike details and keep track of the data.
Stockton's efforts to make buildings more bird friendly are in line with nationwide progress to protect bird populations.
A law that went into effect in New York City at the end of 2020 updated the city's building code to require the lowest 75 feet of building exteriors with transparent surfaces to use bird-friendly materials in new construction and renovation projects. Birds are less likely to be flying at heights above 75 feet.
Studies have found that birds rely on stars to map their migration route, and as a result, they are attracted to bright, artificial lights at night and end up altering their course and expending valuable energy. In some cases, they will fly straight into illuminated windows.
A few dozen buildings participate in Lights Out Philadelphia, an initiative that reduces artificial lighting at night during migration. The Wells Fargo Center, Ursinus College and the Pennsylvania Convention Center are among the participating buildings.
During the school year, members of the Stockton Birding Club, walk building perimeters on campus, scanning the ground for dead and injured birds, to monitor what species and where birds are hitting windows. This data helps to inform where to focus future conservation efforts.
Photos and story by Susan Allen