Club Connect: Meet the... Birding Club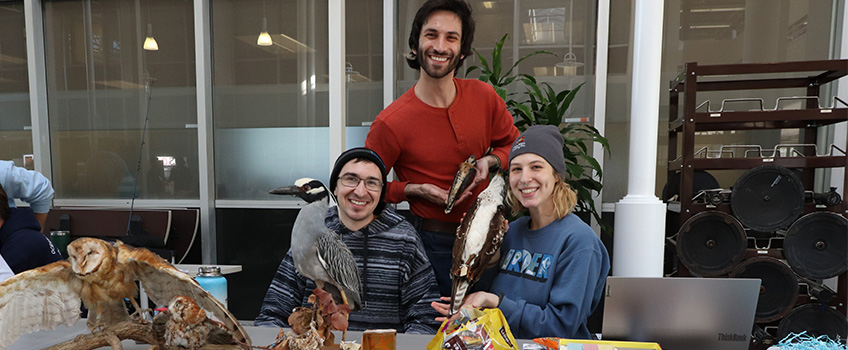 Galloway, N.J. – Ospreys, join Stockton University's Birding Club to get educated on how to interact with birds, like real ospreys, safely!
Breanna Hawkins, the president and founder of the new club, saw that there were many environmental clubs when they first came to Stockton, but none of them were specifically for birding (also known as birdwatching). That's when Hawkins decided to create a club that is solely devoted to birding and educates people on the lives and environment of birds.
The main purpose of the Birding Club is to promote ethical birding, improve one's birding skills and improve stewardship of our local bird populations in the Pine Barrens, which Hawkins considers to be "an amazing place for nature."
Individuals who join the club will be able to obtain general knowledge about birding and birds themselves; they will be able to identify birds by the sounds, songs and calls that they make.
Besides bird identification, the club teaches members how to use binoculars and about different resources that are available for birders. It is Hawkins's hope that members will learn more about interacting with birds and how their actions have long-reaching effects on them, therefore gaining knowledge on how to mitigate the negative effects.
Hawkins emphasizes that any student interested in joining can, despite lack of experience or knowledge. They hope to promote diversity and inclusion by making the club accessible to everyone.
"Everyone should feel welcomed in the club," Hawkins said. "Everyone has a space whether birding is their primary interest or secondary interest."
For this year's Martin Luther King Day of Service, the Birding Club went to Edwin B. Forsythe National Wildlife Refuge to participate in trail maintenance, which was featured on Stockton's Instagram.
Joining Stockton's Birding Club will allow members to be given opportunities to join other off-campus activities. The club meets on Thursdays from 9:30 to 10:30 p.m. Interested students can join the club on OspreyHub

and follow them on Instagram,

@SUBirdingClub

.
– Story and photo by Thalia Rivas