Stockton Model UN Celebrates 10th Anniversary, Wins Top Award in D.C.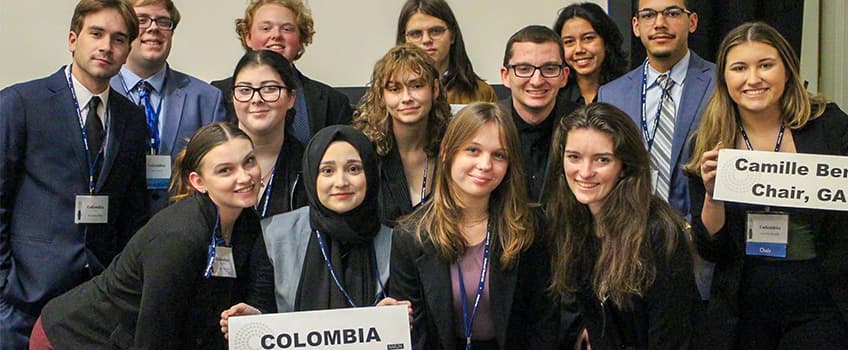 Galloway, N.J. – A lot can happen in 10 years, as evidenced by the Stockton University Model United Nations (UN) team growing from six students to over 30 under the guidance of Political Science faculty member Tina Zappile.
Part of the team recently traveled to Washington, D.C., for a National Model UN (NMUN) conference, where they gained real-world experience debating and negotiating social issues. According to Political Science students Sean Lopez and Camille Benoit, the conference was unforgettable, especially after winning the Outstanding Delegation Award while representing Colombia.
Lopez, a Vineland resident and secretary for Stockton Model UN, is currently living in Washington, D.C., as an intern for Sen. Robert Menendez (D-NJ). He had the chance to be one of the head delegates for the conference.
"It is an amazing achievement to win the Outstanding Delegation Award, as it is the highest award you can win in Model UN. It is the first award I have won with the club and the first Outstanding Delegation Award we have won since 2014. Our team included eight new members who were participating in their first conference, which makes this achievement even more amazing," Lopez said.
Just a few short years ago, Egg Harbor Township native Benoit was one of those students first attending a conference in Washington, D.C. She came to love the experience, and now, as president of Stockton Model UN, it was a mission of hers and her executive board to make sure the many new members of the organization experienced the same.
In addition to volunteering for NMUN as a chair for the General Assembly First Committee, Benoit was still working to support her team members during the conference.
"During the semester leading up, (my vice president and I) held weekly meetings, guided them through simulations and taught them how to write position papers. At the conference, alongside my appointed head delegates, I led debrief sessions and supported the members with anything they needed during the conference. To walk out of that conference with the team I trained, winning the highest award, was such a surreal moment for me," Benoit said.
This latest award is not just a prize for the team – rather, it's just one shining example of the work that the team has done over the years.
"Our founding members and alumni started messaging us on social media after we posted that we won a top award, and I was immediately brought back to driving a Stockton minivan to D.C. with our small team of only six students," Zappile said. "I am grateful for the initiative and drive of that original group and the hundreds of students who followed – they are the reason this program has grown over the last 10 years. We've successfully fostered a culture where our students are confident to work at the same level as their colleagues from top-ranked schools around the world."
Winning, however, isn't the point of attending such conferences. For both Michael Klein of Cape May Court House, vice president for Stockton Model UN, and Zappile, the experience of developing skills such as technical writing, public speaking, negotiating, conflict resolution and project management in an environment like a national conference is what makes programs like Model UN unique to the student experience.
"Before attending D.C., we made sure everyone knew it doesn't really matter if we win an award or not. We just wanted everyone to be diplomatic and try their best to represent both Stockton and Colombia while gaining an understanding of how the UN actually works," Klein said. "It was amazing to see how well everyone worked within their committees and how everyone embraced the spirit of diplomacy and collaboration required to win such an award. I'm extremely proud of everyone who made winning this award possible, and I'm excited to see how we perform in New York in the spring."
"I see students develop into better versions of themselves and develop a better understanding of the world around them," Zappile said. "Many of our delegates go from being unsure about speaking in front of their peers to writing and delivering powerful speeches on complex global issues in just one semester. They also get to learn firsthand about the complexities of public policy at the country, regional and global levels. On a personal level, they develop empathy, or the ability to understand – even when you strongly disagree – other people's positions, perspectives and approaches to our common problems."
The next stop for the team is another NMUN conference in Erfurt, Germany this month. The students attending the conference will also have the opportunity to explore Frankfurt for four days before the conference, thanks to support from the Holocaust Resource Center.
---
Galloway, N.J. – Environmental Science major Jayden Hamlet presented original research at a national conference in Salt Lake City in June.
The Council of State and Territorial Epidemiologists (CSTE) Annual Conference gathers more than 2,500 public health epidemiologists and researchers to a conference that includes workshops, roundtable discussions, poster presentations and more. Attendees meet and share their research on timely and important public health topics, such as infectious diseases, immunizations and environmental health.
Hamlet's research centered on waterborne diseases, like E. coli, and the areas where it is concentrated. He took samples from urban, rural and forested areas and tested the samples to see if the E. coli bacteria was resistant or susceptible to antibiotics. After conducting his research, Hamlet concluded that urban areas had a higher E. coli concentration than others, demonstrating that cities are where water contamination happens the most.
– Story by Loukaia Taylor
---
Galloway, N.J. — Barry Palatnik and Carla Cabarle, associate professors of Accounting; along with retired faculty member Leo Previti, brought ten students to the New Jersey Certified Public Accountant (NJCPA) Convention held June 13-16 at the Borgata in Atlantic City.
The convention is an event Stockton students have been attending annually for six years and is made possible by Stockton alumnus Dan Barbera, who set up a fund to cover their attendance costs.
Nina Fatima Argayoso '23 assisted Palatnik in organizing the event by getting students registered and creating a communication list.
– Reported by Mandee McCullough
---
– Story by Loukaia Taylor
– Photos submitted by Camille Benoit