Business Faculty Take Students to NJCPA Convention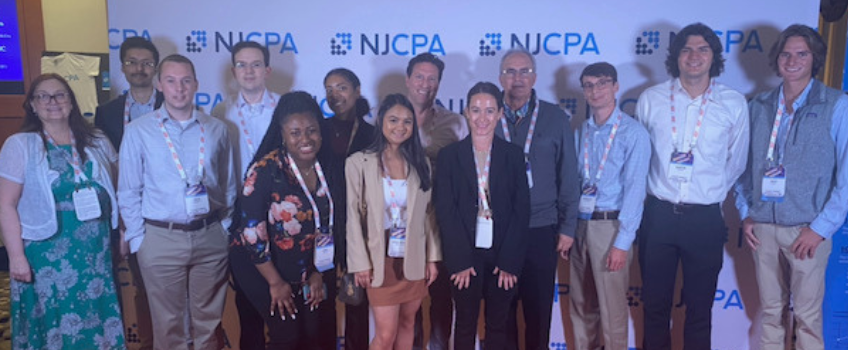 Galloway, N.J. — Barry Palatnik and Carla Cabarle, associate professors of Accounting; along with retired faculty member Leo Previti, brought ten students to the New Jersey Certified Public Accountant (NJCPA) Convention held June 13-16 at the Borgata in Atlantic City.
The convention is an event Stockton students have been attending annually for six years and is made possible by Stockton alumnus Dan Barbera, who set up a fund to cover their attendance costs.
Nina Fatima Argayoso '23 assisted Palatnik in organizing the event by getting students registered and creating a communication list.
Argayoso, who wrote a blog about her convention experience, hopes to work for a public accounting firm after graduation.
"I'm currently interning as an auditor, but I really enjoy working with taxes and conducting audits," she said. "In addition to that, I also have an interest in data analytics which can also help with auditing. With that, I still have not yet decided which area I would like to pursue in the long term."
Argayoso strongly encourages fellow Ospreys to take part in experiences like this. "It offers many opportunities in the accounting field, and the students can make informed decisions and gain valuable knowledge about the various accounting paths available. In addition to that, they have the chance to meet new people in the accounting industry who can provide them with valuable insights into their profession."
Additional students who attended the conference were Ann Delva, Henesis Vasquez Reynoso, Nick Guidotti, Nick Pattinato, Austin Wuest, Nicole Spera, Jack Loeb, Rahul Aggarwel and Kevin Adams.
"There is a severe shortage of CPAs," Palatnik noted. "This helps support the pipeline to keep students engaged in the profession. These students had access to over 400 CPAs. It was a great networking event, and there were about 100 vendors selling products and services to CPAs."
Reported by Mandee McCullough
Photo submitted