Young Alumni Club Welcomes New Members to Advisory Board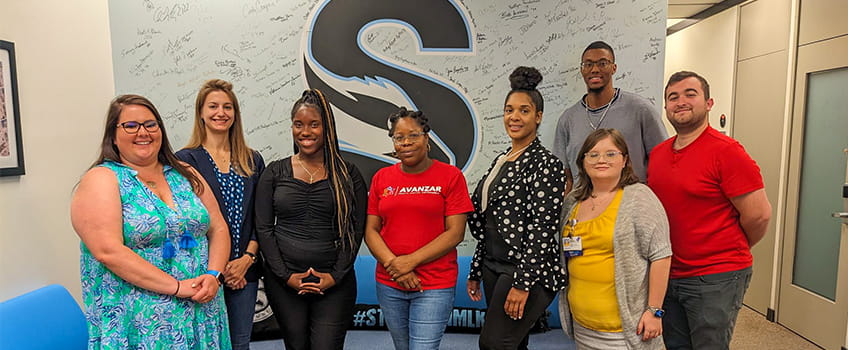 Galloway, N.J. — The Stockton University Young Alumni Club is pleased to announce its 2023-2024 Advisory Board.
The 2023 – 2024 Young Alumni Advisory Board
Jacqueline Adams '13
Carl Archut Jr. '16
Julie Coker '20
LaDonna Dickerson '18
Michelle DiLiberto '20
Christine Easton '15/M.A. '17
Emily Echevarria '21
Elijah Lewis '18
Nakesha Lawrence-Chowdhury '19/MBA '19
Christopher Lipari Pazienza '21/M.A. '22
Olivia London '21
Christina Reilly '16
Desiree Robinson '21/MSW '22
Alicia Strunck '13
Alexxus Young '19
Upon graduating from Stockton, alumni automatically become members of the Young Alumni Club, which offers a supportive community for recent graduates who have obtained a bachelor's degree. Membership lasts for 10 years after graduation.
In their first meeting on June 27, the new Advisory Board members gathered on campus to mark the beginning of their terms and to plan for the coming year.
"I want to give back to the university that made me the young professional I am today," said Alexxus Young '19, a newly appointed Board member. "I want to educate and advocate for my peers and show others that making the best out of their college experience is extremely beneficial."
Board members gain leadership experience by helping create programs and plan events for fellow recent graduates focused on networking, service, mentorship and philanthropy toward causes they care about at Stockton.
"We are thrilled to welcome these outstanding individuals to the Advisory Board of the Stockton University Young Alumni Club," said Kortney Butler '16/M.A. '18, alumni engagement coordinator.
"Their unique backgrounds and perspectives will greatly contribute to the Young Alumni Club's success in fostering a strong sense of community and supporting the professional growth of our fellow Ospreys."
---
Explore Latest Alumni News