Alumni Honored for Outstanding Achievements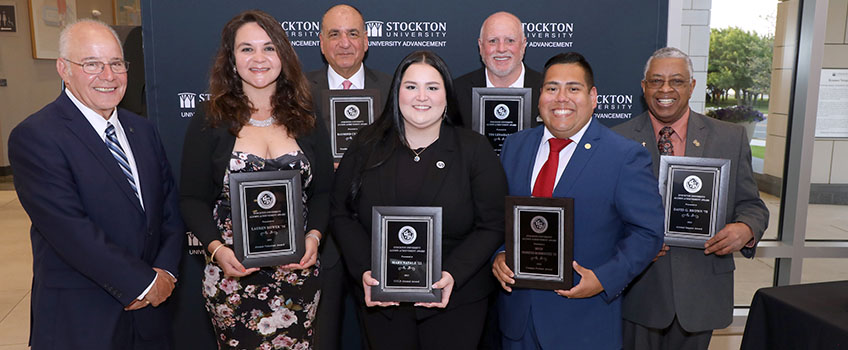 Atlantic CIty, N.J. – The annual Alumni Achievement Awards & Volunteer Banquet brought together more than 100 alumni, faculty, staff and friends to celebrate the accomplishments of six distinguished Stockton University graduates and recognized the valuable contributions of all alumni who volunteer their time at Stockton.
The event was held on May 18 in the Fannie Lou Hamer Event Room at Stockton's Atlantic City campus.
The awards selection process is organized by the Alumni Council on Engagement (ACE), a volunteer board of Stockton graduates dedicated to supporting the work of the Alumni Relations department and encouraging their fellow Ospreys to become engaged with the university.
Alumni and members of the broader Stockton community were asked to nominate graduates for recognition in a number of categories. Nominations focused on professional accomplishments, service to the community and dedication to Stockton. Those selected to be recognized have demonstrated exceptional perseverance and success in both their personal and professional lives, while consistently embodying the values of higher education and community engagement.
The following alumni were recognized for their outstanding achievements:
David G. Brown '78 – Alumni Impact Award
Brown is the political cartoonist for the Los Angeles Sentinel newspaper and featured contributor to the Washington Post and San Francisco Bay View newspapers.
Raymond Ciccone '79

–

Presidential Service Award

Ciccone is a CPA with the firm Ciccone, Koseff & Company in Ship Bottom, and the Forensic Accounting Group in New York.
Tim Lenahan '83

–

Professional Achievement Award

Lenahan is recognized as one of the top soccer program builders in NCAA history as he took three programs to conference championships.
"Stockton gave me the confidence to know I could sit in any room in the country with anyone... I just can't thank Stockton enough for what it has done for me."
Mary Natale '22 – GOLD Alumni Award
Natale serves in the Administration Unit for the Ocean County Prosecutor's Office and has served in emergency medicine through multiple capacities as an emergency medical technician.
Irvin Moreno-Rodriguez '15

–

Campus Partner Award

Moreno-Rodriguez, assistant director of the Sara and Sam Schoffer Holocaust Resource Center, recognizes and values Stockton alumni and utilizes them as ambassadors for their own programs.
Lauren Rowek '16

–

Alumni Volunteer Award

Rowek is a logistics management specialist at Naval Warfare Center Aircraft Division among other impressive accomplishments.
"Stockton gave me the confidence to know I could sit in any room in the country with anyone. And I was never ever intimidated," said Lenahan, president and CEO of Nice Guys Finish First, LLC., who expressed his gratitude to Stockton for instilling in him the confidence to face any situation. "I just can't thank Stockton enough for what it has done for me."
At the conclusion of the program, Scott Francis '98, representing ACE, announced the Alumni Impact Award would henceforth be named the Dr. Harvey Kesselman Alumni Impact Award.
"ACE members decided to name the award after Kesselman on the occasion of his retirement as president because we would be hard pressed to find another Stockton graduate who has had a bigger and more positive impact on Stockton University than Harvey Kesselman," Francis said.
Learn more about alumni opportunities at Stockton.