CEO: Professors Pushed Him to 'Be Better and Do More'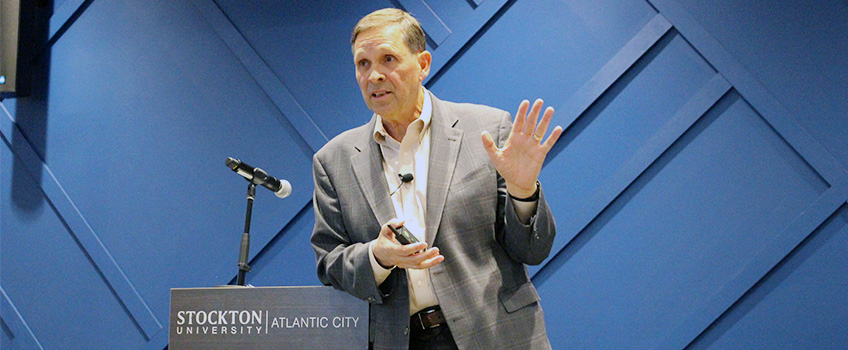 Atlantic City, N.J. — William R. Hagaman Jr.'s business credentials are no doubt distinguished.
He's the former managing partner and chief executive officer for WithumSmith+Brown, the 22nd largest accounting, tax and advisory firm in the country. While CEO at Withum, the company grew seven times in revenue and expanded to have offices on six continents.
He's the global chair of HLB International, a global network of accounting firms in 157 countries.
He's the 2022 recipient of the New Jersey Chamber of Commerce Business Advocate of the Year Award.
He's also a Stockton University graduate.
"Over time, it was a constant drum beat of the professors here — be better and do more," said the 1979 graduate as he addressed a packed crowd March 23 at the second School of Business Dean's Distinguished Guest Speaker event.
"This a terrific opportunity to highlight our leaders and trailblazers in our professional communities," said Leamor Kahanov, Stockton's provost and vice president for Academic Affairs. "Bill's ongoing commitment to his professional and philanthropic communities and his alma mater are commendable."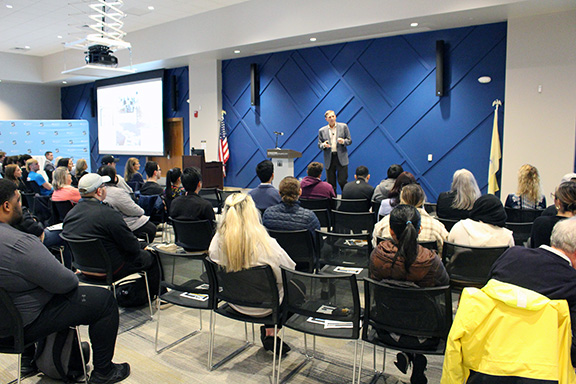 William R. Hagaman Jr. was the School of Business Dean's Distinguished Guest Speaker on March 23 in the Fannie Lou Hamer room at Stockton Atlantic City.
Hagaman earned his bachelor's degree in accounting. In 2021, he was the inaugural recipient of School of Business Outstanding Alumni Award, and he's a member of the School of Business Dean's Executive Advisory Board.
"I'm pretty proud to be called distinguished," he said with a laugh. "I love talking to students, and I love talking to them about the business climate."
During his 45-minute presentation, Hagaman spoke to the crowd of students and faculty about his humble beginnings at Stockton, how he nearly didn't finish college and how important his education was to his life and career.
"Stockton came to me at the right time in my life," he said. "They were able to take a chance on a C student who graduated in the bottom half of his class."
Hagaman talked about growing up in Toms River and how his father taught him not to be too quick to jump to that next job.
"He said be loyal and stick with your passion, especially if you are with an employer who is appreciative of you," he said.
He also talked about his grandfather, who worked for the Essex County jail and taught him about grit and determination. Those lessons from his family led him to become a first-generation college student who also had to pay for school and work to raise money for his family.
"I had to do all three, and I talk about it with no regrets," he said. "There were plenty of challenges, but at the end of the day, that ultimate accomplishment of fulfilling that challenge is something that has lasted with me forever."
Hagaman feels so strongly about assisting first-generation students that in 2021 he established a First Generation Student Endowed Scholarship. Starting with the 2023-24 school year, two first-generation students in the School of Business will receive a $2,000 award to help defray the cost of college.
When you leave Stockton, leave with a swagger, not an arrogance, but a swagger. And know that the education you get here will serve you well."
Taking classes at Stockton also led him to an important accounting internship. Hagaman talked about how that prepared him for his first job at a significantly smaller Withum, Smith and Brown.
"It was a house. I worked in a 10x15 foot room in the attic with three other young professionals," he said. "I had the time of my life there."
By 1985, Hagaman became a partner at 27, and eventually became CEO of a company that grew to about 2,200 employees with offices around the world.
Through all that he said he always remembers the words of one of his economics professors.
"When you leave Stockton, leave with a swagger, not an arrogance, but a swagger," he told the crowd. "And know that the education you get here will serve you well.
"Clearly it's served me well, and I'm very proud of the education that I got here."
— Story and photos by Mark Melhorn
---
William R. Hagaman Jr. said the professors that taught him at Stockton helped him to develop 10 principles that define what he calls Servant Leadership. Scroll through for a look at each principle: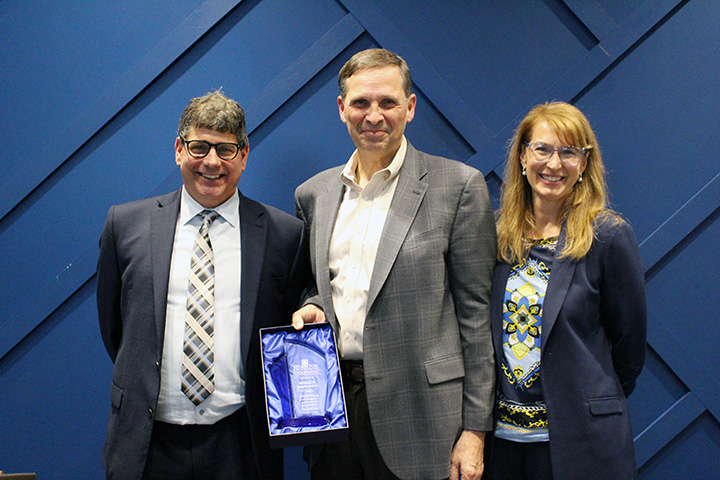 From left, Stockton School of Business Dean Warren Kleinsmith, William R. Hagaman Jr. and Hagaman's wife Rhonda Maraziti.