Recent Stockton Graduates Use Their Business to Give Back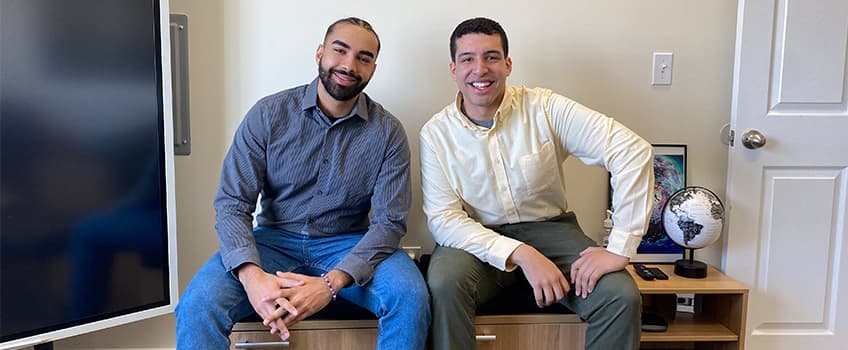 Galloway, N.J. — At F&S Digital, philanthropy isn't just encouraged. It's expected.
Founded by Stockton alumni Sage Del Valle '20/MBA '21 and Francisco Vizcaino '20, the New Jersey-based technology company specializes in implementing custom technology solutions for clients. They're also focused on being an active force for good in South Jersey.
"We love this place. We're always trying to figure out what our community needs, trying to improve the area," Vizcaino said. "We give everyone who works here days off to volunteer with whatever charity they want."
From the start, Del Valle and Vizcaino knew they wanted to devote resources toward improving the community where they work and live.
Stockton University is a major force in that community, and when an opportunity arose to sponsor the Stockton Esports team and provide shirts for the program, there was no hesitation.
"It's been exciting seeing Stockton invest in technology through esports," Vizcaino said. "One of my goals was figuring out how I can get involved in it."
"I think the people involved with Stockton Esports excite me the most. It's just a unique and different group. It's a good kind of different," Del Valle said.
The pair feel much of their success can be directly traced back to Stockton. They made the decision to start a business together over a meal at the N Wing Food Hall and held meetings at the library and in their residence halls. After coming up with the company name, they filed LLC papers at Purdy's Galloway Grill.
"The business in the first couple months was more like an extra class, for me at least," Vizcaino said.
"The whole company was based out of Stockton," Del Valle said. "That kickstarted what we were able to do."
Today, F&S Digital boasts more than 25 clients and a growing footprint throughout New Jersey. To Del Valle and Vizcaino, this is just the beginning.
"We want to give back as much as we make," Del Valle said. "I've always thought you can't start a business in a city and just take, take, take. We don't want to run that kind of business."
---
— Story by Flynn Altomare
— Photo submitted