Class of 2023 Urged to be Leaders at Commencement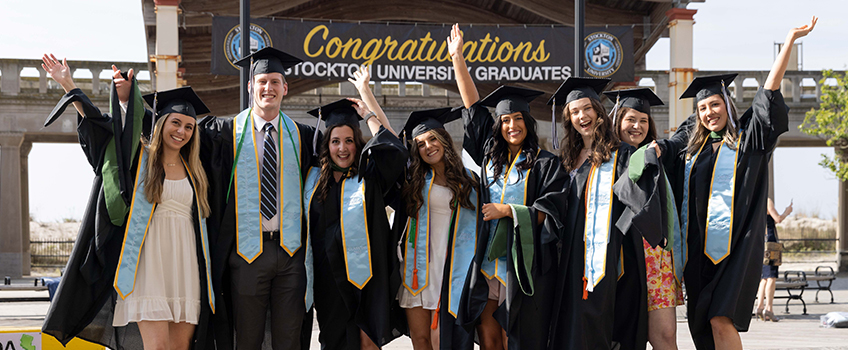 Atlantic City, N.J. — In his last commencement address as president, Dr. Harvey Kesselman praised Stockton University's Class of 2023 and offered "one final nugget of wisdom" — "lead where you are planted."
The university held two ceremonies, one at 10 a.m. and one at 2:30 p.m. on May 12 at Jim Whelan Boardwalk Hall for 2,800 graduates who received bachelor's, master's or doctoral degrees.
"In today's world, there is an imperative need for genuine leadership, real leadership. … Leaders with a clear vision to unite a polarized society rather than exacerbate divisions," said Kesselman, who is retiring as president on June 30. "And leaders who genuinely care about the issues and the people they serve, rather than those self-proclaimed leaders who view leadership as holding mere positions and titles instead of having purpose and influence."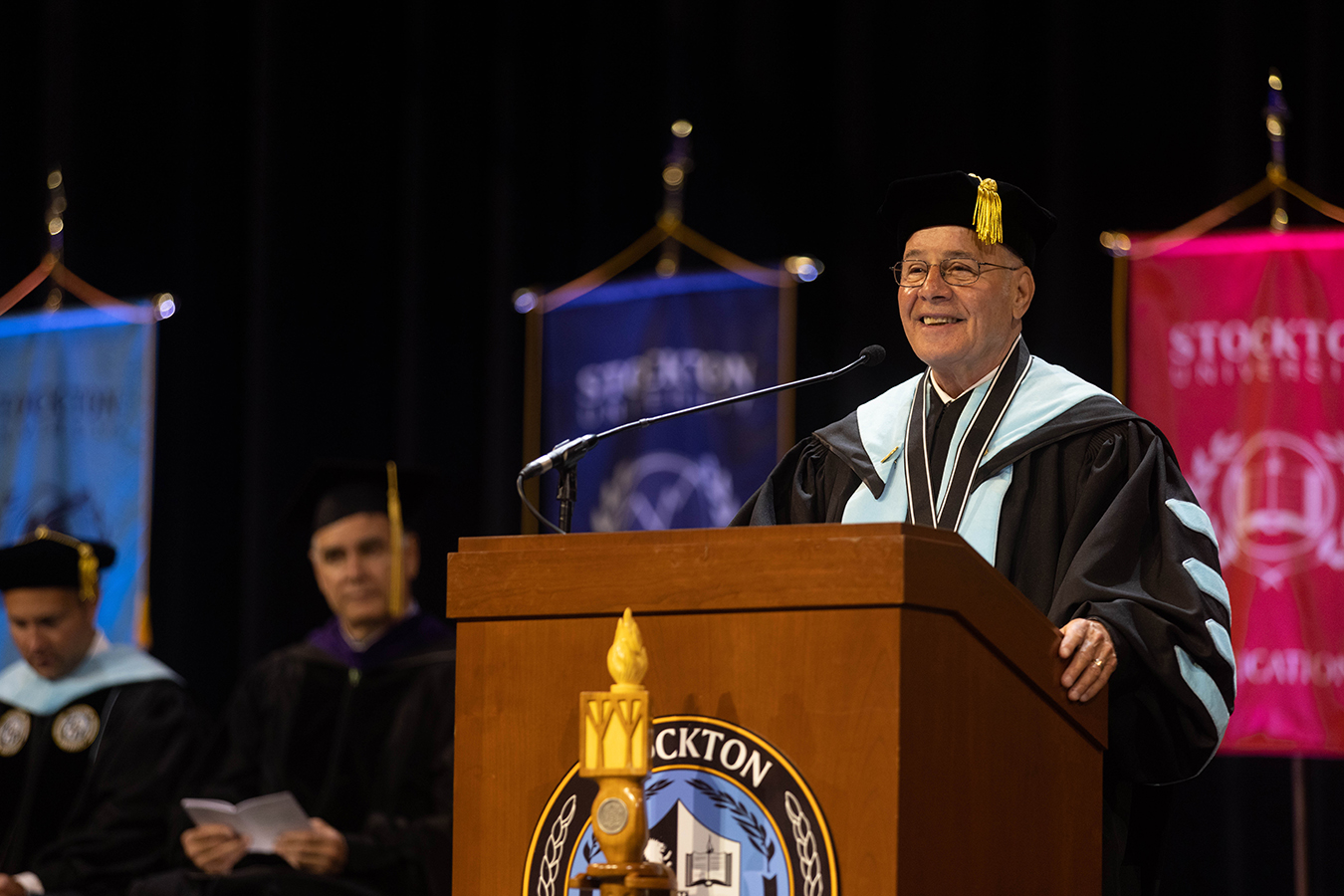 Stockton University President Harvey Kesselman addresses the Class of 2023 at Boardwalk Hall in Atlantic City for his last time as president. He is retiring as president on June 30.
Kesselman added that a Stockton degree has prepared the graduates to fulfill that task.
"You will draw upon everything you've learned at Stockton to enable you to lead with authenticity and accountability. You will lead, believing in your visions and with the boldness to carry them out," he said.
Leadership was a prominent theme throughout the commencement speeches from keynote speaker Chris Paladino and the two student speakers — Divya Rajput and Dalia Moamed.
Paladino, the president of the Atlantic City Development Corporation, urged the graduates to "show up, speak up, stand up." He said the most precious resource they all have is their attention, which is something everybody wants and everybody needs.
"The thing you can do that is most valuable to your personal development, most valuable to our society and culture, is for you to get really good at managing and deploying your attention," Paladino said. "Making sure your attention is focused and pure, you will do better work. You will build better relationships. You will become more aware. You will gain insights more quickly."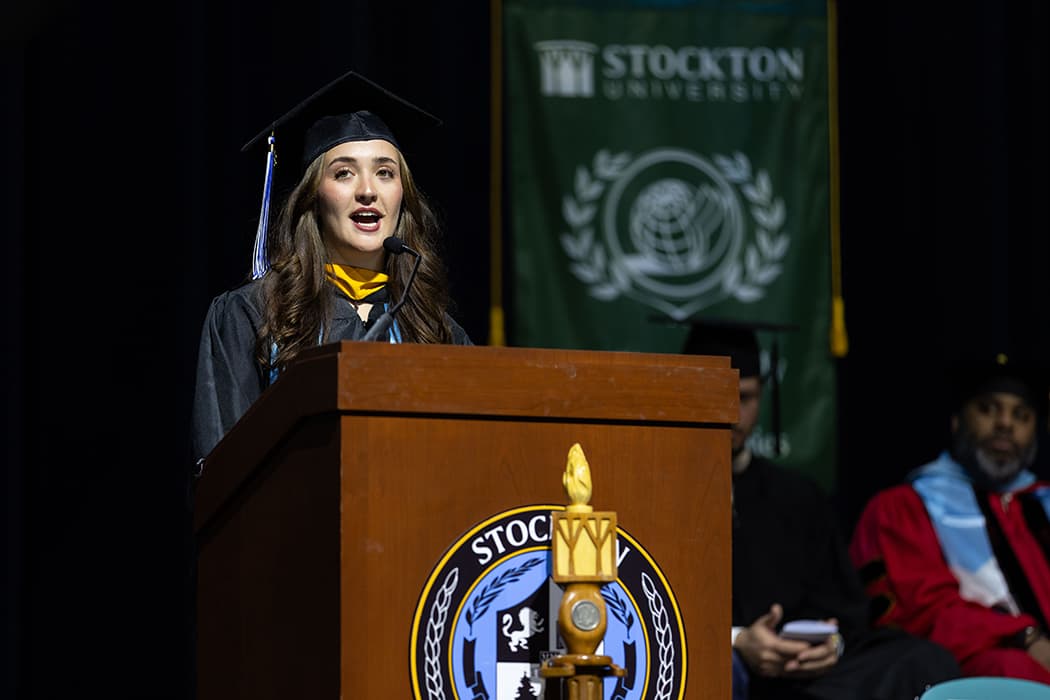 Nicholas Cernigilia tosses his graduation cap in the air on the beach in front of Boardwalk Hall in Atlantic City.
Paladino concluded by mentioning the historic figures who have spoken in Boardwalk Hall, such as Fannie Lou Hamer at the 1964 Democratic National Convention, and he encouraged the graduates to stand up for what is right.
"There is no wrong way to do the right thing," he said. "Stand up for family. Stand up for friends. Stand up for co-workers. Stand up for strangers. Stand up for ideas. Stand up for values."
Standing up for herself is something Moamed, of East Brunswick, learned during her time at Stockton. When she initially came to campus, she said she grappled with her identity and felt lost and lonely.
"I had to discover what I really cared about," said the Bachelor of Arts in Psychology graduate.
What she realized is that she needed to create a space for people like her to feel safe. That led her to create the Queer and Transgender People of Color Society (QTPOCS) on campus.
"I had an idea, but no direction. I wasn't even out to my family, and only recently accepted being out to myself," she said.
But over time, Moamed said she became more comfortable at Stockton, and the university eventually became her home away from home.
"It was because of this university's openness and care that I got to create a new outlet for people to achieve belonging," she said. "For that, I am so incredibly grateful. And now having shared my full self with my family, I am reminded that home was never that far away."
Rajput, of Galloway Township, also took on several leadership roles at Stockton, including being a Bonner Leader and a TALON (Transition Activity Leaders of New Students). She spoke about how even though she's graduating, she still feels like a kid — mentioning themes from several classic animated Disney movies in her speech, including "Aladdin," "Toy Story" and "Finding Nemo."
"When we started college, it was a whole new world. … College forces us to grow up — whether we like it or not. And, yes, some days were hard, but today is living proof that we survived," she said. "When we were cluttered with final exams, independent studies, our jobs and any of the other responsibilities we had, we had to take a breather, find that little blue fish in our head, and remember to just keep swimming."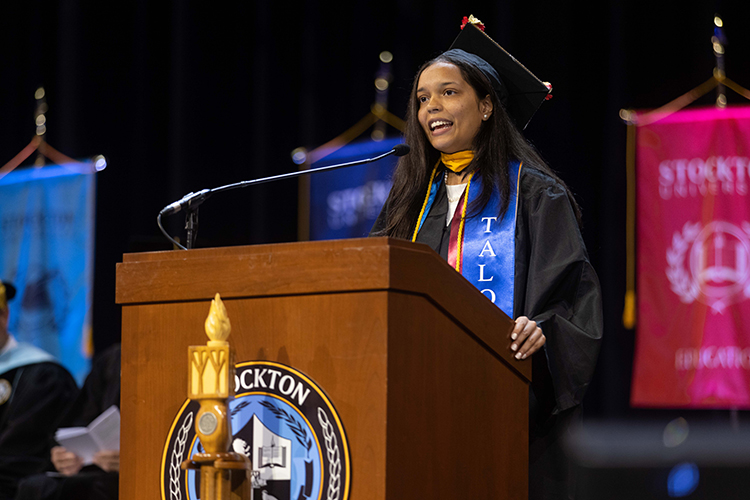 Student speaker Divya Rajpu addresses her fellow Class of 2023 graduates. The first-generation student graduated with a Bachelor of Science in Biochemistry and Molecular Biology.
That theme of continuing to push toward finishing college was especially difficult for this group of graduates because of the complications from the COVID-19 pandemic, said the Bachelor of Science in Biochemistry and Molecular Biology graduate with a minor in Disability Studies.
"The last few years feel like an entire lifetime. We started with in-person classes, went online, transitioned to a weird hybrid state, and now are back in person," Rajput said. "We have truly endured so much and despite that, each of us have made numerous personal accomplishments."
The first-generation student concluded with a plea to her fellow graduates.
"My parents came to America with nothing, and I made it my goal to succeed not only for myself but for them. I can gratefully say that I have done just that," she said. "So, congratulations for getting this far and making this happen. As you continue to pursue your dreams make sure you aim for infinity and beyond because with the potential and drive you have, there is no telling how far you'll go!"
In addition to Paladino, Kesselman honored six other people with Doctor of Public Service degrees: former State Senate Leader Steve Sweeney; Bart Blatstein, the CEO of Tower Investments; retired Judge Julio Mendez, who's now a senior contributing analyst with the William J. Hughes Center for Public Policy at Stockton; Lt. Gov. Sheila Oliver; Assemblyman Louis Greenwald; and Dr. Manish Trivedi, director, Infectious Diseases Division of AtlantiCare.
-- Story by Mark Melhorn, photos by Susan Allen
# # #
Media contacts:
Stacey Clapp
Director of Strategic Communications
Galloway, N.J. 08205
Stacey.Clapp@stockton.edu
609-626-3645
609-412-8069
stockton.edu/media


Mark Melhorn
Associate Director of News and Media Relations
Mark.Melhorn@stockton.edu
609-652-4593
609-569-6026
stockton.edu/media