Largest Crowd to Date at Hispanic Heritage Month Flag Raising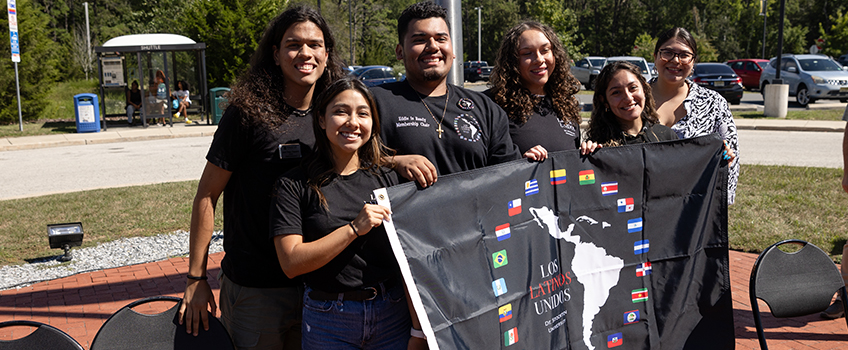 Galloway, N.J. – On this day five years ago, Los Latinos Unidos (LLU) established a bold new tradition at Stockton University by raising a Pan-American flag in front of the Arts & Sciences Circle.
The goal was to honor and acknowledge the Hispanic/Latino population who help make our campus the multicultural mosaic that students need to fulfill their potential of becoming culturally competent and globally-minded leaders after graduating. Today, this tradition endures and only becomes bigger and better every year, as evidenced by this year's Hispanic Heritage Month Flag Raising on Friday, Sept. 15.
This year's flag-raising is special as it is the first event coming out of the Cultural Heritage Awareness Month Planning (CHAMP) Committee, spearheaded by Jovin Fernandez, director of the Multicultural Center.
In her remarks, she noted her pride at being able to stand before the crowd as part of the 12% of Latinos who have earned a master's degree and soon to be part of the 2% who have earned a Doctorate degree. She hopes that current students will seek to do the same.
"I can promise you it's well worth it because education is something that can never be taken from us," Fernandez said. "We can pay for vacations, we can pay for nice shoes and all these other things, but all that stuff is just material. The more that you can invest in yourself is the best investment that you can ever make.
"As Latinos, we have so much to be proud of and so much that we have accomplished, despite what society and some public and political figures may say about us," Fernandez said. "We've made great strides, but we must not lose sight of the work that is ahead and of the hearts and minds that still need to be educated and changed so that when they see us, they really see us for the greatness that we hold and the rich culture that we have."
Ana Edmondson, assistant vice president for Student Transition, Access and Retention, echoed those sentiments, comparing a student's college journey to that of a mariposa (butterfly).
"Although you grow wings to fly high and transform into the beautiful leaders in your communities and see the world from a broader perspective and wider vision, your eyes remain the same, and what that tells you is to never lose sight of why you started, where you came from, your goals and your dreams," Edmondson said. "My advice I'd like to leave with: Do not box yourself into a space where you cannot grow, and do not allow others to limit you either. Be present, show up, seek mentors and follow wise advice."
In addition to having pride in their heritage, Michelle Puerta of Admissions and Arnaldo Cordero-Roman, interim director of the Office of Global Engagement, asked that attendees recognize the rich tapestry of different identities within the Hispanic/Latino diaspora.
"Even though I grew up in a Colombian household, understanding our history and our language and our dances, it wasn't until I came here to Stockton University that I started engaging with other Latinos," Puerta said. "It wasn't until I came here and started engaging and really understanding how similar but different we were. So, as we kick off Hispanic Heritage Month, I encourage you all to not only take pride in your roots and your culture but also engage and explore other cultures and ethnicities because there are a lot of similarities but a lot of distinctiveness at times."
"We are very diverse," Cordero-Roman said. "We are multilingual. We are multi-ethnic. We are Afro-Caribbean caribeños. We are Central American. We are Latino Americanos. We say it's National Hispanic Heritage Month. Well, guess what? For us, it's our life. It's our way of being. It's who we are."
Students Juan Diego Chaparro, president of LLU, and Andrea Sandoval, president of Student Senate, both shared their experiences as students at Stockton and their journey to becoming student leaders on campus.
Chaparro started with an anecdote on how he dreamed of one day being someone speaking to crowds of people about his passions, saying that today was the day he was able to fulfill it. He's proud of the new Hispanic/Latino student organizations forming on campus and is looking forward to continuing to work to make Stockton a welcoming and inclusive community.
"The work that we do in LLU is tremendously important, not only for me, but for our campus community," Chaparro said. "The work that every single one of our new Latino organizations does will be tremendously important for our community and for us to grow as citizens of this country, people who care, empathize and are socially conscious of things that happen around us.
"Britney Marrugo stood on this stage last year and said 'Si, se puede!' (Yes, we can!) It was a tremendously impactful speech for me because it helped me realize the power that I hold as an individual. I no longer see myself as a number in housing or on a class roster: my name is Juan Diego Chaparro Villarreal, and I have a place here. I have a name here. I belong here. Aquí estoy, y aquí pertenezco! (Here I am, and here I belong!)"
There wasn't a dry eye when Sandoval shared her feelings of isolation and shame surrounding her identity as a bisexual Mexican in high school, even hesitating to speak Spanish in public. However, finding her community at Stockton changed her life for the better.
"I want to thank Stockton University for helping me realize that I have no reason to be guilty of my identity and culture," Sandoval said. "Upon entering my third year in Stockton, I have seen the various cultural and LGBTQ+ groups embrace their identity with a sense of confidence. It was inspiring to see, because, for the longest time, I had no sense of pride in my heritage.
"From individuals such as the members of Los Latinos Unidos to the members of the Queer and Trans People of Color Society, I learned an important lesson that I want to emphasize with all of you: Do not let the ignorance of others determine your self-worth and allow you to question your place in the world, especially in the setting of higher education. Your culture is so beautiful, the celebration of your heritage is important."
The event concluded with a beautiful rendition of "Hasta La Raiz" by student Genesis Rincon and a luncheon in the Multicultural Center with food provided by La Cocina Latín Cuisine in Pennsauken.
More Events for Hispanic Heritage Month 2023
---
Hispanic Heritage Month Flag Raising Attracts Crowd
Galloway, N.J.- Stockton University kicked off a month of programs and activities in honor of Hispanic Heritage Month by raising a flag symbolizing the unity and strength of the Hispanic/Latin community on Sept. 15.
National Hispanic Heritage Month traditionally honors the cultures and contributions of both Hispanic and Latin Americans and celebrates the heritage rooted in all Latin American countries.
– Story by Loukaia Taylor
– Photos by Susan Allen