Los Latinos Unidos Celebrate Hispanic Heritage Month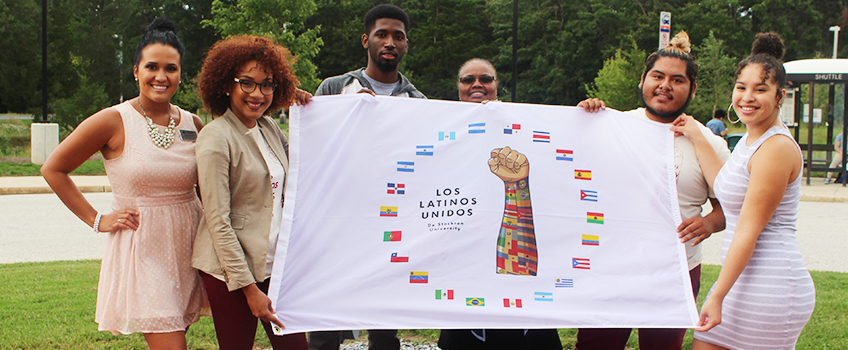 Galloway, N.J. _ Los Latinos Unidos debuted its first Hispanic Heritage Month celebration on Sept. 17 with the raising of a Pan-American flag at the Arts and Sciences building circle.
"This is very emotional for me," said club President Carolina Paula, 21, of Newark, a junior Hospitality & Tourism Management Studies major.
She said as a first generation college student, she had arrived with a feeling of not belonging at Stockton. She found a community with Los Latinos Unidos.
"I see all the ethnicities here and what I see now is a family," she said, "our family, our unity. I hope our pride is felt around the campus community."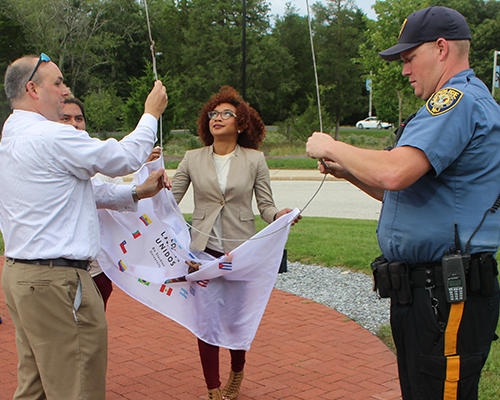 Other club officers are Vice President Jorge Tellez, 22, of Garfield, a senior Biochemistry and Philosophy major; Secretary Lesley Camilo, 19, of Passaic, a sophomore Health Sciences major; and treasurer Joshua Clergé, 19, of Willingboro, a sophomore Health Sciences major.
Assistant Director of Graduate Studies Jessica Grullon, a 2009 Stockton graduate and Dominican-American said she also remembers feeling alone. The organization helps students feel more at home and get the most from their time at Stockton.
Vice President for Student Affairs Christopher Catching said about 12 percent of the Stockton student enrollment is of Hispanic descent.
"We want to increase that number and make it a vibrant part of the Stockton community," he said. He said Paula was one of the first students he met when he became vice president and she told him they wanted to celebrate Hispanic Heritage Month.
"She was prepared and they really pulled it together," he said.
Hispanic Heritage Month began in 1968 as Hispanic Heritage Week under President Lyndon B. Johnson and was expanded by President Ronald Reagan in 1988 to cover a 30-day period to celebrate the anniversaries of independence of Costa Rica, El Salvador, Guatemala, Honduras, Nicaragua, Mexico, Chile and Belize. The month-long celebration commemorates the contributions that Hispanic Americans have made to the United States.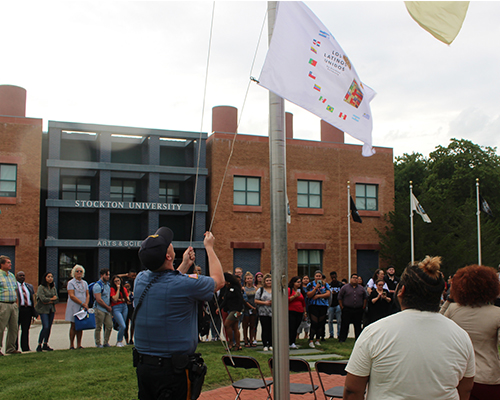 Associate Professor of Spanish Arnaldo Cordero-Roman spoke about the significance of the Pan-American flag which features 21 small flags representing all of the countries of the geographic region. The white background represents unity and peace.
Assistant Vice President Pedro Santana said Los Latinos Unidos was one of the first organizations at Stockton, and has recently been joined by Unidos, a new organization for faculty and staff.
When the celebration is over, the flag will join other organization flags that fly along the perimeter of the circle outside the Arts and Sciences building.
Upcoming events include Taste of Culture on Sept. 29 in O'Donnell Memorial Park across from the Atlantic City campus. The group will attend the Puerto Rican Day Parade in Philadelphia on Sept. 30.
"Honoring Our Roots," a program honoring alumni members of the group will be held from 7-8:30 p.m. Oct. 5 in the Campus Center Theatre.
An exhibit on "The Hispanic Heritage and Experience in Atlantic City" is being featured in the Richard E. Bjork Library at Stockton through Oct. 15. The exhibit is from the Atlantic City Public Library.
A lecture on "Being Latino: Birthright, Citizenship, the Census and Constitutional Personhood" will be held from 4:30-6:30 p.m. Oct. 9 in F11.
The month will end with a celebration at Lakeside Lodge from 6-8 p.m. Oct. 15.
The group meets at 4:30 p.m. on Tuesdays in B014.
Other events are also scheduled and will be posted on Osprey Hub.
View more photos from the flag raising.
Unidos 2018 Fall Lecture Series
Tuesday, Oct. 2, 4:30-6 p.m., F-111: Migration Experiences in the Americas: Poly Trauma by Associate Professor of Social Work Robin Hernandez-Mekonnen
Tuesday, Oct. 9, 4:30-6 p.m., F-111: Being Latino: Birthright Citizenship, the Census, and Constitutional Personhood by Associate Professor of Political Science Michael Rodriguez
Tuesday, Oct. 16, 4:30-6 p.m., F-111: "Latinos Saliendo del Closet: Socio-cultural Patterns in the Coming Out Process of Latino LGBTQ People" by Assistant Professor of Health Science Luis Garcia
Tuesday, Oct. 30, 4:30-6 p.m., F-111: "De Donde Crece la Palma: Adventures in Cuban-American Science" by Associate Professor of Biology Daniel Hernandez
Thursday, Nov. 8, 4:30-6 p.m., F-111: "Timeless Images and Reflections of Don Quixote as Interpreted by Graphic Artists from the Americas and Beyond" by Associate Professor of Spanish Arnaldo Cordero-Roman
Tuesday, Nov. 13, 4:30-6 p.m., F-111: "Spain, Women and Historical Memory" by Associate Professor of Spanish Javier Sanchez
Thursday, Nov. 29, 4:30-6 p.m., Art Gallery: Closing Reception
# # #
Contact:
Diane D'Amico
Director of News and Media Relations
Galloway, N.J. 08205
Diane.D'Amico@stockton.edu
609-652-4593
stockton.edu/media