Hispanic Heritage Month Flag Raising Attracts Crowd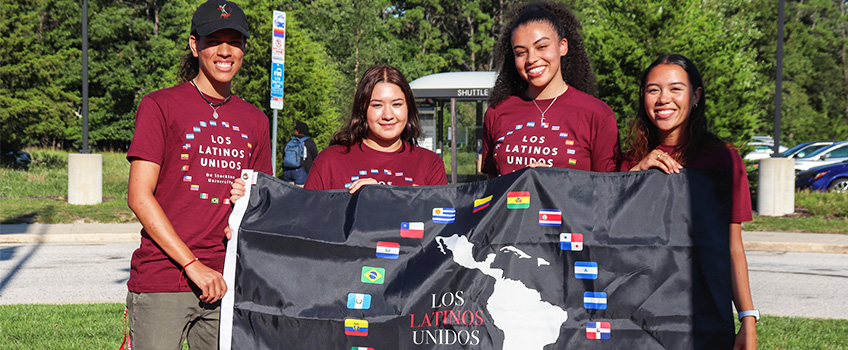 Galloway, N.J.- Stockton University kicked off a month of programs and activities in honor of Hispanic Heritage Month by raising a flag symbolizing the unity and strength of the Hispanic/Latin community on Sept. 15.
National Hispanic Heritage Month traditionally honors the cultures and contributions of both Hispanic and Latin Americans and celebrates the heritage rooted in all Latin American countries. The new Los Latinos Unidos (LLU) flag, which displays the Caribbean and Central & South America surrounded by different national flags, will fly in the Arts & Sciences Circle.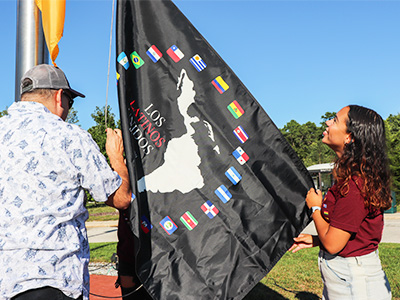 Jessica Grullon, associate director of Admissions, opened the ceremony reminiscing about her time at Stockton as a commuter student and acknowledged how much the university has changed since then, crediting both her mentors and the hard work of the student organization LLU.
"When I got off the bus here, I didn't see anything representative of me and my culture. I didn't know who to talk to, I was lost," Grullon said. "But by the grace of God and my African-American mentors, I was able to stay, graduate and, crazy enough, stay so that I can change that experience for the rest of you that are here today and behind me."
Heather Medina, director of Admissions, echoed the same sentiments as she remembered returning to Stockton a few years after graduating and being inspired by LLU to strengthen the Hispanic/Latin community.
"We weren't, at that time, as large of a population as we have represented right now," Medina said. "So, I've made it my life's mission to change that trajectory, and you all are evidence of what we do to change that outlook and the trajectory of you and your families' lives. Thank you for choosing Stockton and making that change possible for us."
Students Britney Marrugo, '24, and Aleyshka Barbosa, '23, urged students to get involved on campus and to create their own communities through organizations and clubs.
"To all of the Latinx, Hispanic and minority students here, I just want to remind you that you're supported, you're not alone and that there are people like me who care about you and your success," Marrugo, president of LLU, said. "Tu puedes hacerlo. You can do it."
"Find somewhere on campus where you can thrive and I promise that this whole experience of college will be amazing," Barbosa, Head TALONS and president of First Ospreys, said. "Leadership is not solitary, and the best leadership is found in unity."
Ana Edmondson, director of Student Transition Programs, closed out the remarks by praising Stockton for embracing the Hispanic/Latin community with such an impactful tradition, something that she says she had never seen at other universities and institutions.
"I remember the first time I attended a flag raising ceremony in 2019 as a new employee," Edmondson said. "I went home feeling a stronger sense of pride."
As the new flag was raised, the crowd was serenaded with a rendition of Anthony Gonzalez's "Proud Corazon" by Criminal Justice student and proud Guatemalan Kiara Cisneros, '23.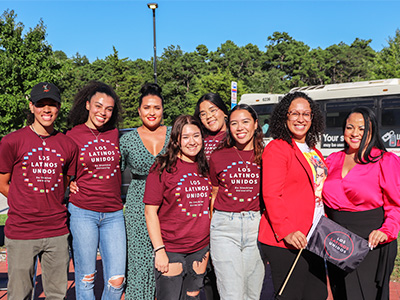 "Hispanic Heritage Month kicks off today, but I really hope that we will continue to see this crowd at the rest of the events scheduled throughout the month and, guess what, throughout the year as well," Grullon said. "We don't celebrate Hispanic and Latin culture from Sept. 15 to Oct. 15; we celebrate all year long!"
The date Sept. 15 is significant because it is the anniversary of independence for Latin American countries Costa Rica, El Salvador, Guatemala, Honduras and Nicaragua. In addition, Mexico and Chile celebrate their independence days on Sept. 16 and Sept. 18, respectively.
The observation started in 1968 as Hispanic Heritage Week under President Lyndon Johnson and was expanded by President Ronald Reagan in 1988.
For more photos, visit our Flickr gallery.
-Story by Loukaia Taylor
-Photos by Eliza Hunt